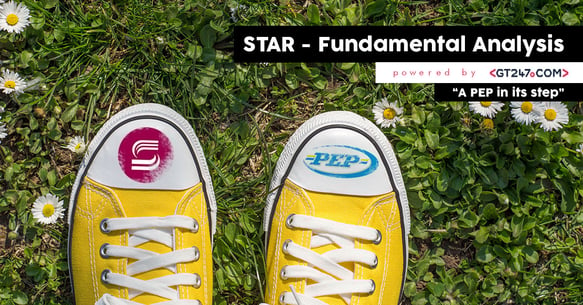 "A PEP in its step"
[JSE:SRR:STAR] Steinhoff Retail Limited
Sector: Broadline Retailers
Listing date 20 September 2017
Private placement to invited shareholders
Shares on offer 750 million
Overallotment option 50 million
Implied free float 12,9%
Offer price range 1800 cents to 2300 cents
Shares in issue on listing 3,45 billion
Anticipated market capitalisation R70 billion
Dividend cover policy of 2x
Projected pro forma price earnings ratio 21x
Projected pro forma dividend yield 2,3%
Mark Ingham's Fundamental analysis
The Background to STAR:
Steinhoff Africa Retail Limited or STAR is listing on the Johannesburg Stock Exchange on 20 September 2017. Ahead of the listing is a private placement, which is not an invitation to the public to acquire shares in STAR.
The assets comprise the African assets of Steinhoff and STAR will remain a subsidiary of Steinhoff International.
Discount and Value brands will account for 72% of revenue on a pro forma basis. These brands include PEP, Russells, Flash, Ackermans, Bradlows, and Rochester. Speciality brands will account for 28% of revenue and include Buco, Timbercity, Incredible Connection, HiFi Corp, Dunns, John Craig, Tekkie Town, and Sleepmasters. In total, there are over 4 800 stores, of which 4 500 are in South Africa, Botswana, Lesotho, Namibia, and Swaziland.
This is a group of large scale with good percentage profitability and a sound financial position.
To put the size of the listing in context, the market value of STAR is on par with Woolworths, 2,5x the market value of Massmart, and 55% of the market value of Shoprite.
There will be a second phase to this transaction – the Shoprite Transaction.
I have summarised a rather complicated 270-page pre-listing statement, packed with financial, legal, corporate finance, governance, and operational detail. Below is what you need to know.
What you need to know:
STAR will be listed on the JSE on 20 September 2017.
The listing will be accompanied by a capital raising through a private placement to establish sufficient public shareholding spread and liquidity.
The offer range for the placement is R18 to R23 per share.
On listing, 3,45 billion shares will be listed. Assuming a mid-point price of R20,50 per share, the market value on the JSE will be approximately R70 billion.
The primary issuance is 750 million shares or 21,7% of 3,45 billion total shares, which amount is approximately R15,4 billion. 40% of this will be placed with Black Economic Empowerment investor Lancaster.
Up to a further 50 million overallotment shares may be sold to invited investors.
The BEE shareholder will have 8,8% of the total share capital. Steinhoff International Holdings remains the major shareholder.
STAR is estimated to generate annualised revenue of approximately R60 billion, pro-forma earnings before interest, tax, depreciation and amortisation of R7 billion, and operating profit of R6 billion.
Assuming net finance costs of R1,2 billion and a tax rate of 31%, the pro forma earnings is approximately R3,3 billion.
This means pro forma earnings per share of 96 cents – very close to R1 per share in EPS.
At R20,50 per share on placement, the price earnings ratio is approximately 21x. Assuming a dividend cover ratio of 2x, the pro forma dividend is 48 cents and the yield therefore 2,3%. This is a relatively rich rating but the historic track record, particularly of Pep, is good and the growth outlook likely to be above the average for peers.
The balance sheet will have net debt of R14 billion (twice its EBITDA of R7 billion). With shareholders' equity of R53 billion the net debt to equity ratio is a modest 26%.
Management is as follows:
CEO Ben la Grange (keeping his place as CFO of Steinhoff but some of his delegating responsibilities to others)
CFO Riaan Hanekom (currently CFO of Pepkor)
Executive committee also to include Leon Lourens (COO Retail Operations), Jaap Hamman (Pep South Africa divisional CEO), Charles Cronje (Ackermans CEO), Garth Napier (Pep Africa divisional CEO), Peter Griffiths (JD Group CEO), Eugene Beneke (Steinbuild CEO), Bernard Mostert (Speciality CEO) and Braam van Huyssteen (Property Committee Chairperson).
Non-executive Chairman Jayendra Naidoo.
Pieter Erasmus, who is current CEO of Pepkor Group, is joining Steinhoff International NV as part of the global retail management team but will supporting STAR management in that capacity.
There will be a second phase to this transaction – the Shoprite Transaction.
Steinhoff and STAR have entered into call option agreements whereby STAR will acquire a 23,1% interest in Shoprite and a voting interest of 50,6%.
Mr Christo Wiese holds 91,3 million shares or 16% of the 572,9 million total Shoprite shares (net of treasury). Thibault Square Financial Services (Pty) Ltd (majority held by Wiese family interests) has 291,8 million deferred shares which have 35% voting rights. This gives Mr Wiese 51% effective control without having 51% of the economic equity control. Inter alia, the call option agreements include Wiese family interest in Shoprite.
Shoprite will maintain its separate JSE listing and Shoprite management will remain independent.
The amount is a function of a share price of R215 per share for approximately 128,2 million underlying Shoprite ordinary shares, an amount of R4,0 billion attributable to deferred voting shares, and R4,0 billion in for cash. STAR is not required to extend an offer to Shoprite minorities.
STAR will pay for this interest by issuing 1,748 billion shares. This is 33,6% of the ordinary share capital of STAR post the STAR listing and the investment in Shoprite through the call options. Of this, Titan (Wiese family interests) are 19,9%.
Post the Shoprite Transaction, the numbers of shares increase from 3,45 billion to 5,2 billion, of which Steinhoff has 2,65 billion shares or 51% and Titan 1,03 billion shares or almost 20%. Lavender Sky, a wholly owned subsidiary of Titan, will have 200 million shares or 3,9% of the enlarged total.
A combination of STAR together with the percentage share in Shoprite results in approximate pro forma earnings, after taxation and backing out non-controlling interests, of R5 billion. On 5,2 billion shares, this equates to earnings per share of 96 cents.
The combination of the STAR market value on the JSE and the share in Shoprite results in an approximate total value of R100 billion.
In summary, this is a transformative listing, it provides a separate listing for STAR with specific independent value apportioned to that, and it offers tremendous scope for future joint development of STAR and Shoprite.
Steinhoff share price in cents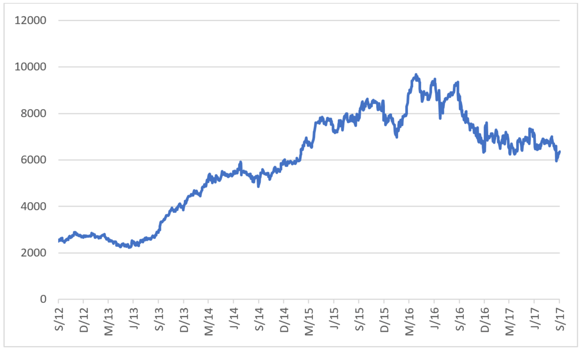 Wishing you profitable investing, until next time.
Mark N Ingham

Read more fundamentals by Mark Ingham:
Want to trade CFD Equities on the most affordable online South African trading platform?