"Bye bye"
Posted by Mark Ingham on June 1, 2017 at 6:05 PM
Key takeaway
Since my last note on the stock dated 1 March 2017 (see "Losing ground"), Barclays Africa Group has continued to lag its peers. The stock price back then was R153 and is currently R143, in line with my fair value of R145. The overhang of Barclays PLC stock has been a partial depressive factor on the price but I have also ranked Barclays Africa Group my least preferred of the big four (see "Not so equal" dated 8 February 2016). However, the overhang factor is now substantially diminished as Barclays PLC has sold down to an effective 15% shareholding in Barclays Africa Group through a successful placement of 33,7% of the issued share capital worth R37,7 billion, one of the largest bookbuilds yet seen. The Barclays PLC stake will thus be in line with what the PIC stake will be. The name Barclays will remain in use for twelve months and other transitional arrangements have been agreed. Other than the small residual holding, this concludes a questionable twelve-year Barclays PLC/ABSA business relationship and ABSA can now plough its own furrow. Dividend flows to London also now fall substantially compared to when Barclays PLC held 62,3%. Barclays Africa retains the distinction of having the highest dividend yield relative to peers and has appeal on that basis. The forward gross dividend yield is 7,5% and the forward net yield 6,0%. I retain fair value at R145 and a target price of R155.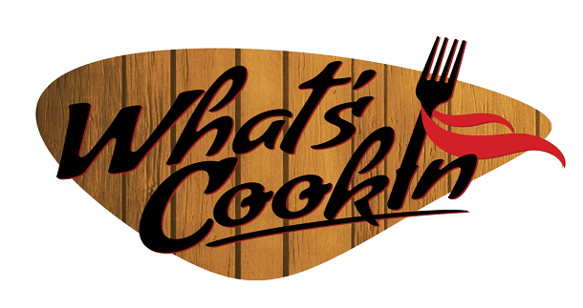 Banks
Barclays Africa Group
"Bye bye"
Share price: R142,95
Net shares in issue: 846,7 million
Market cap: R121,0 billion
Forward PE year one: 7,7x
Forward PE year two: 7,3x
Forward dividend yield: 7,5%
Fair value: R145
Target price: R155
Trading Sell and Portfolio Buy maintained
What you need to know:
So, it's pretty much over with the Barclays PLC relationship that first came about in May 2005 and which has had illusive benefits for ABSA. Barclays Africa Group will probably change its name back to ABSA in South Africa within a year and within three years elsewhere. The unlovely acronym of the Amalgamated Banks of South Africa could stick but it may be an opportunity to take a fresh approach that celebrates the new-found freedom with a new, domestically appropriate, name.
Barclays PLC sold down to 50,1% in May 2016 from 62,3% and with the successful placement of 285,7 million shares at R132 per share to various institutional investors, including the PIC, the Barclays PLC stake has reduced to just 126,3 million shares or 15% of the 847,7 million in issued share capital. This is net of the 12,7 million shares or 1,5% that will be contributed to a black economic empowerment structure. The total proceeds are thus R37,7 billion.
Subject to final regulatory approvals, the PIC will end up with 14,9% of the stock. What happens to the residual 15% Barclays PLC stake in future remains to be seen.
Above a 50% shareholding, Barclays PLC carried 100% of the financial responsibility for Barclays Africa whilst getting 62% of the benefits. This meant higher regulatory capital against the exposure so deconsolidation removes this burden.
Barclays PLC is contributing £765 million toward separation costs of which £515 million is in recognition of the investments required in technology, rebranding and related projects, £55 million for separation related expenses, and £195 million to terminate the existing service level agreement between Barclays PLC and Barclays Africa Group relating to ex-South Africa operations acquired in 2013.
Barclays Africa Group will report normalised earnings for the next few years to reflect underlying results without separation noise. The funds received will be capitalised and, as spent in cash, expensed through the income statement.
Recommendation:
Institutions got a good deal at R132 per share, a discount to where the stock has traded of late but appropriate for such a large book build. At the prevailing share price of R143, retail investors are still getting good value from a yield point of view and the highest dividend yield relative to peers. The forward gross dividend yield is 7,5% or 6,0% on a net basis. The forward PE is 7,7x.
I have included a table below that provides data on my forecast earnings and dividends for the big four banks and the relative valuation metrics at current share prices.
Below: EPS, DPS and valuation metrics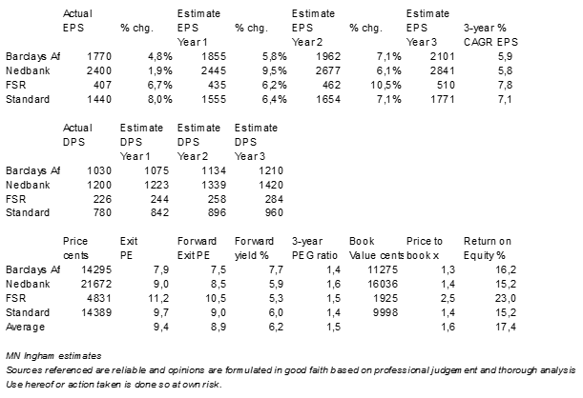 With the separation now essentially concluded, the overhang situation will remove a partial obstacle to a rerating. However, at this stage in the credit and economic cycle I see only a modest catalyst for upside in the share price and earnings growth is at best mid-single digits. The appeal is largely yield.
Barclays Africa has lagged it peers in share price performance for some years, as the table below illustrates.
Below: Barclays Africa Group, Nedbank, Standard and FirstRand based to 100 over four years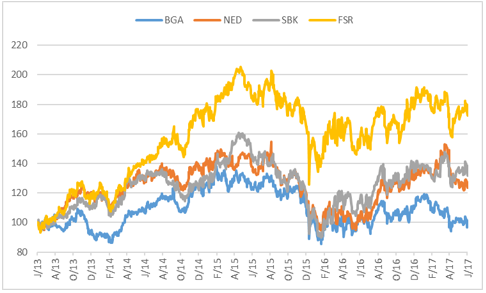 Wishing you profitable investing, until next time

---
Want to trade CFD'son the most affordable online trading platform in South Africa? Trade with GT247.com now.
---