Global Markets came under renewed pressure as sanctions against Russia intensified which saw the price of Oil reach new highs leading into the U.S non-farm payroll (NFP) report on Friday.
As of this morning, West Texas Intermediate (WTI) crude oil futures rose over 5% reaching price levels last seen in 2013. This is despite the latest global agreement reached by nations apposing Russia to supply the market with nearly 60 million barrels of crude oil to curb rising prices.
Other commodities like Gold have also been in high demand at the offset of the Russian invasion of Ukraine as safe havens saw renewed demand. The haven saw a 2% increase on Tuesday after touching an 18-month high point over the last week.
Investors are also taking off bets that the U.S Federal Reserve will increase interest rates by 50 basis points this month but still see 25 basis points as set for this month's meeting. U.S Treasury Yields rebounded from recent lows which saw the U.S Dollar rise over Tuesday's session.
Here is what's expected this week:
The U.S Non-Farm Payrolls (NFP)
The U.S Labour report will undoubtingly be another hot topic to watch this week and could possibly add on to the current market volatility if expectations are not reached in the labour market.
The U.S non-farm payroll (NFP) report for February will be released this Friday the 4th of March at 15:30 SAST and these are the data expectations:
Jobs number: 400k expected vs 444K previous
Hourly earnings (YoY): 5.8% expected vs 5.7% previous
Hourly earnings (MoM): 0.5% expected vs 0.7% previous
U.S. Unemployment Rate (Feb): 3.9% expected vs 4% previous
Key events to watch ahead of the U.S non-farm payroll (NFP) report:
The U.S ADP Nonfarm Employment Change (Feb) – Today 15:15 SAST
Fed Chair Powell Testifies – 17:00 SAST
Crude Oil Inventories – Today 17:30 SAST
US Initial Jobless Claims – Thursday 15:30 SAST
ISM Non-Manufacturing PMI (Feb) – Thursday 17:00 SAST
The Wall Street 30 Technical Analysis
Global Indices continue a downward trajectory as geopolitical tensions increased over the last week which has seen all three the U.S Indices under immense pressure.
The price action on the Wall Street 30 (WS30) Index moved lower than our 33016-support target level mentioned in our previous WS30 note and rebounded back to the major 34110- resistance.
The major resistance level at 34110 will be one to watch over the coming days and weeks and price needs to stay and preferably close above this level to negate the negative sentiment. Another move below the 33016-support will possibly see the bears take control and drive prices lower to 32082.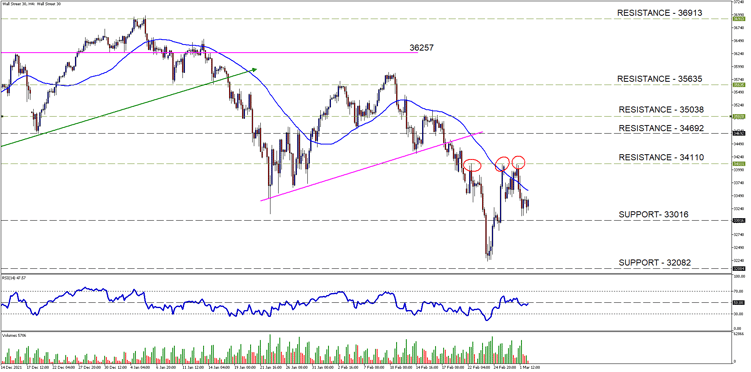 Current State / Chart Source: Wall Street 4H Timeframe - GT247 MT5 Trading Platform
Why is the jobs number important?
The Non-Farm Payrolls report (NFP) is treated as an economic indicator for people employed during the previous month, and the number being released will have a direct impact on the markets. In the United States, consumer spending accounts for most of the economic activity, and the Non-Farm Payrolls report represents 80% of the U.S. workforce. Farmers are excluded from the employment figures due to the seasonality of farm jobs.
Trading Term of the day:
West Texas Intermediate (WTI)
West Texas Intermediate (WTI) crude oil is a specific grade of crude oil and one of the main three benchmarks in oil pricing, along with Brent and Dubai Crude. WTI is known as a light sweet oil because it contains around 0.34% sulphur, making it "sweet," and has a low density (specific gravity), making it "light." WTI is the underlying commodity of the New York Mercantile Exchange's (NYMEX) oil futures contract and is considered a high-quality oil that is easily refined. – Investopedia.
Take note: The outlook and levels might change as this outlook is released during the current days (Wednesday the 2nd of March 2022) U.S Market open.
Sources – MetaTrader5, Reuters, Andrew Galbraith, Investopedia, Investing.com.
When does the Non-Farm Payroll Announcement take place in South African time?
U.S Non-Farm Payrolls (NFP) report is live this Friday the 4th March 2022 at 15:30 SAST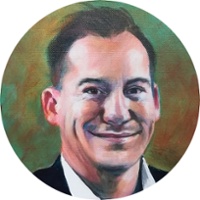 Barry Dumas | Market Analyst at GT247.com
Barry has 12 years of experience in the financial markets. He enjoys educating clients on trading / investing and providing punchy technical analysis on securities. He currently holds a Wealth Management qualification and is studying towards becoming a Chartered Market Technician® (CMT) designation holder.
---
Disclaimer:
Any opinions, news, research, reports, analyses, prices, or other information contained within this research is provided by Barry Dumas, Market Analyst at GT247 (Pty) Ltd t/a GT247.com ("GT247.com") as general market commentary, and does not constitute investment advice for the purposes of the Financial Advisory and Intermediary Services Act, 2002. GT247.com does not warrant the correctness, accuracy, timeliness, reliability or completeness of any information which we receive from third-party data providers. You must rely solely upon your own judgment in all aspects of your trading decisions and all trades are made at your own risk. GT247.com and any of its employees will not accept any liability for any direct or indirect loss or damage, including without limitation, any loss of profit, which may arise directly or indirectly from the use of or reliance on the market commentary. The content contained within is subject to change at any time without notice.