Asian markets saw a bump higher from lows last seen nearly two years ago as market participants held their breaths approaching the U.S CPI data released later in the day.
The U.S Dollar held its ground on Wednesday as investors awaited the latest U.S Inflation (CPI) data which was released at 14:30 SAST.

U.S CPI, 11 May:
Forecasted: 289.1
Actual: 290.455


The U.S Federal Reserve Bank (Fed) increased interest rates by 50 basis points last week in an attempt to combat inflation. At the FOMC press conference, Fed chair Jerome Powell stated that two more rate hikes could be on the table for the rest of the year.
The Wall Street 30 Technical Analysis
All the major U.S Indices have been under immense pressure over the last week as fundamental and geopolitical factors continue into 2022. As discussed in our previous Wall Street 30 (WS30) note, we did indeed see the divergence in price play out and continued higher to the 34110 resistance level.
This bull case was short lived however as the price action could not push through the 34110 resistance and soon started another downward move which reached the 32456-support. The price action saw another leg lower from 32456 which is now resistance and reached the 31896 level.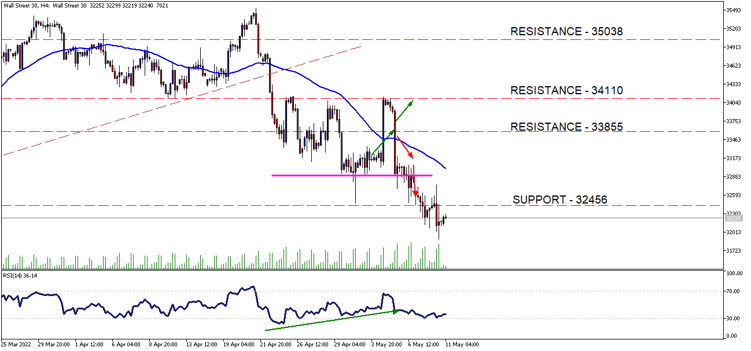 Current State / Chart Source: Wall Street 4H Timeframe - GT247 MT5 Trading Platform
Trading Term of the day:
Trading Term of the day:
Divergence
Divergence is when the price of an asset is moving in the opposite direction of a technical indicator, such as an oscillator, or is moving contrary to other data. Divergence warns that the current price trend may be weakening, and in some cases may lead to the price changing direction.
There is positive and negative divergence. Positive divergence indicates a move higher in the price of the asset is possible. Negative divergence signals that a move lower in the asset is possible. – Investopedia.
Take note: The outlook and levels might change as this outlook is released during the current days (Wednesday the 11th of May 2022) U.S Market open.
Sources – MetaTrader5, Reuters, Alun John, Investing.com, Investopedia.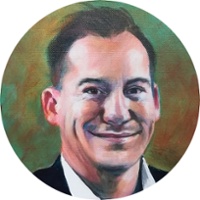 Barry Dumas | Market Analyst at GT247.com
Barry has 12 years of experience in the financial markets. He enjoys educating clients on trading / investing and providing punchy technical analysis on securities. He currently holds a Wealth Management qualification and is studying towards becoming a Chartered Market Technician® (CMT) designation holder.
---
Disclaimer:
Any opinions, news, research, reports, analyses, prices, or other information contained within this research is provided by Barry Dumas, Market Analyst at GT247 (Pty) Ltd t/a GT247.com ("GT247.com") as general market commentary, and does not constitute investment advice for the purposes of the Financial Advisory and Intermediary Services Act, 2002. GT247.com does not warrant the correctness, accuracy, timeliness, reliability or completeness of any information which we receive from third-party data providers. You must rely solely upon your own judgment in all aspects of your trading decisions and all trades are made at your own risk. GT247.com and any of its employees will not accept any liability for any direct or indirect loss or damage, including without limitation, any loss of profit, which may arise directly or indirectly from the use of or reliance on the market commentary. The content contained within is subject to change at any time without notice.