Global markets are extremely optimistic after positive company earnings across the globe despite mixed economic data and staggering inflation worries ahead of jobs report.
On Tuesday U.S Indices advanced later in the trading day after a choppy session open as investors digest economic and company earnings data.
U.S Indices have advanced for three days in a row despite the U.S Federal Reserve's (Fed) announcement on Monday that a March rate hike is set. The possibility of a 50-basis point rate hike is on the table and some Investment banks are calling for five rate hikes this year.
Investors are more cautious coming into the year as company valuations and sensitive economic data are some of the major concerns for investors when deciding on how to position themselves.
Here is what's expected this week:
The U.S Non-Farm Payrolls (NFP)
The U.S Labour market will once again be the topic of discussion as all eyes turn to the U.S jobs data set to be released this Friday which is widely expected to have slowed over the past month.
The U.S non-farm payroll (NFP) report will be released this Friday the 4th of February at 15:30 SAST.
Jobs number:
The U.S Non-Farm Payrolls for January are expected to decrease to 150K new jobs from the prior months 211K jobs added to the labour market.
Hourly earnings:
The average hourly earnings (M/M) (Jan) data is expected to move lower to 0.5% from the previous reading of 0.6%, while the average hourly earnings (Y/Y) (Jan) is likely to increase to 5.2%.
U.S. Unemployment Rate:
The U.S. Unemployment Rate (Jan) is widely expected to remain at 3.9% this Friday.
The unemployment rate measures the percentage of the total unemployed workforce and actively seeking employment during the previous month. The unemployment rate data point can be used as an indicator to see if an economic recovery is underway.
Key events to watch ahead of the U.S non-farm payroll (NFP) report:
The U.S ADP Nonfarm Employment Change (Jan) – Today 15:15 SAST
Crude Oil Inventories – Today 17:30 SAST
US Initial Jobless Claims – Thursday 15:30 SAST
ISM Non-Manufacturing PMI (Jan) – Thursday 17:00 SAST
The Wall Street 30 Technical Analysis
All three the U.S Indices have been pushing higher this week and the price action on the Wall Street 30 (WS30) is above our 35038 level as discussed in the previous WS30 note.
The 35038 supports, which was prior resistance will come back into focus for a possible retest before we see prices push higher into March if the rally is not a "dead cat bounce" as some have said.
The 50-day simple moving average of price (blue line) is supporting higher prices while the Relative Strength Index (RSI) has moved higher to overbought levels. Volume on the 4H have also moved lower in support to the current rally.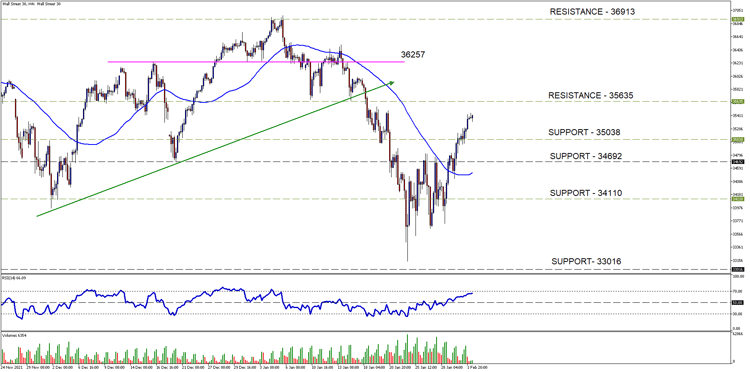 Current State / Chart Source: Wall Street 4H Timeframe - GT247 MT5 Trading Platform
Why is the jobs number important?
The Non-Farm Payrolls report (NFP) is treated as an economic indicator for people employed during the previous month, and the number being released will have a direct impact on the markets. In the United States, consumer spending accounts for most of the economic activity, and the Non-Farm Payrolls report represents 80% of the U.S. workforce. Farmers are excluded from the employment figures due to the seasonality of farm jobs.
Trading Term of the day:
Dead Cat Bounce
A dead cat bounce is a temporary, short-lived recovery of asset prices from a prolonged decline or a bear market that is followed by the continuation of the downtrend. Frequently, downtrends are interrupted by brief periods of recovery—or small rallies—during which prices temporarily rise. The name "dead cat bounce" is based on the notion that even a dead cat will bounce if it falls far enough and fast enough. – Investopedia.
Take note: The outlook and levels might change as this outlook is released during the current days (Wednesday the 2nd of February 2022) U.S Market open.
Sources – MetaTrader5, Reuters, Investing.com, Investopedia.
When does the Non-Farm Payroll Announcement take place in South African time?
U.S Non-Farm Payrolls (NFP) report is live this Friday the 4th February December 2022 at 15:30 SAST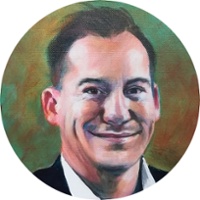 Barry Dumas | Market Analyst at GT247.com
Barry has 12 years of experience in the financial markets. He enjoys educating clients on trading / investing and providing punchy technical analysis on securities. He currently holds a Wealth Management qualification and is studying towards becoming a Chartered Market Technician® (CMT) designation holder.
---
Disclaimer:
Any opinions, news, research, reports, analyses, prices, or other information contained within this research is provided by Barry Dumas, Market Analyst at GT247 (Pty) Ltd t/a GT247.com ("GT247.com") as general market commentary, and does not constitute investment advice for the purposes of the Financial Advisory and Intermediary Services Act, 2002. GT247.com does not warrant the correctness, accuracy, timeliness, reliability or completeness of any information which we receive from third-party data providers. You must rely solely upon your own judgment in all aspects of your trading decisions and all trades are made at your own risk. GT247.com and any of its employees will not accept any liability for any direct or indirect loss or damage, including without limitation, any loss of profit, which may arise directly or indirectly from the use of or reliance on the market commentary. The content contained within is subject to change at any time without notice.