Markets rallied on Tuesday and into Wednesday's Asian session as fears subsided after the Russian invasion of the Ukraine seem to hit pause after Moscow returned some troops back to base.
World powers have been on edge over the possibility of tensions escalating between the two nations, with U.S President Biden stating invasion "remains distinctly possible".
Despite all the geopolitical risks, concerns over global monetary policies should continue to deliver volatility with U.S Treasury yields firmly in focus. The short-term two-year Treasury yield is rising with market participants expectations of higher interest rates in March.
The Federal Open Market Committee (FOMC) will release the meeting minutes from its January policy sitting later today at 21:00 SAST.
Here is what's expected this week:
The Wall Street 30 Technical Analysis
The Wall Street 30 (WS30) rebounded on Tuesday after a dismal week of selling as geopolitical tensions and CPI data took centre stage. The price action on the WS30 could not hold above the 35635-resistance level as mentioned in our previous note and sold-off from there.
The price action is currently trending higher on the 4H chart but needs to clear a couple of major resistance levels to negate the current down trend sentiment. The 50-day simple moving average (SMA) of price along with the 35038-price level could act as the first major resistance points. Possible higher price targets from current levels are the 35635 and 36257 resistance levels.
If the Index does not move higher and negative fundamental factors play out, then we might expect the price action to move lower to the 34692 and 34110 support levels.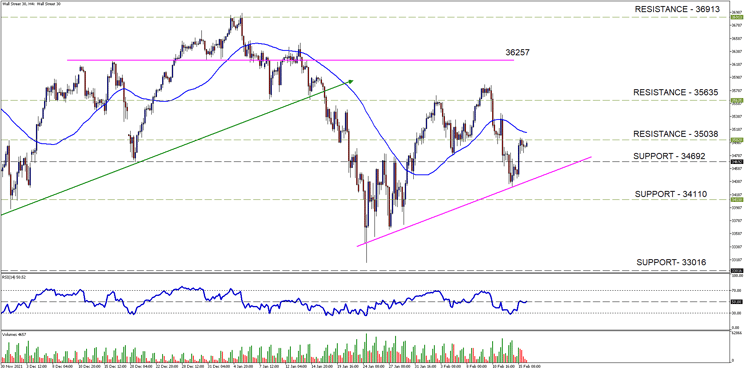 Current State / Chart Source: Wall Street 4H Timeframe - GT247 MT5 Trading Platform
Trading Term of the day:
Political Risk
Political risk is the risk an investment's returns could suffer as a result of political changes or instability in a country. Instability affecting investment returns could stem from a change in government, legislative bodies, other foreign policymakers or military control. Political risk is also known as "geopolitical risk," and becomes more of a factor as the time horizon of investment gets longer. They are considered a type of jurisdiction risk. – Investopedia.
Take note: The outlook and levels might change as this outlook is released during the current days (Wednesday the 16th of February 2022) U.S Market open.
Sources – MetaTrader5, Reuters, The White House, CBS News, Investing.com, Investopedia.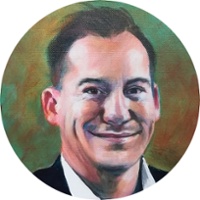 Barry Dumas | Market Analyst at GT247.com
Barry has 12 years of experience in the financial markets. He enjoys educating clients on trading / investing and providing punchy technical analysis on securities. He currently holds a Wealth Management qualification and is studying towards becoming a Chartered Market Technician® (CMT) designation holder.
---
Disclaimer:
Any opinions, news, research, reports, analyses, prices, or other information contained within this research is provided by Barry Dumas, Market Analyst at GT247 (Pty) Ltd t/a GT247.com ("GT247.com") as general market commentary, and does not constitute investment advice for the purposes of the Financial Advisory and Intermediary Services Act, 2002. GT247.com does not warrant the correctness, accuracy, timeliness, reliability or completeness of any information which we receive from third-party data providers. You must rely solely upon your own judgment in all aspects of your trading decisions and all trades are made at your own risk. GT247.com and any of its employees will not accept any liability for any direct or indirect loss or damage, including without limitation, any loss of profit, which may arise directly or indirectly from the use of or reliance on the market commentary. The content contained within is subject to change at any time without notice.