Markets take a break for Good Friday but the U.S Non-Farm Payrolls (NFP) report is still set to be released the 2nd of April at 14:30 SAST with numbers set to beat expectations.
Here is what's expected this week:
The U.S Non-Farm Payrolls (NFP)
Job growth has impressed over the last month as lockdown measures are eased and hiring takes on new life in the hospitality sector setting an extremely positive tone. If analysts' predictions are right, then we could expect another round of expectation beating data points.
Jobs number:
The number of new Non-Farm jobs for the month of March is expected to come in significantly higher than the previous reading for February 2021.
Some analysts predict that we could see one million new jobs added to the payrolls this Friday but overall, the U.S Non-Farm Payrolls data is expected to increase to 639K employed for the month of March 2021.
Hourly earnings:
The Average hourly earnings (M/M) (Mar) data is expected to decrease to 0.1% while the Average hourly earnings (Y/Y) (Mar) is also expected to decline to 4.5% from the previous months number.
U.S. Unemployment Rate:
The U.S. Unemployment Rate measures the percentage of the total workforce that is unemployed and actively seeking employment during the previous month.
The U.S. Unemployment Rate is watched closely for signs of economic recovery and is expected to decrease to 6.0%.
Why is the jobs number important?
The Non-Farm Payrolls report (NFP) is treated as an economic indicator for people employed during the previous month, and the number being released will have a direct impact on the markets. In the United States, consumer spending accounts for most of the economic activity, and the Non-Farm Payrolls report represents 80% of the U.S. workforce. Farmers are excluded from the employment figures due to the seasonality in farm jobs.
The Wall Street 30 Technical Analysis
The last trading day of March has seen global markets mixed as U.S. Treasury yields continue to move higher while banks face pressures form Archegos Capital Management margin calls scandal.
The flag pattern as mentioned in our previous WS30 note played-out in the short term after reaching our support level of interest at 32082. The price action is currently above our 33016-resistance level which acts as support the and 50-day SMA (blueline) which needs to hold to see higher price.
We might see a gap formation when the markets re-open after the holidays and traders should take caution when leaving positions open.
Our levels of interest remain at the 32082 support, 33016 resistance and our long-term target price at the 33765 level is still in play. All levels can be used as target levels for short term traders or scalp traders looking to capitalize.
The support levels will be watched closely.
The 50-day SMA (blue line) is below the price action on the 4H chart which supports higher prices and could act as support to the price action.
The Relative Strength Index (RSI) is above the 50 mark.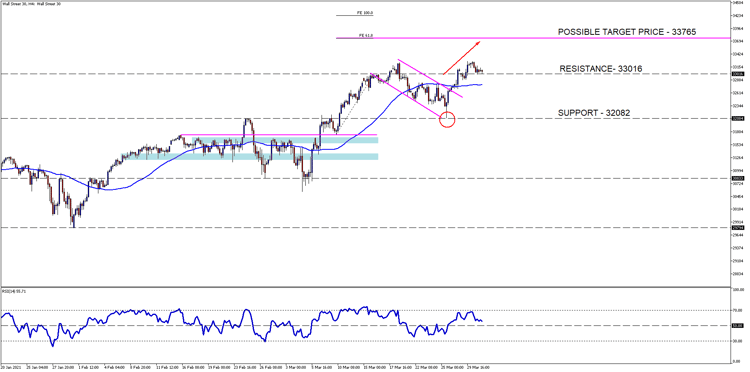 Chart Source: Wall Street 4H Timeframe - GT247 MT5 Trading Platform
Trading term of the day
Gap
A gap is an area discontinuity in a security's chart where its price either rises or falls from the previous day's close with no trading occurring in between. Gaps are common when news causes market fundamentals to change during hours when markets are typically closed, for instance an earnings call after-hours. – Investopedia
When will the NFP economic announcement take place?
U.S Non-Farm Payrolls (NFP) report this Friday, 2 April 2021, at 14:30 SAST .
Take note: The outlook and levels might change as this outlook is released during the current days (Wednesday the 31st of March 2021) U.S Market open.
Sources – MetaTrader5, Reuters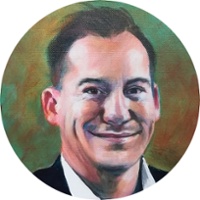 Barry Dumas | Market Analyst at GT247.com
Barry has 12 years experience in the financial markets. He enjoys educating clients on trading / investing and providing punchy technical analysis on securities. He currently holds a Wealth Management qualification and is studying towards becoming a Chartered Market Technician® (CMT) designation holder.
---
Disclaimer:
Any opinions, news, research, reports, analyses, prices, or other information contained within this research is provided by Barry Dumas, Market Analyst at GT247 (Pty) Ltd t/a GT247.com ("GT247.com") as general market commentary, and does not constitute investment advice for the purposes of the Financial Advisory and Intermediary Services Act, 2002. GT247.com does not warrant the correctness, accuracy, timeliness, reliability or completeness of any information which we receive from third party data providers. You must rely solely upon your own judgment in all aspects of your trading decisions and all trades are made at your own risk. GT247.com and any of its employees will not accept any liability for any direct or indirect loss or damage, including without limitation, any loss of profit, which may arise directly or indirectly from use of or reliance on the market commentary. The content contained within is subject to change at any time without notice.