Global economic growth and forecasts come back into focus today as the Eurozone business activity rebounds in March and U.S Equity futures tick higher ahead of business economic data.
Positive news from the chip maker Intel sparked a move higher in U.S Equity Futures on Wednesday ahead of Fed chair Powell and Treasury Secretary Janet Yellen second day at Congress.
The Eurozone composite PMI data a forecaster of economic health jumped above the 50 mark to 52.5, the highest it's been since late 2018.
"Euro zone business activity unexpectedly grew this month, a preliminary survey showed, but with much of Europe suffering a third wave of coronavirus infections and renewed lockdown measures, that may not last through April. Factories ramped up output at the fastest monthly pace in over 23 years, countering a continuing slowdown in the currency bloc's dominant services industry, which is far more vulnerable to lockdowns and the region's slow vaccine rollout."- Jonathan Cable.
Here is what's expected this week:
The Wall Street 30 Technical Analysis
The WS30 pushed higher after the Fed interest rate announcement last week but it was ultimately just a fake break of our resistance level of interest at 33016. The price action has been moving lower towards our 32082-support level on the 4H chart forming a flag pattern.
Price also seems to have find some support at the 32362 level and is pushing higher from here towards the 33016-resistance level. We would need to see a test of the resistance to negate the current downturn on the 4H chart.
Our levels of interest remain at the 32082 support, 33016 resistance and our long-term target price at the 33765 level is still in play. All levels can be used as target levels for short term traders or scalp traders looking to capitalize.
The flag pattern will be watched closely along with the main support and resistance zones.
The 50-day SMA

(blue line)

is above the price action on the 4H chart and could act as resistance to the price action.
The Relative Strength Index (RSI) is below the 50 mark.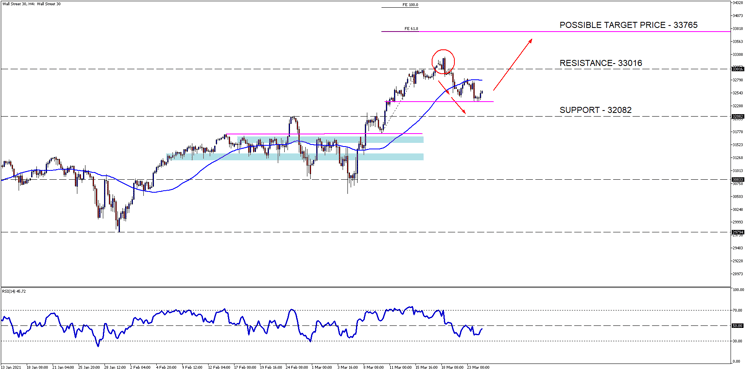 Chart Source: Wall Street 4H Timeframe - GT247 MT5 Trading Platform
Trading term of the day
Failed Break/ False Break
A failed break occurs when a price moves through an identified level of support or resistance but does not have enough momentum to maintain its direction. Since some traders look to establish positions when a breakout occurs, in the breakout direction, they may opt to close those trades if the breakout fails. – Investopedia
Take note: The outlook and levels might change as this outlook is released during the current days (Wednesday the24th of March 2021) U.S Market open.
Sources – MetaTrader5, Reuters, Investopedia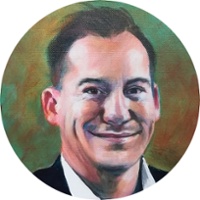 Barry Dumas | Market Analyst at GT247.com
Barry has 12 years experience in the financial markets. He enjoys educating clients on trading / investing and providing punchy technical analysis on securities. He currently holds a Wealth Management qualification and is studying towards becoming a Chartered Market Technician® (CMT) designation holder.
---
Disclaimer:
Any opinions, news, research, reports, analyses, prices, or other information contained within this research is provided by Barry Dumas, Market Analyst at GT247 (Pty) Ltd t/a GT247.com ("GT247.com") as general market commentary, and does not constitute investment advice for the purposes of the Financial Advisory and Intermediary Services Act, 2002. GT247.com does not warrant the correctness, accuracy, timeliness, reliability or completeness of any information which we receive from third party data providers. You must rely solely upon your own judgment in all aspects of your trading decisions and all trades are made at your own risk. GT247.com and any of its employees will not accept any liability for any direct or indirect loss or damage, including without limitation, any loss of profit, which may arise directly or indirectly from use of or reliance on the market commentary. The content contained within is subject to change at any time without notice.