Markets are alive with growth possibilities and hovering at record highs for the time being after that exceptional U.S jobs report and the IMF's 6% global growth forecasts.
The International Monetary Fund (IMF) is expecting the Global economy to grow by 6% in 2021 and the U.S economy to grow by 6.4% this year. "Even with high uncertainty about the path of the pandemic, a way out of this health and economic crisis is increasingly visible," - Gita Gopinath (IMF chief economist).
Asian markets were higher on Wednesday while U.S Treasury yields are still the focus of conversation while we await the March FOMC meeting minutes later tonight around 20:00 SAST.
Here is what's expected this week:
The Wall Street 30 Technical Analysis
The Wall Street 30 hit a record high on Monday after the NFP Jobs report signalled the recovery is underway although a long way from employment levels seen pre-pandemic.
We might see a short term move lower to the 33250-support level as market participants take profits which will be watched closely. The 33016-support level of interest (blue box) might be great buying opportunities for the bulls if the support holds up.
All price levels remain until our possible target price at 33765 is reached or if the inevitable happens and the global economic landscape changes significantly. We do expect some volatility later tonight with the Fed meeting minutes release at 20:00 SAST.
The support level of interest at 33250 will be watched for possible buy signals and if level does not hold then the main support level at 33016 comes into play.
The 50-day SMA (blue line) is below the price action on the 4H chart which supports higher prices and could act as support to the price action.
The Relative Strength Index (RSI) is above the 50 mark and trending higher.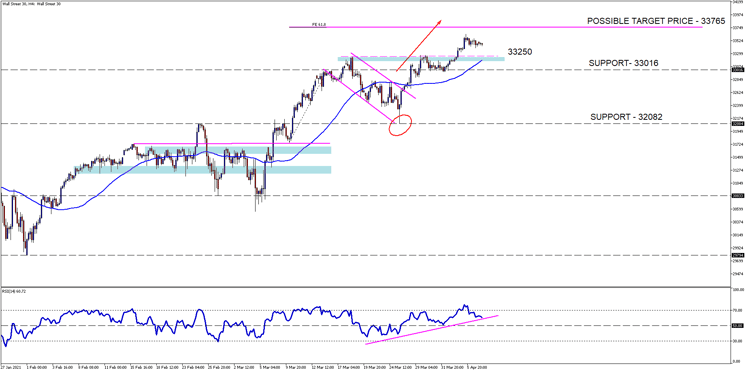 Chart Source: Wall Street 4H Timeframe - GT247 MT5 Trading Platform
Trading term of the day
Flag pattern
"What Is a Flag?
In the context of technical analysis, a flag is a price pattern that, in a shorter time frame, moves counter to the prevailing price trend observed in a longer time frame on a price chart. It is named because of the way it reminds the viewer of a flag on a flagpole. The flag pattern is used to identify the possible continuation of a previous trend from a point at which price has drifted against that same trend. Should the trend resume, the price increase could be rapid, making the timing of a trade advantageous by noticing the flag pattern." – Investopedia
Take note: The outlook and levels might change as this outlook is released during the current days (Wednesday the 7th of April 2021) U.S Market open.
Sources – MetaTrader5, Reuters, Investopedia, CNBC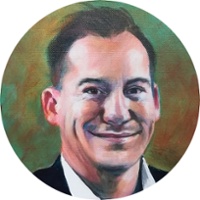 Barry Dumas | Market Analyst at GT247.com
Barry has 12 years experience in the financial markets. He enjoys educating clients on trading / investing and providing punchy technical analysis on securities. He currently holds a Wealth Management qualification and is studying towards becoming a Chartered Market Technician® (CMT) designation holder.
---
Disclaimer:
Any opinions, news, research, reports, analyses, prices, or other information contained within this research is provided by Barry Dumas, Market Analyst at GT247 (Pty) Ltd t/a GT247.com ("GT247.com") as general market commentary, and does not constitute investment advice for the purposes of the Financial Advisory and Intermediary Services Act, 2002. GT247.com does not warrant the correctness, accuracy, timeliness, reliability or completeness of any information which we receive from third party data providers. You must rely solely upon your own judgment in all aspects of your trading decisions and all trades are made at your own risk. GT247.com and any of its employees will not accept any liability for any direct or indirect loss or damage, including without limitation, any loss of profit, which may arise directly or indirectly from use of or reliance on the market commentary. The content contained within is subject to change at any time without notice.