Global markets are on high alert today with a U.S economic calendar filled with decision-making opportunities during the trading day.
The U.S earnings season is starting to pick up momentum this week with some of the major FAANG constituents like Apple, Facebook and Amazon reporting today after the market bell.
Asian shares struggled to make gains in the Wednesday session as high valuations are distracting investors from participating ahead of the U.S. Federal Reserve meeting.
U.S equity Indices are expected to be muted throughout the trading session ahead of the FOMC interest rate decision later tonight around 20:00 SAST. Rates are expected to remain unchanged and that Federal Reserve chair Powell to reaffirm the current policy for a prolonged period.
"We expect the Fed's tone on the economy to be more positive than at the March FOMC meeting, reflecting the ongoing pickup in the data, but we don't expect any substantive new signal yet on tapering," analysts at TD Securities wrote in a research note." – Reuters
U.S President Biden will also be on the cards today with his address to Congress where he might address his infrastructure plan and stimulus spending. Markets might have already priced in the FOMC decision, but markets could react to President Biden remarks.
Here is what's expected this week:
The Wall Street 30 Technical Analysis
The Wall Street 30 (WS30) has started to consolidate over the last week between our 33765 support and 34237 resistance levels as mentioned in our previous WS30 note.
The Support level at 33765 is still holding and a break of this level could target our level of interest at 33370 (blue rectangle).
The 50-day SMA (blue line) is still above the price action on the 4H chart which acting as resistance and could signal the possibility of a move lower.
The Relative Strength Index (RSI) is below the 50-mark and has been trending sideways signalling indecision.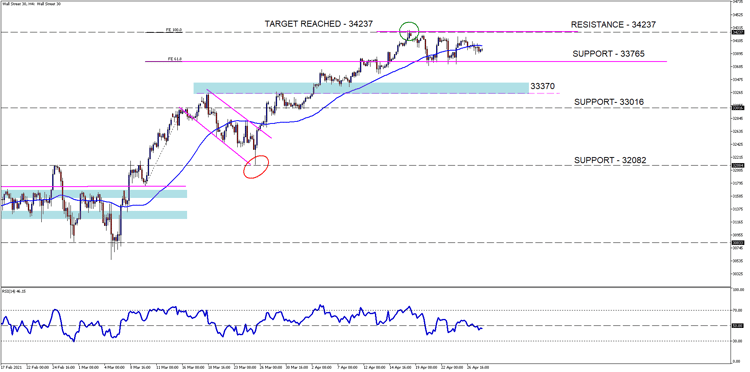 Chart Source: Wall Street 4H Timeframe - GT247 MT5 Trading Platform
Trading term of the day
Consolidation
Consolidation is the term for a stock or security that is neither continuing nor reversing a larger price trend. Consolidated stocks typically trade within limited price ranges and offer relatively few trading opportunities until another pattern emerges. Technical analysts and traders regard consolidation periods as indecisive and cautious. – Investopedia
Take note: The outlook and levels might change as this outlook is released during the current days (Wednesday the 28th of April 2021) U.S Market open.
Sources – MetaTrader5, Reuters, Investopedia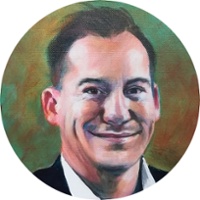 Barry Dumas | Market Analyst at GT247.com
Barry has 12 years experience in the financial markets. He enjoys educating clients on trading / investing and providing punchy technical analysis on securities. He currently holds a Wealth Management qualification and is studying towards becoming a Chartered Market Technician® (CMT) designation holder.
---
Disclaimer:
Any opinions, news, research, reports, analyses, prices, or other information contained within this research is provided by Barry Dumas, Market Analyst at GT247 (Pty) Ltd t/a GT247.com ("GT247.com") as general market commentary, and does not constitute investment advice for the purposes of the Financial Advisory and Intermediary Services Act, 2002. GT247.com does not warrant the correctness, accuracy, timeliness, reliability or completeness of any information which we receive from third party data providers. You must rely solely upon your own judgment in all aspects of your trading decisions and all trades are made at your own risk. GT247.com and any of its employees will not accept any liability for any direct or indirect loss or damage, including without limitation, any loss of profit, which may arise directly or indirectly from use of or reliance on the market commentary. The content contained within is subject to change at any time without notice.