Concerns about the path to a global economic recovery have resurfaced after the recent resurgence in COVID-19 cases around the globe.
"Renewed concerns about the global economic recovery weighed on commodity prices and commodity currencies. Many countries around the world, such as India and Brazil, set new records for infections and deaths," analysts at Commonwealth Bank of Australia said in a research note. (Reuters)
Asian markets were under pressure Wednesday after a dismal U.S session on Tuesday which saw the Dow decline by 0.75%, the S&P 500 fell 0.68% and the Nasdaq lost 0.92%. The lack of demand for Crude Oil if the pandemic picks up steam also came under the spotlight. Brent Crude was lower by 0.69% and WTI by 0.69% per barrel.
Here is what's expected this week:
The Wall Street 30 Technical Analysis
From record highs a week ago to renewed sell-off fears has seen our target price at 34237 reached once again on the WS30 as per our previous note. This level is now a major resistance and psychological level to watch in the future.
The price action is currently finding support at our previous target level, 33765 and will be watched closely for a move lower to our 33370 point of interest (blue rectangle).
The Support level at 33765 needs to hold to negate the move lower but bullish traders might find better entries at the 33370 level of interest if we see a move lower.
The 50-day SMA (blue line) is above the price action on the 4H chart which is signalling the possibility of a move lower.
The Relative Strength Index (RSI) is below the 50-mark supporting the current negative outlook in the short term.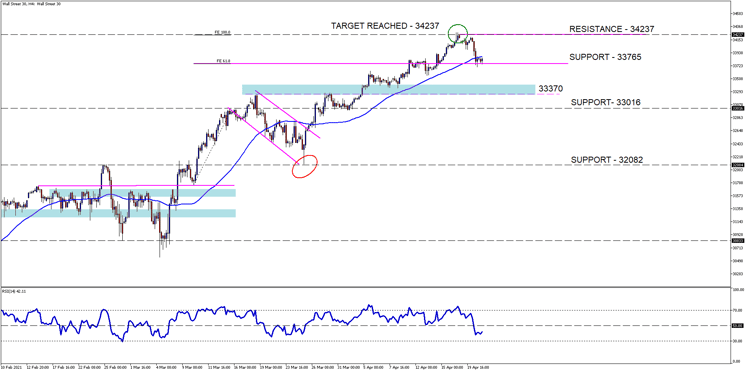 Chart Source: Wall Street 4H Timeframe - GT247 MT5 Trading Platform
Trading term of the day
Sell-Off
A sell-off occurs when a large volume of securities are sold in a short period of time, causing the price of a security to fall in rapid succession. As more shares are offered than buyers are willing to accept, the decline in price may accelerate as market psychology turns pessimistic. – Investopedia.
Take note: The outlook and levels might change as this outlook is released during the current days (Wednesday the 21st of April 2021) U.S Market open.
Sources – MetaTrader5, Reuters, Investopedia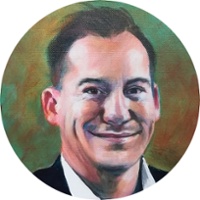 Barry Dumas | Market Analyst at GT247.com
Barry has 12 years experience in the financial markets. He enjoys educating clients on trading / investing and providing punchy technical analysis on securities. He currently holds a Wealth Management qualification and is studying towards becoming a Chartered Market Technician® (CMT) designation holder.
---
Disclaimer:
Any opinions, news, research, reports, analyses, prices, or other information contained within this research is provided by Barry Dumas, Market Analyst at GT247 (Pty) Ltd t/a GT247.com ("GT247.com") as general market commentary, and does not constitute investment advice for the purposes of the Financial Advisory and Intermediary Services Act, 2002. GT247.com does not warrant the correctness, accuracy, timeliness, reliability or completeness of any information which we receive from third party data providers. You must rely solely upon your own judgment in all aspects of your trading decisions and all trades are made at your own risk. GT247.com and any of its employees will not accept any liability for any direct or indirect loss or damage, including without limitation, any loss of profit, which may arise directly or indirectly from use of or reliance on the market commentary. The content contained within is subject to change at any time without notice.