The election honeymoon period is over, and we are all waiting in anticipation for the new dawn as President Ramaphosa must start to deliver on his promises.
The Rand, ZAR
The South African Rand (ZAR) is reacting as expected and highlighted in our Election Report that we might see the local currency weaken after the elections if history is anything to go by. The Rand has given back all the pre-election gains and might weaken even further as the international Trade environment weakens further.
South Africa has strong economic ties with China which has seen the respective currency pairs lose ground against the Dollar (USD). There is a strong correlation between the USDZAR and USDCNH currency pairs that should be considered when trading.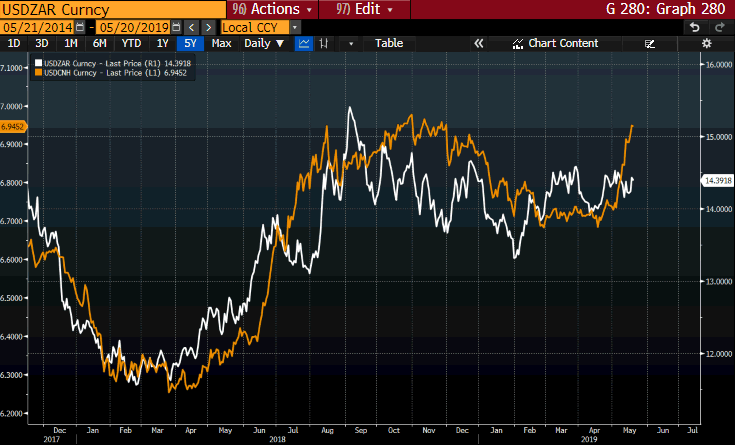 Source - Bloomberg
Deutsche Bank also came out and told its clients on Friday that they should consider selling the Rand (ZAR) as the fundamentals remain weak. Struggling SOE's will come back into focus of the ratings agency Moody's with its next review scheduled for November 2019.
Some technical points to look out for on the USDZAR currency pair:
The price action is currently testing the lower boundary of the channel (green lines) where price is finding support.
The currency pair is pushing higher but needs to clear overhead resistance at a price level of 14.55 to support a move higher.
The currency pair's 50-day Simple Moving Average is below current price acting as support and supporting the move higher.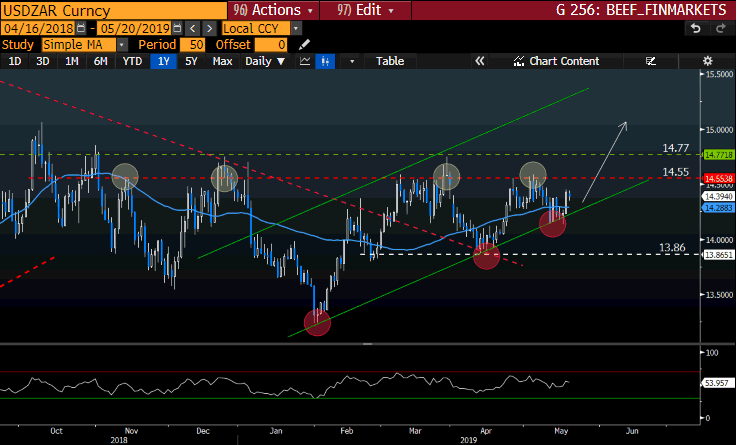 Source - Bloomberg
Brent Crude Oil vs Petrol Price.
Petrol - To burden the consumer even further, some analysts are forecasting that we might see a litre of unleaded 95 reach the R20 mark before the end of 2019. Adding on to the pressure is the new Carbon Tax which takes effect from the 5th of June. The new Carbon Tax will add an additional 9 cents to a litre to petrol and 10 cents to Diesel.
Looking at the current trend the Oil market is heading into R20/ litre for Petrol does not sound that far fetched coupled with a depreciating Rand (ZAR).
Crude Oil - Saudi Arabia and other OPEC+ nations have signalled that they will continue to cut supply to the market which has seen Oil rally close to 40% this year. The Saudi Energy Minister Khalid al-Falih broke the news on Sunday.
Brent crude traded over 1% higher on Monday after the Saudi Energy Minister broke the news and by rising tensions between the U.S President and Tehran. President Trump went on social media over the weekend and issued new threats to Iran. Tweeting that a conflict with Iran would be the "official end" of that country.
Some technical analysis to look out for on Brent Crude Oil:
Brent Crude Oil's price action is finding resistance at the prominent 61.8 Fibonacci Retracement level.
We would need to see the price action close above the $72.48/ barrel level to support another leg higher.
The price action is trading above its major Simple Moving Averages the 200 day (red) and 50 day (Blue).
The Relative Strength Index (RSI) will be watched closely for a possible reversal which might 111 support a move higher.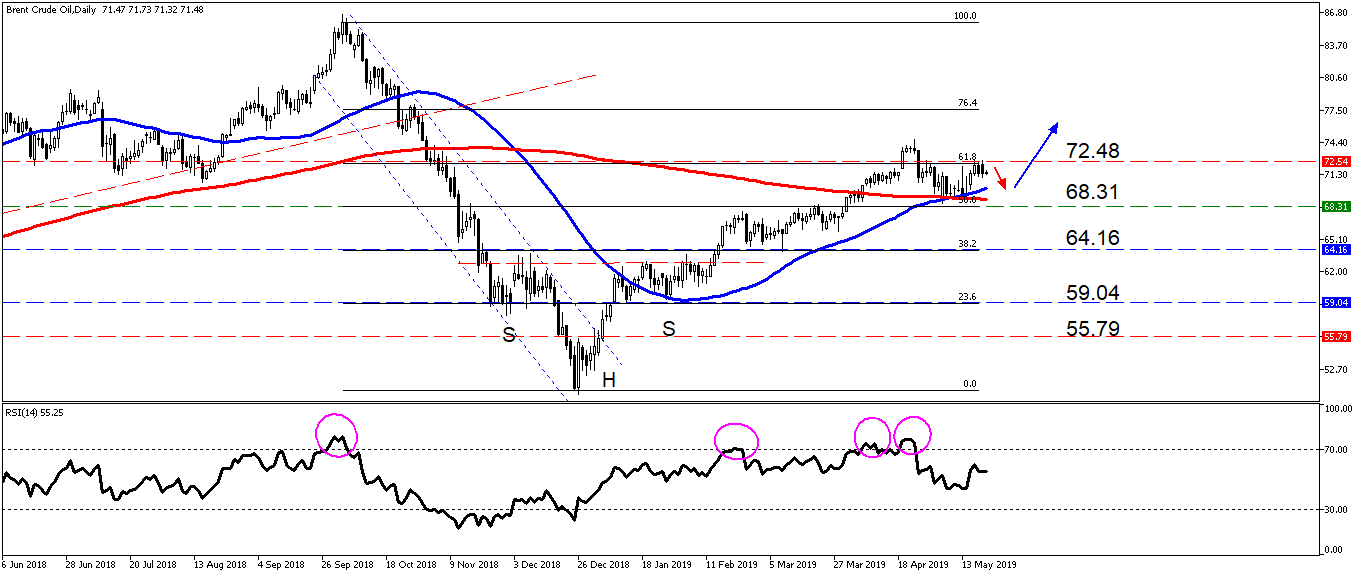 Source - Bloomberg
---
Disclaimer:
Any opinions, news, research, reports, analyses, prices, or other information contained within this research is provided by Barry Dumas, Market Analyst at GT247 (Pty) Ltd t/a GT247.com ("GT247.com") as general market commentary, and does not constitute investment advice for the purposes of the Financial Advisory and Intermediary Services Act, 2002. GT247.com does not warrant the correctness, accuracy, timeliness, reliability or completeness of any information which we receive from third party data providers. You must rely solely upon your own judgment in all aspects of your trading decisions and all trades are made at your own risk. GT247.com and any of its employees will not accept any liability for any direct or indirect loss or damage, including without limitation, any loss of profit, which may arise directly or indirectly from use of or reliance on the market commentary. The content contained within is subject to change at any time without notice.