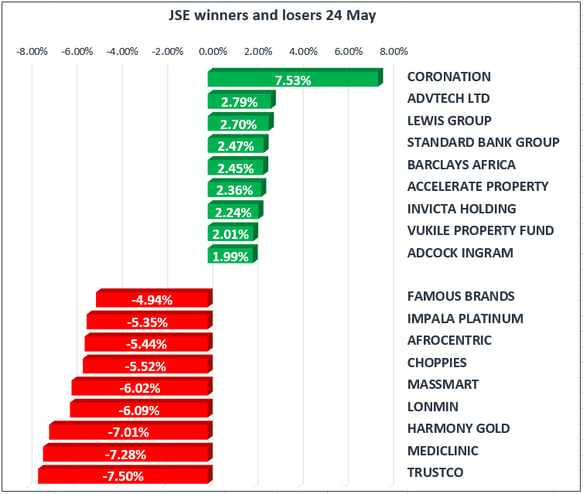 CPI Data leads Rand sensitives higher
StatsSA released CPI data today which beat analyst estimates. Rand sensitive shares reacted positively to this data and traded positively on the day.
CPI year-on-year contracted to 5.3% from the prior recorded level of 6.1%. This was better than the estimated level of 5.6%. Financials were buoyed by this data, and traded in positive territory for most of the day. This was aided by the strengthening of the Rand against a basket of major currency pairs, which saw it strengthen to highs of R12.92 against the greenback before trading at R12.96 when the JSE closed.
The JSE All Share Index (see research note) was pulled down by Rand hedge stocks on the back of the stronger local currency. The index closed down 0.58%, with the Top 40 closing 0.62% lower. Financials closed in the green & were up 0.90%, Retailers gave up earlier gains to close 0.29% lower. Resources also ended the day weaker after a minor sell-off in commodities such as platinum and gold, that index closed the day 0.93% lower. Industrials closed 0.98% lower, mainly led by Naspers which closed the day 0.94% lower.
Mediclinic & Tsogo Sun released their full-year results today. Mediclinic reported decreases in margins and underlying earnings per share compared to the previous financial year. The led to a selloff in the stock & at the JSE close it was down 7.28%. Tsogo Sun reported a slightly positive set of results, which indicated increases in income and adjusted headline earnings per share. This was despite concerns of increased consumer pressure and a weak economic environment affecting their bottom line. The stock traded lower on the today and managed to close at R24.30, down 1.02% for the day.
Local investors will now shift their focus to the South African Reserve Bank's interest rate decision, which is expected on Thursday afternoon. With inflation back within the Reserve Bank's upper target of 6%, it provides little incentive for the Monetary Policy Committee (MPC) to raise interest rates. General market consensus is that rates will be kept unchanged.
Metals had a minor reversal overnight. Gold in particular, reversed & has managed to reach a low of $1247.99 per ounce intra-day. It looks set to continue lower and possibly reach its 200-day moving average. Platinum also had quite a reversal, the commodity traded lower for most of the day reaching lows of $939 per ounce, before trading at $944 per ounce at the JSE close. Platinum & gold miners on the JSE were lower on the day on the back of this contraction.
Brent Crude managed to hold off above $54 per barrel for most of the day. The Crude Oil Inventories data from the USA released this afternoon indicated a draw of 4.4 million barrels, which led to a spike up to $54.62 per barrel before it stabilised just above $54 at the JSE close.
Want to trade CFD Equities, Indicies, Commodities & Forex on the most affordable online South African trading platform?