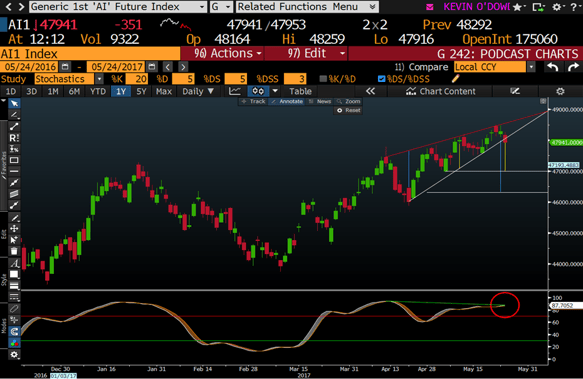 The ALSI Top 40 is a very popular instrument to trade, even though the name is 'Top 40' the Index holds 43 shares.
The Situation:
Looking at the Alsi Top 40 In recent weeks, the domestic market has been kept afloat by rand hedges, particularly Naspers and Richemont.
The Chart
The Top 40 is currently breaking down out of a rising wedge formation, and is at risk of slipping lower as Naspers has taken a tumble due to weak Chinese macroeconomic data.

The oscillator at the bottom of the chart indicates negative divergence, which confirms the breakdown of the price. Negative divergence is when the oscillator is moving lower whilst the price of the instrument is moving higher.
Potential Trade setup
If the ALSI closes below

the significant 48000 level

we could expect

to short the index with a first minimum target of

47000

, this formation has a full target price 2000 points lower at 46000.
Want to trade CFD's like the ALSI Top 40 on the most affordable platform in South Africa?