JSE closes the week in the green
The JSE managed to close in the green on Friday, and end the slide seen over the last week.
On Friday, traders were poised for announcements from S&P Global Ratings regarding the status of South African domestic debt, however at the time of writing the announcement was not made. South Africa's sovereign credit status is again under review by S&P as well as Moody's – following on from the downgrades presented in April.
In April, the announcement by S&P to downgrade the investment status on foreign denominated debt related to R263 billion – roughly 10% of government total debt that is now sub-investment grade. Domestic debt, a total of R2.2 trillion, remains on the edge of investment grade.
The immediate impact of the announcement to downgrade the investment status on Rand denominated debt remains vulnerable to unfolding developments in the political sphere in SA.
The Rand closed the trading session on Friday at R12.80 to the greenback, following dollar weakness after lower than expected jobs data was released from the United States.
The JSE all share index closed 0.09% higher, followed by the blue-chip Top40 which edged 0.08% higher. The positive move was led by Financials gaining +0.96%, whilst gold miners dropped -1.49%, resources -0.77% and Industrials closed flat.
Barclays Africa [JSE:BGA] closed the trading session at R147.14, a gain of 3.79%. Barclays PLC has sold down it's holding to an effective 15% shareholding in Barclays Africa Group through a successful placement of 33,7% of the issued share capital worth R37,7 billion, one of the largest bookbuilds yet seen in South Africa. The PIC now own as large a stake in BGA as Barclays Plc.
The result of this deal, according to Mark N Ingham, an independent analyst on behalf of EasyEquities, "concludes a questionable twelve-year Barclays PLC/ABSA business relationship and ABSA can now plough its own furrow".
Barclays PLC is contributing £765 million toward separation costs of which £515 million is in recognition of the investments required in technology, rebranding and related projects, £55 million for separation related expenses, and £195 million to terminate the existing service level agreement between Barclays PLC and Barclays Africa Group relating to ex-South Africa operations acquired in 2013.
"Barclays Africa has lagged it peers in share price performance for some years, as the table below illustrates" said Ingham. <- READ MORE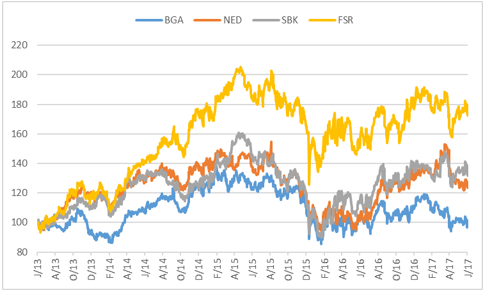 Barclays Africa Group, Nedbank, Standard and FirstRand based to 100 over four years
In U.S markets, the dollar weakened significantly after posting weaker than expected non-farm jobs growth numbers. Following a strong month in April, when the jobless rate dropped to 4.4% - the lowest level in more than a decade - economists expected payrolls to increase by 185k in May and the unemployment rate to remain steady. Hourly wages are anticipated to rise by 0.2%, bringing the year-on-year increase to 2.6%. Today's report indicated that jobs only increased by 138k in May, missing estimates by 47k.
The numbers still appear positive, and will be among the last pieces of critical data Fed officials will analyse in detail before meeting later this month.
Crude oil prices fell to $49.73/bbl amid fears that the U.S. withdrawal from the Paris accord will trigger more American drilling. The U.S. oil industry exported a record 1.3m barrels of crude per day onto the world market last week - half million barrels less than the cuts OPEC and Russia agreed to make to daily production.

Martin Harris |
Trading Specialist at
GT247.com
---
Want to trade CFD Equities on the most affordable online South African trading platform?
---