Anglo American
"Anglo American in a good space with respect to the draft mining charter"
Sector: Mining
Share price: £17,10 LSE, R305,00 JSE (current FX R17,85/GBP)
Net shares in issue: 1,29 billion
Market cap: £22,1 billion LSE, R393,5 billion JSE
Fair value: £16,50 LSE, R272 JSE based on DCF (modelling FX R16,50/GBP)
Target price: £20,00 LSE, R330 JSE (modelling FX R16,50)
Forward PE ratio: 6,9x
Forward yield: 5,7%
Trading Buy and Portfolio Buy
With respect to the revised draft Mining Charter, the following is relevant for Anglo American. Please read this in conjunction with reference to my notes on Anglo American entitled "Strengthening fundamentals" dated 28 February 2018 and also "South African political tailwind" dated 16 February 2018.
The Department of Mineral Resources Draft Mining Charter appears, on the face of it, to be relatively workable for AGL. Sector price weakness is an opportunity for fresh exposure.
Anglo American is in a good space with respect to these just released proposals and will not find them overly onerous, although there will still be horse trading between the Chamber of Mines and government before we see these passed in to law.
Importantly, the "once-empowered always empowered" principle holds good.
The mining industry has 30 days to send in representations. The industry has, at least, been widely consulted, unlike last time when there was no consultation.
A provision of the revised draft is a requirement to increase BEE ownership to 30% from 26%. But it proposes to honour the "once empowered, always empowered" principle and thus gives credit for past arrangements. Companies that have reached 26% BEE ownership are now expected to get to 30% within five years.
For new mining rights, the 30% BEE ownership target has to include a total 10% free carried interest for employees and the mine community with a trickle dividend of 1% of EBITDA from the sixth year of a mining right until such time as corporate dividends are paid.
If the 26% target was achieved but the BEE partners then exited, a mining company will still be considered to have achieved 26% target under "principle of continuing consequences", in other words "once empowered, always empowered".
Mining companies need to spend at least 70% of their budget for mining goods on "South African manufactured goods" and 80% on services produced or provided by BEE-compliant companies. Previously, the it was 40% on capital goods, 50% on consumer goods, and 70% on services.
The draft wants 50% of board members and senior managers to be Black Persons with a higher percentage at lower management ranks, versus 40% on the current Charter. This could prove tricky as skills are scare anyway.
Anglo American's BEE representation at board level is 53% and at senior management levels 45%.
Anglo American South Africa has already reached the BEE ownership target of 30%.
Anglos company's BEE spend on capital goods, consumables, and services is almost 80%. However, a point of clarification is that local suppliers as envisaged in the draft is not the same as the current charter, which has a so-called BEE entity.
Bottom line is that Anglo American stacks up well against the draft charter, meeting or exceeding what is suggested, and it already does better than the current charter.
The 10% free carry on new mining rights is not an immediate investment risk. However, miners in general could see this as a disincentive to opening new mines.
There has been a deal of compromise, compared to the untenable situation under Zuma at which organised mining was at legal daggers draw with government. There is tacit recognition by the Ramaphosa administration that it has to keep the goose that lays the golden eggs onside but also make allowance for political agendas.
The Minerals Council came out publicly that this is a "material improvement" but "much more work needs to be done". The Council supports the 30% black ownership target on new mining rights, with shares allocated for communities, organised labour, and black entrepreneurs, but says the draft proposals do not promote competitiveness adequately. The Council is against the free carried interest of 5% each to labour and communities and says that 10% would increase hurdle rates. The Council also says the proposed 1% EBITDA has been slipped in and was not agreed as a recommendation to the charter task team.
AGL has been one of the stronger performers of late and a favoured diversified mining exposure.
On a DCF basis, I retain fair value of £16,50 or R272 at a FX rate of R16,50. The target is £20,00 and R330. I have used a stronger FX rate given the volatility of the rand and the fact that a retracement is not out of the question. The forward PE ratio is 6,9x and the dividend yield, assuming a dividend of $1,30, is 5,7%. Price to book is 1,1x.
Anglo American share price on the JSE in ZAR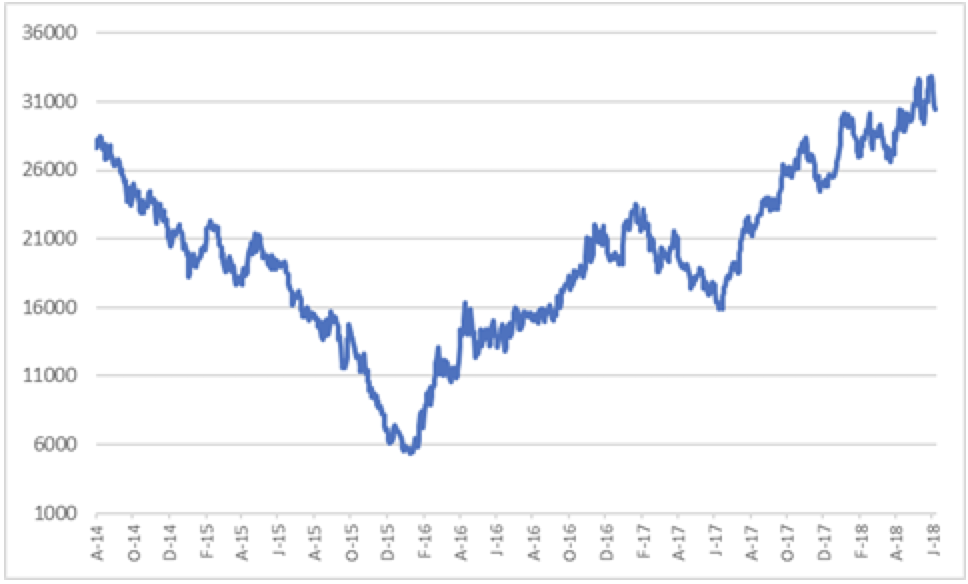 Wishing you profitable investing, until next time.
Mark N Ingham

Disclaimer: Any opinions, news, research, analyses, prices, or other information contained within this research is provided as general market commentary, and does not constitute investment advice. GT247.com will not accept liability for any loss or damage, including without limitation to, any loss of profit, which may arise directly or indirectly from use of or reliance on such information. The content contained within is subject to change at any time without notice, and is provided for the sole purpose of assisting traders to make independent investment decisions.