The G20 Summit in Osaka Japan is approaching fast with the Trump-Xi meeting on Saturday headlining the event for market participants. Will we see President Trump's new round of threats to impose another $325 billion worth of tariffs on Chinese goods or would negotiations between the two nations start once more on a good note?
The Group of twenty (G20) summit will take place 28-29 of June 2019 at the International Exhibition Centre in Osaka.
Stock Markets
The major Asian markets turned lower on Wednesday morning with the European futures market leading the decline as the FED's easing of rates comes back into focus. The U.S Dollar started to gain momentum from three-month lows and Gold moved lower for the first time in seven sessions.
The FED
Aggressive monetary easing has been placed on the back burner as FED officials start to back track on their views. FED chair Jarome Powell stated on Tuesday that the Federal Reserve is "insulated from short-term political pressures" as he defends the central banks independence. This came about as President Donald Trump demanded for significant rate cut of 50 basis points. James Bullard, St. Louis Federal Reserve Bank President said in his interview that he does not think that the U.S economy is in a dire situation to warrant a 50-basis point rate cut at the next meeting.
Iran
Tensions between the U.S and Iran escalated on Tuesday as President Trump-imposed sanctions against Supreme Leader Ayatollah Ali Khamenei and other senior figures. Iranian foreign ministry said, "Imposing useless sanctions on Iran's Supreme Leader and the commander of Iran's diplomacy is the permanent closure of the path of diplomacy,"
On the Calendar
Some events to lookout for today would be the Durable Goods Orders in the U.S later today at 14:30 SAST and Crude Oil Inventories at 16:30 SAST.
The S&P 500
The major U.S markets have given up gains after the Fed Chair made his speech and we might just see more downward pressure on the S&P 500.
We might expect the Index to move lower to the 2877 support level in the short term which coincides with the 50-day Simple Moving Average (white line).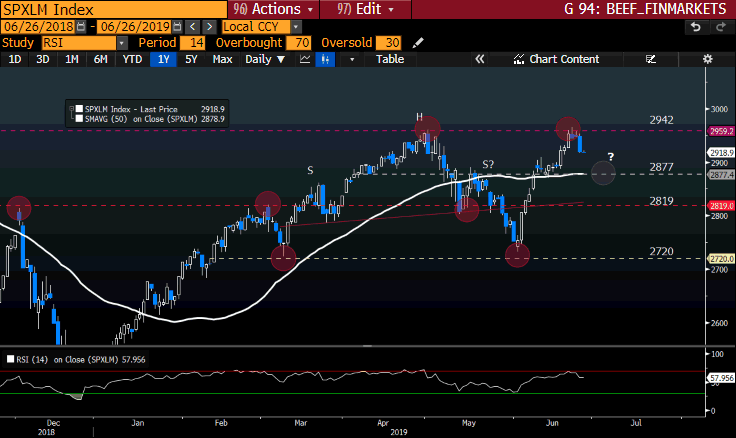 Source - Bloomberg
---
Disclaimer:
Any opinions, news, research, reports, analyses, prices, or other information contained within this research is provided by Barry Dumas, Market Analyst at GT247 (Pty) Ltd t/a GT247.com ("GT247.com") as general market commentary, and does not constitute investment advice for the purposes of the Financial Advisory and Intermediary Services Act, 2002. GT247.com does not warrant the correctness, accuracy, timeliness, reliability or completeness of any information which we receive from third party data providers. You must rely solely upon your own judgment in all aspects of your trading decisions and all trades are made at your own risk. GT247.com and any of its employees will not accept any liability for any direct or indirect loss or damage, including without limitation, any loss of profit, which may arise directly or indirectly from use of or reliance on the market commentary. The content contained within is subject to change at any time without notice.