The JSE closed weaker on Friday on the back of a broad-based equity sell-off across most global equity markets.
On the JSE, the market was gripped by Aspen [JSE:APN] which plummeted as much as 50% on the day to a session low of R68.99. This was in reaction to the company's half-year results which were released after the close on Thursday which highlighted mounting debt and a decrease in earnings. Over 15 million shares exchanged hands on the day with the stock eventually ending the day 28.69% lower at R100.66.
Tongaat Hulett [JSE:TON] also nosedived on the day as it fell to a session low of R20.53 after the company issued a cautionary statement. The stock plummeted 28.34% to close at R22.00 EOH Holdings [JSE:EOH] traded under significant pressure eventually closing at R16.32 after dropping 11.54%. Weakness was recorded for commodities trading giant, Glencore [JSE:GLN] which lost 3.35% to close at R55.40, while index heavyweight Naspers [JSE:NPN] dropped 1.87% to close at R3071.59. Rebosis Property Fund [JSE:REB] remained under pressure as it lost another 4.81% to end the day at R1.98, while Fortress REIT [JSE:FFB] lost 4% to close at R12.00.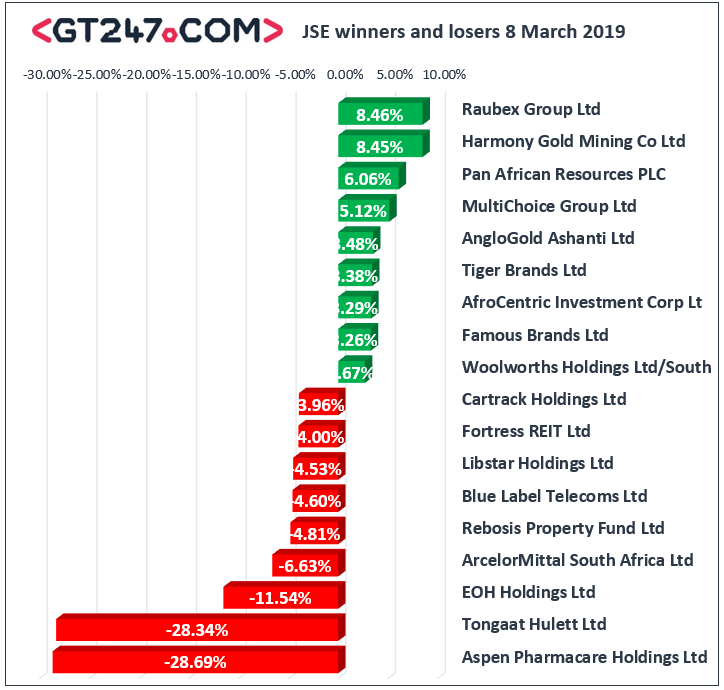 Gold miners traded mostly firmer on the day which saw Harmony Gold [JSE:HAR] close amongst the day's biggest movers after it gained 8.45% to close at R28.61. AngloGold Ashanti [JSE:ANG] added 3.48% to close at R191.98, while Gold Fields [JSE:GFI] firmed by 2.56% to close at R54.15. Multichoice [JSE:MCG] rallied 5.12% to close at R106.80, while Pan African Resources [JSE:PAN] managed to gain 6.06% to close at R1.75. Retailers also recorded decent gains despite the rand trading relatively softer against the greenback. Woolworths [JSE:WHL] added 2.67% to close at R47.30, Mr Price [JSE:MRP] firmed by 1.94% to close at R210.00, and Pick n Pay [JSE:PIK] gained 1.03% to close at R68.96.
The JSE All-Share Index eventually closed 0.69% lower while the blue-chip JSE Top-40 index lost 0.9%. Financials were steadfast as they managed to end the day0.32% firmer. However, the Industrials and Resources index fell 1.08% and 1.17% respectively.
Investors sold-off brent crude over fears of slowing economic growth which were reignited by the ECB's press conference on Thursday. The commodity fell to a session low of $64.10/barrel before it was recorded at $64.40/barrel just after the JSE close, down 2.87% on the day.
At 17.00 CAT, Gold was up 0.81% to trade at $1295.98/Oz, Palladium was 0.63% weaker at $1518.16/Oz, and Platinum had inched up 0.19% to trade at $816.33/Oz.