The JSE closed softer on Monday following a relatively muted session in which the local bourse couldn't gain significant momentum.
With US markets closed for Martin Luther King Day, market participants turned to Asia for fresh clues on market direction. In earlier trading, the Shanghai Composite Index gained 0.75% while the Japanese Nikkei managed to add 0.18%. In Hong Kong, the Hang Seng came under considerable pressure eventually closing the day 0.9% softer. In Europe, the overall trend was lower although the losses were modest.
There was no economic data released locally today, however focus will be on the release of inflation numbers for the month of December which are expected on Wednesday. The rand breached the R14.50/$ level as it reached a session low of R14.57/$. At 17.00 CAT, the rand was trading 0.34% weaker at R14.50/$.
On the local bourse, Telkom [JSE:TKG] started off on the back foot as it slipped 5.46% to close at R34.65, while the slump in KAP Industrial Holdings [JSE:KAP] persisted as the share lost 4.99% to close at R3.62. EOH Holdings [JSE:EOH] fell 4.51% to close at R10.58, packaging specialist Nampak [JSE:NPK] retreated 2.32% to close at R5.47. Retailers were dragged by the weaker rand which saw stocks such as Massmart [JSE:MSM] falling 2.32% to close at R51.77, The Foschini Group [JSE:TFG] lost 1.61% to close at R152.99, and Mr Price [JSE:MRP] closed at R185.75 after losing 1.58%. Losses were also recorded for Richemont [JSE:CFR] which dropped 3.26% to close at R117.30, and BHP Group [JSE:BHP] which closed at R348.58 after losing 0.71%.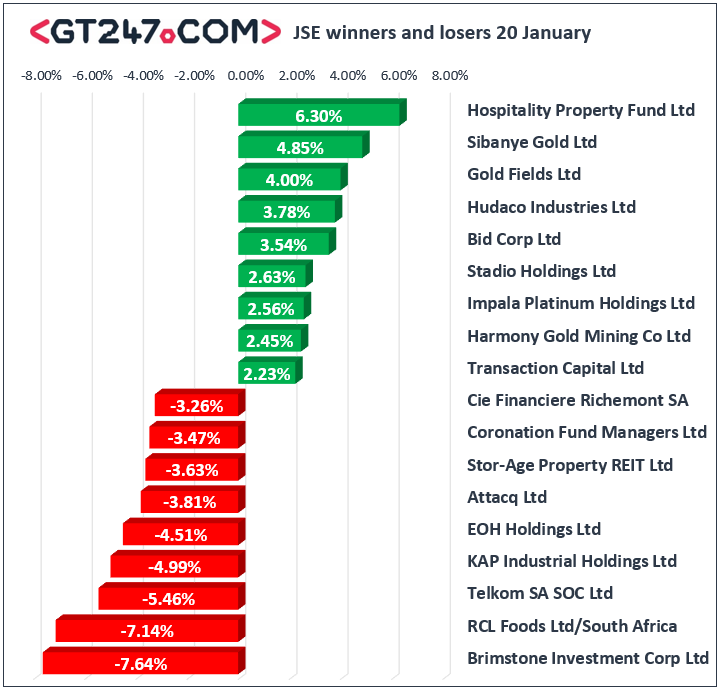 Resources advanced significantly in today's session led by gains in Sibanye Gold [JSE:SGL] which rallied 4.85% to close at R41.10, Impala Platinum [JSE:IMP] which rose 2.56% to close at R158.57, and Anglo American PLC [JSE:AGL] which inched up 0.26% to close at R425.29. Rand hedge, Bid Corporation [JSE:BID] advanced 3.54% to close at R347.46, while Mondi PLC [JSE:MNP] managed to add 1.1% to close at R304.72. Other significant gains were also recorded for Clicks Group [JSE:CLS] which gained 2.18% to close at R270.14, Intu Properties [JSE:ITU] which added 1.88% to close at R4.34, and Sappi [JSE:SAP] which closed at R42.87 after losing 1.61%.
The JSE All-Share index closed 0.26% lower while the blue-chip JSE Top-40 index retreated 0.18%. The Resources index managed to close 0.55% firmer, however the Industrials and Financials indices lost 0.57% and 0.66% respectively.
Brent crude prices continue to benefit from the rise in tensions in Libya and Iran which have seen the commodity trading firmer. It was recorded trading 0.91% firmer at $65.42/barrel just after the JSE close.
At 17.00 CAT, Palladium was up 0.81% at $2500.43/Oz, Gold was 0.26% firmer at $1560.12/Oz, while Platinum was down 0.46% at $1013.32/Oz.
---
Disclaimer:
Any opinions, news, research, reports, analyses, prices, or other information contained within this research is provided by GT247.com at GT247 (Pty) Ltd t/a GT247.com ("GT247.com") as general market commentary, and does not constitute investment advice for the purposes of the Financial Advisory and Intermediary Services Act, 2002. GT247.com does not warrant the correctness, accuracy, timeliness, reliability or completeness of any information which we receive from third party data providers. You must rely solely upon your own judgment in all aspects of your trading decisions and all trades are made at your own risk. GT247.com and any of its employees will not accept any liability for any direct or indirect loss or damage, including without limitation, any loss of profit, which may arise directly or indirectly from use of or reliance on the market commentary. The content contained within is subject to change at any time without notice.