The local bourse traded mostly flat on Tuesday as global markets digested weaker than expected Chinese economic data.
Global market fretted after China released Manufacturing and Non-Manufacturing PMI data which came in worse than widely forecasted. This was also aided by disappointing results for Alphabet in the USA on Monday which dampened investor optimism over the current earnings reporting season on Wall Street. The resumption of trade talks between the USA and China also brought another dynamic into play as reports surfaced that the US is looking to leave some punitive tariffs in place as a means to enforce a deal.
On the JSE, Coronation Fund Managers [JSE:CML] came under significant pressure following the release of a weaker trading statement, as well as its assets under management. The stock fell 8.53% to end the day at R51.13. Listed property stocks were on the losing side as losses were recorded for Rebosis Property Fund [JSE:REB] which fell 7.8% to close at R1.30, Intu Properties [JSE:ITU] weakened by 3.04% as it closed at R17.84, while Accelerate Property Fund [JSE:APF] fell to R3.02 after losing 2.89%. Mining giant Anglo American PLC [JSE:AGL] lost 1.28% to close at R367.53, while platinum miner Impala Platinum [JSE:IMP] fell 4.76% to close at R57.26.
Of the day's gainers Delta Property Fund stood out after it rocketed 13.54% to close at R2.18. Hospitality group Sun International [JSE:SUI] also recorded decent gains as the stock rose 6.6% to close at R54.89, while healthcare specialists Ascendis Health [JSE:ASC] rose 5.48% to close at R4.43. Multichoice [JSE:MSG] managed to gain 3.51% as it closed at R128.45, while Steinhoff International [JSE:SNH] added 5.13% to end the day at R2.05. Retailers also had a decent showing as gains were recorded for Massmart Holdings [JSE:MSM] which firmed 3.445 to close at R94.22, while Mr Price [JSE:MRP] closed at R216.63 after gaining 2.19%.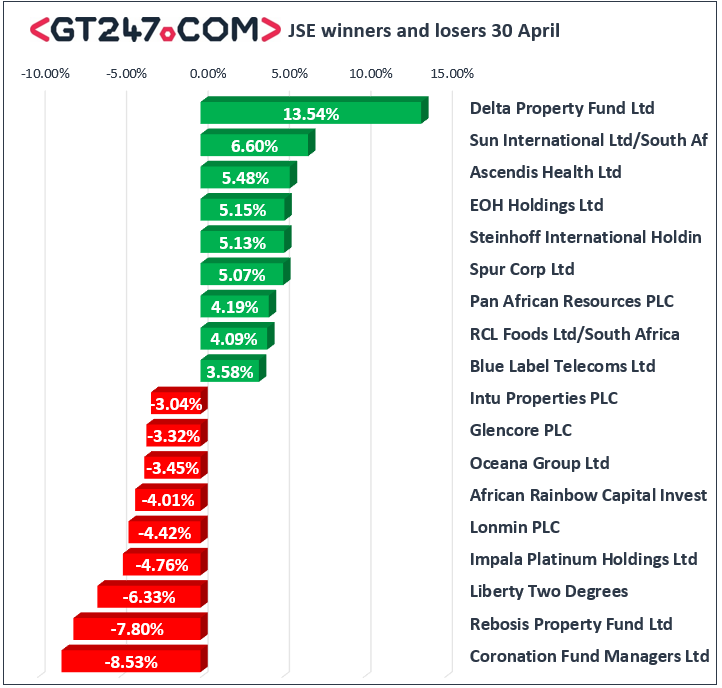 The blue-chip JSE Top-40 index eventually closed 0.21% softer while the JSE All-Share index lost 0.23%. Gains were recorded for the Financials index which managed to inch up 0.26%, however the Resources and Industrials indices lost 0.58% and 0.19% respectively.
The rand retreated marginally from its overnight highs as the US dollar also staged a minor rebound. The rand was trading 0.285 weaker at R14.33/$ at 17.00 CAT.
Brent crude shrugged off its most recent weakness after OPEC stated that output cuts would continue until December. The commodity was trading 0.28% firmer at $71.70/barrel just after the JSE close.
At 17.00 CAT, Gold was 0.15% firmer at $1281.74/Oz, Palladium was up 0.79% at $1381.35/Oz, and Platinum was 0.68% weaker at $889.20/Oz.