The JSE started the week on the backfoot as weak Chinese growth numbers weighed on global markets.
Chinese GDP QoY came in at 6.7% which was less than the previous recording of 6.8%. This resulted in some Asian counters retreating from their session highs and resultantly the Shanghai Composite Index shed 0.59%. There are fears that the current trade war between the US and China could result in further economic contractions which could have a negative impact for other global markets which trade with China.
The US dollar weakened against a basket of major currencies which benefitted the rand as it strengthened to a session high of R13.16/$. The rand eventually retraced to trade at R13.23/$ at 17.00 CAT.
On the JSE, Impala Platinum [JSE:IMP] traded under significant pressure to end the day 8.76% weaker at R18.51 per share. Fellow platinum miner, Northam Platinum [JSE:NHM] lost 3.18% to close at R36.55, while iron ore miner, Kumba Iron Ore [JSE:KIO] slipped to R293.00 after dropping 3.71%. Steinhoff International [JSE:SNH] erased its gains to end the day down 5.45% at R3.23 per share.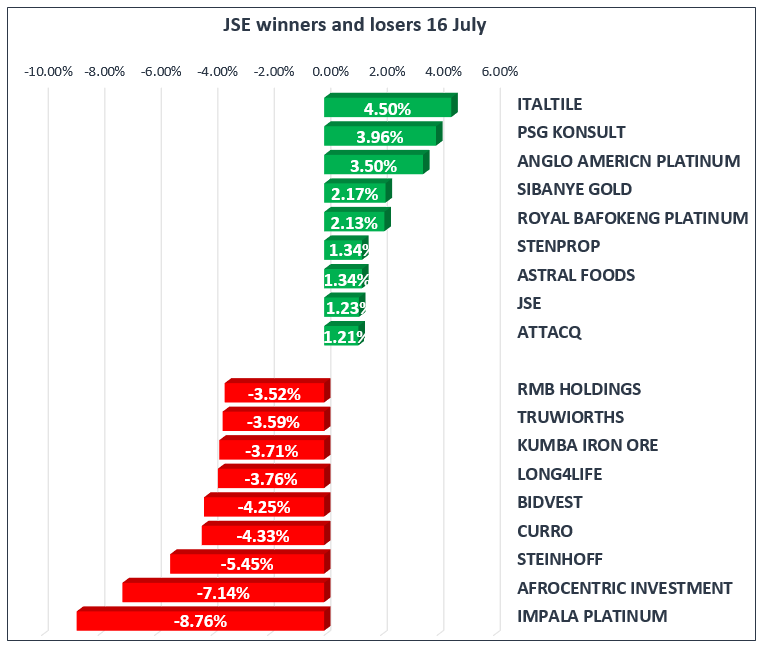 Bidvest [JSE:BVT] was the biggest loser on the JSE Top-40 index after it lost 4.25% to close at R182.75 per share. Retailer, Truworths [JSE:TRU] shed 3.59% to end the day at R73.11, while Woolworths [JSE:WHL] lost 2.14% to close at R53.40 per share. Clicks [JSE:CLS] slipped to R182.06 after dropping 2.69%, and index heavyweight Naspers [JSE:NPN] dragged the counter even lower after it shed 2.12% to close at R3329.79 per share.
Only a handful stocks managed to record gains on the blue-chip index. Discovery [JSE:DSY] inched up 0.69% to close at R150.70, while Life Healthcare [JSE:LHC] managed to gain 0.5% to close at R24.11 per share. Capitec Holdings [JSE:CPI] only gained 0.25% to close at R905.82 per share.
Anglo American Platinum [JSE:AMS] gained following the release of a trading statement which indicated that they are expecting a significant increase in earnings and profitability. The stock gained 3.5% to close at R368.09 per share. Sibanye Stillwater [JSE:SGL] added 2.17% to close at R7.53, while Reunert [JSE:RLO] firmed to R81.70 after adding 0.91%.
The JSE All-Share index eventually closed the day down 1.64%, while the JSE Top-40 index lost 1.8%. All the major indices closed in the red and the Industrials index was the biggest loser after dropping 1.74%. The Resources and Financials indices lost 1.71% and 1.57% respectively.
Brent crude retreated on Monday after supply concerns were eased following Saudi Arabia's announcement that they would offer more crude oil to some customers. On the other hand, the USA is also taking measures to ensure consistent supplies in other markets. The commodity slipped by more than 3% to a session low of $72.36/barrel. It retraced marginally to trade at $72.71/barrel just after the JSE close.
At 17.00 CAT, Gold was trading 0.35% softer at $1239.29/Oz. Platinum was down 0.96% at $821.20/Oz and Palladium was 1.74% weaker at $922.65/Oz.
Bitcoin was rallied up 4.13% to trade at $6633.25/coin and Ethereum was up 5.74% at $475.00