Global markets are subdued on Wednesday as investors await the U.S Federal Reserve Bank's interest rate decision which could see another leg lower in equity markets.
Treasury yields have been rising to decade highs after last weeks U.S inflation data shocker which also saw another leg lower in equity markets. The U.S Dollar has been on a ripper hitting a 20-year high point against a basket of currencies. This rise in the greenback coupled with higher yields has been a burden for gold, which has seen the price of the precious metal trickle lower.
Interest Rate Outlook
The U.S inflation data shock from last week have sent markets lower and yields surging higher along with the Dollar (USD). Market expectations are for a 50-basis point rate hike as investors wait to see what the central bank's new projections are for inflation and the U.S economy. Most investors fear that a drastic 75 basis point increase in rates later today by the Fed would be a tipping point for the world to move into a recession.
The CME Group's Fedwatch Tool (below) shows at 98% probability that the Fed will raise the target rate to between 150-175 basis points. The U.S interest rate announcement is scheduled for 20:00 SAST which will be followed by the FOMC press conference at 20:30 SAST.

The Wall Street 30 Technical Analysis
With the benchmark S&P500 having its worst start to a year since the early 60s and all the other major U.S Indices firmly in bear market territory, we could be at a tipping point.
We have adjusted our price levels on the Wall Street 30 (WS30) 4-hour chart and will be looking at three key levels today. We expect the price action to be somewhat subdued until the rate announcement later tonight which brings our levels into focus.
If we see the bears take control, then the major 29751-support level will be the level to watch for another significant leg lower. For the bulls, the price action needs to stay above the 30630-resistance level which could then see a price gap being filled around the 31383 level.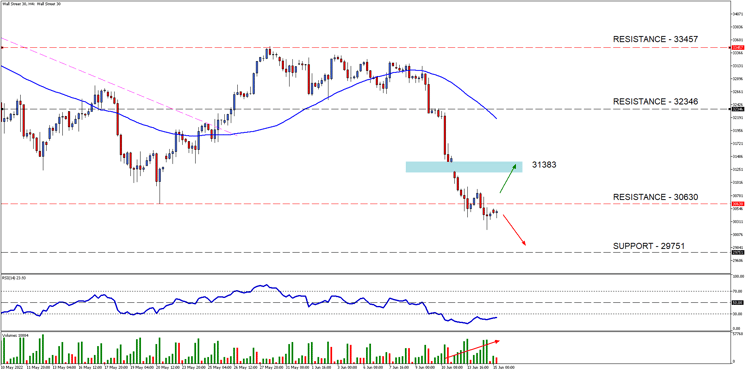 Current State / Chart Source: Wall Street 4H Timeframe - GT247 MT5 Trading Platform
Trading Term of the day:
What Is a Bear Market?
A bear market is when a market experiences prolonged price declines. It typically describes a condition in which securities prices fall 20% or more from recent highs amid widespread pessimism and negative investor sentiment. Bear markets are often associated with declines in an overall market or index like the S&P 500, but individual securities or commodities can also be in a bear market if they experience a decline of 20% or more over a sustained period of time—typically two months or more. Bear markets also may accompany general economic downturns such as a recession. – Investopedia
Take note: The outlook and levels might change as this outlook is released during the current days (Wednesday the 15th of June 2022) U.S Market open.
Sources – MetaTrader5, Reuters, Bloomberg, Investing.com, Investopedia, CME Group.
What time is the
U.S interest rate announcement is scheduled for?
The U.S interest rate announcement is scheduled for 20:00 SAST which will be followed by the FOMC press conference at 20:30 SAST.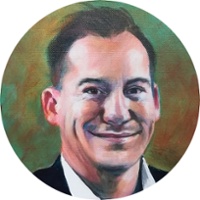 Barry Dumas | Market Analyst at GT247.com
Barry has 12 years of experience in the financial markets. He enjoys educating clients on trading / investing and providing punchy technical analysis on securities. He currently holds a Wealth Management qualification and is studying towards becoming a Chartered Market Technician® (CMT) designation holder.
---
Disclaimer:
Any opinions, news, research, reports, analyses, prices, or other information contained within this research is provided by Barry Dumas, Market Analyst at GT247 (Pty) Ltd t/a GT247.com ("GT247.com") as general market commentary, and does not constitute investment advice for the purposes of the Financial Advisory and Intermediary Services Act, 2002. GT247.com does not warrant the correctness, accuracy, timeliness, reliability or completeness of any information which we receive from third-party data providers. You must rely solely upon your own judgment in all aspects of your trading decisions and all trades are made at your own risk. GT247.com and any of its employees will not accept any liability for any direct or indirect loss or damage, including without limitation, any loss of profit, which may arise directly or indirectly from the use of or reliance on the market commentary. The content contained within is subject to change at any time without notice.