Equity markets rebounded late Tuesday after U.S Federal Reserve Chair Jerome Powell delivered a less hawkish tone in his testimony to Congress. The Fed chair did not disclose any new details beyond last months Fed minutes, but his tone was more composed on policy tightening.
Technology stocks lead the charge with the Nasdaq and the S&P 500 recording their best trading session in 2022 with gains of 1.4% and 0.9% respectively.
The bond market has also steadied after a turbulent start to the year and will be in focus later today when the U.S headline inflation data is released. The U.S Core Consumer Price Index (CPI) data will be released today at 15:30 SAST.
Here is what's expected this week:
The Wall Street 30 Technical Analysis
We might expect some uptick in markets ahead of the CPI data release and much volatility is expected after the release heading into the U.S market open.
We have adjusted our technical levels on the Wall Street 30 (WS30) index after our long-term possible target and resistance level was reached over the festive season. We can see a trend starting to take shape on the 4H chart but price needs to stay above the 36257-support level.
The 50-day simple moving average of price (blue line) could act as resistance in the short term and will be watched closely. If price can not push through and hold above these levels, then we could see the bears drive prices lower once again to the 35635-support level.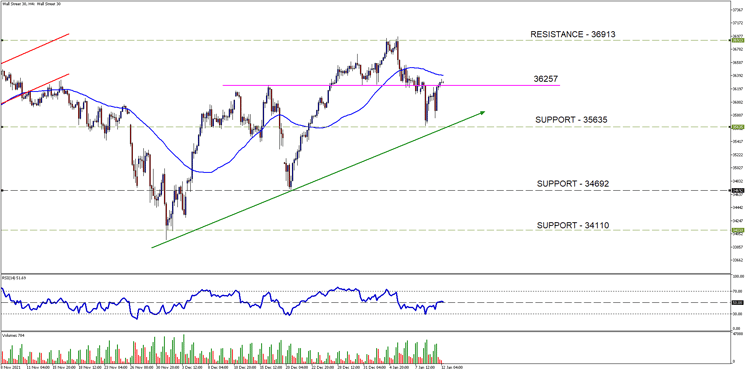 Current State / Chart Source: Wall Street 4H Timeframe - GT247 MT5 Trading Platform
Trading Term of the day:
CPI (Consumer Price Index)
The Consumer Price Index measures the average change in prices over time that consumers pay for a basket of goods and services.
It is the most widely used measure of inflation.
The CPI statistics cover a variety of individuals with different incomes, including retirees, but does not include certain populations, such as patients of mental hospitals.
The CPI is composed of the Consumer Price Index for Urban Wage Earners and Clerical Workers (CPI-W) and the Consumer Price Index for All Urban Consumers (CPI-U).
Take note: The outlook and levels might change as this outlook is released during the current days (Wednesday the 12th of January 2022) U.S Market open.
Sources – MetaTrader5, Reuters, Investing.com.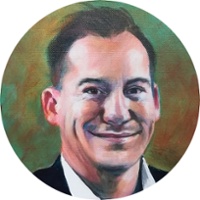 Barry Dumas | Market Analyst at GT247.com
Barry has 12 years of experience in the financial markets. He enjoys educating clients on trading / investing and providing punchy technical analysis on securities. He currently holds a Wealth Management qualification and is studying towards becoming a Chartered Market Technician® (CMT) designation holder.
---
Disclaimer:
Any opinions, news, research, reports, analyses, prices, or other information contained within this research is provided by Barry Dumas, Market Analyst at GT247 (Pty) Ltd t/a GT247.com ("GT247.com") as general market commentary, and does not constitute investment advice for the purposes of the Financial Advisory and Intermediary Services Act, 2002. GT247.com does not warrant the correctness, accuracy, timeliness, reliability or completeness of any information which we receive from third-party data providers. You must rely solely upon your own judgment in all aspects of your trading decisions and all trades are made at your own risk. GT247.com and any of its employees will not accept any liability for any direct or indirect loss or damage, including without limitation, any loss of profit, which may arise directly or indirectly from the use of or reliance on the market commentary. The content contained within is subject to change at any time without notice.