Positive U.S earnings have seen Wall Street push to new record highs, but Asian markets slipped today as new inflation concerns spark the interest rate debate.
Not only was there a major sell-off in Chinese Tech shares on Wednesday morning due to new regulatory concerns, but U.S short term treasury yields also rose to 19-month highs. Two-year Treasury yields increased ahead of next weeks Fed meeting, which could see the Fed give a definite date as to when it will start to taper after recent inflation concerns.
U.S earnings have pushed a positive global growth agenda and renewed interest in Tesla this week has seen markets trend higher. Earnings could keep markets at all-time high levels but if we do get definitive news from the U.S Federal Reserve next week, we could see markets tighten.
Here is what's expected this week:
The Wall Street 30 Technical Analysis
Optimism was indeed at all-time highs over the last week which saw the famed "Buy the Dip" traders capitalize on seasonal trends as mentioned in our previous WS30 note. the Wall Street 30 (WS30) saw no pullback to support and continued to rally to new record highs.
We have added some support levels to watch if we do indeed see a trend reversal while our possible long-term target remains at 36030. Mixed signals from the U.S earnings front this week and Fed meeting next week could see some volatility return to the broader market.
We have adjusted our levels with the new 35369 and 35025-support levels which could come into focus if fundamental factors play out.
The 50-day SMA (blue line) is still pointing higher and could also become a support level to watch on the 4H chart.
The Relative Strength Index (RSI) is at overbought levels, but this is no indication that markets should turn lower as a healthy run could see extended overbought levels on the RSI.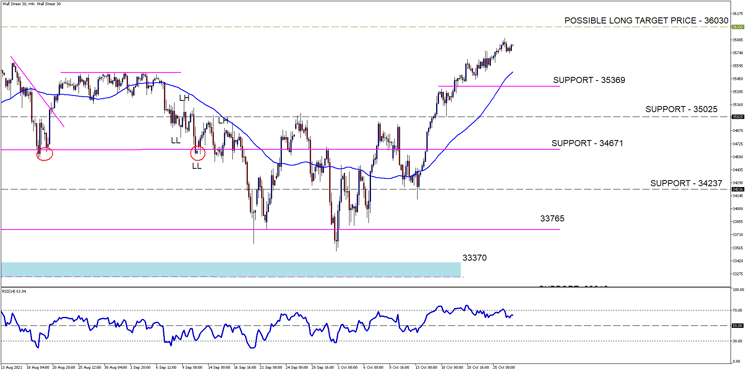 Chart Source: Wall Street 4H Timeframe - GT247 MT5 Trading Platform
Trading Term of the day:
Reversal:
A reversal is a change in the price direction of an asset. A reversal can occur to the upside or downside. Following an uptrend, a reversal would be to the downside. Following a downtrend, a reversal would be to the upside. Reversals are based on overall price direction and are not typically based on one or two periods/bars on a chart. Certain indicators, such as a moving average, oscillator, or channel, may help in isolating trends as well as spotting reversals. Reversals may be compared with breakouts. – Investopedia
Take note: The outlook and levels might change as this outlook is released during the current days (Wednesday the 27th of October 2021) U.S Market open.
Sources – MetaTrader5, Reuters, Investopedia.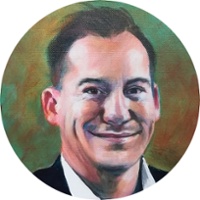 Barry Dumas | Market Analyst at GT247.com
Barry has 12 years of experience in the financial markets. He enjoys educating clients on trading / investing and providing punchy technical analysis on securities. He currently holds a Wealth Management qualification and is studying towards becoming a Chartered Market Technician® (CMT) designation holder.
---
Disclaimer:
Any opinions, news, research, reports, analyses, prices, or other information contained within this research is provided by Barry Dumas, Market Analyst at GT247 (Pty) Ltd t/a GT247.com ("GT247.com") as general market commentary, and does not constitute investment advice for the purposes of the Financial Advisory and Intermediary Services Act, 2002. GT247.com does not warrant the correctness, accuracy, timeliness, reliability or completeness of any information which we receive from third-party data providers. You must rely solely upon your own judgment in all aspects of your trading decisions and all trades are made at your own risk. GT247.com and any of its employees will not accept any liability for any direct or indirect loss or damage, including without limitation, any loss of profit, which may arise directly or indirectly from the use of or reliance on the market commentary. The content contained within is subject to change at any time without notice.