The U.S earnings season has arrived amidst expectations that rising inflation data, could see the Fed start to taper its exuberant bond-buying program sooner than later.
Soaring energy demand is still a global focal point, but all eyes will be on U.S CPI data expected later today at 14:30 SAST coupled with the FOMC meeting minutes later tonight at 20:00 SAST.
Asian markets were muted on Wednesday ahead of the U.S economic data despite positive export figures out of China. The data points which showed an unexpected acceleration in exports for the world's second-largest economy gave some relief to worries of an economic slowdown.
Here is what's expected this week:
The Wall Street 30 Technical Analysis
We could expect a muted trading session today until the U.S economic data is released, which in turn could see volatility return to the markets.
Short-Term dip buyers are still holding on to seasonal trends on the S&P 500 to give them clues as to when the tide will turn on the equity market.
For the bulls, price action on the Wall Street 30 (WS30) need to push higher from the 34237-support and close above the 34671-resistance point. The bears could be in favour this week if U.S economic data disappoints which could see the lower prices on the WS30. If the 34237-support does not hold then 33765 comes into focus as the next possible target point.
All eyes will be on the economic indicators and earnings reports this week which could see market volatility increase.
The 50-day SMA (blue line) is slightly pointing higher but presently acting as resistance to the price action on the 4H chart.
The Relative Strength Index (RSI) is below the halfway point and needs to push higher from here to negate the negative outlook.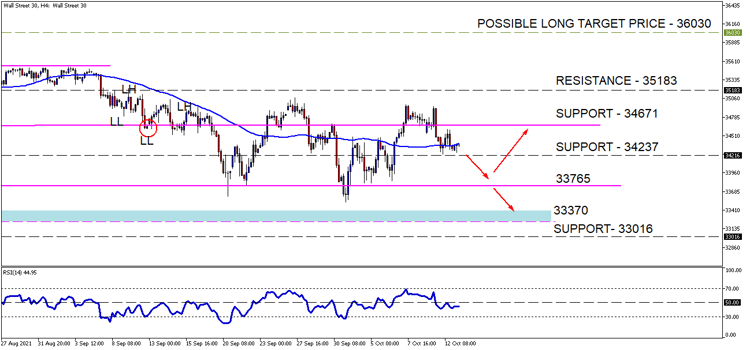 Chart Source: Wall Street 4H Timeframe - GT247 MT5 Trading Platform
Trading Term of the day:
Economic Indicator:
An economic indicator is a piece of economic data, usually of macroeconomic scale, that is used by analysts to interpret current or future investment possibilities. These indicators also help to judge the overall health of an economy. – Investopedia
Take note: The outlook and levels might change as this outlook is released during the current days (Wednesday the 13th of October 2021) U.S Market open.
Sources – MetaTrader5, Reuters, Investopedia.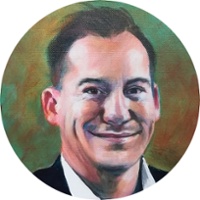 Barry Dumas | Market Analyst at GT247.com
Barry has 12 years of experience in the financial markets. He enjoys educating clients on trading / investing and providing punchy technical analysis on securities. He currently holds a Wealth Management qualification and is studying towards becoming a Chartered Market Technician® (CMT) designation holder.
---
Disclaimer:
Any opinions, news, research, reports, analyses, prices, or other information contained within this research is provided by Barry Dumas, Market Analyst at GT247 (Pty) Ltd t/a GT247.com ("GT247.com") as general market commentary, and does not constitute investment advice for the purposes of the Financial Advisory and Intermediary Services Act, 2002. GT247.com does not warrant the correctness, accuracy, timeliness, reliability or completeness of any information which we receive from third-party data providers. You must rely solely upon your own judgment in all aspects of your trading decisions and all trades are made at your own risk. GT247.com and any of its employees will not accept any liability for any direct or indirect loss or damage, including without limitation, any loss of profit, which may arise directly or indirectly from the use of or reliance on the market commentary. The content contained within is subject to change at any time without notice.