Global equity markets have been under pressure during the week as a foray of economic and fundamental factors start to converge.
Asian shares gained some momentum Wednesday morning despite a rise in U.S Treasury yields and a stronger greenback while oil has been a hot topic around the globe.
With a stronger dollar, we could expect that Asian currencies should come under pressure as money flows out on the back of widening real rate differentials. The benchmark 10-year and 30-year U.S Treasury yields rose 5 basis points and 6 basis points respectively. "There's a risk that the Fed may speed up tapering (of its bond-buying stimulus programme) and that in turn means the timetable for tightening may be brought forward, contributing to the stronger dollar," Sim Moh Siong.
The price of Oil stabilized a day after increasing to a one-week high point despite coordinated efforts from the U.S, China, India, South Korea, Japan, and Britain to release barrels from its reserves.
Here is what's expected this week:
The Wall Street 30 Technical Analysis
The price action on the Wall Street 30 (WS30) has moved lower to find support at the 35517 level as discussed in our previous WS30 note. The price action has been making lower highs and lower lows on the 4H chart which has also formed a short-term channel lower. This puts focus on a break of the 35517-support level could see lower levels targeted and a retest of the base breakout.
We would need to see the price move above the 35896 level of interest to negate the downward price move and target higher levels once more. This could see the 36578-resistance as a possible target price if positive fundamental factors play out.
Price action is in a downward trajectory on the 4H chart and below our 35896 level of interest (pink line).
The 50-day SMA (blue line) is trending lower and could act as resistance this week.
The Relative Strength Index (RSI) is at the midpoint and trending sideways which could indicate a move in price is on the horizon in either direction.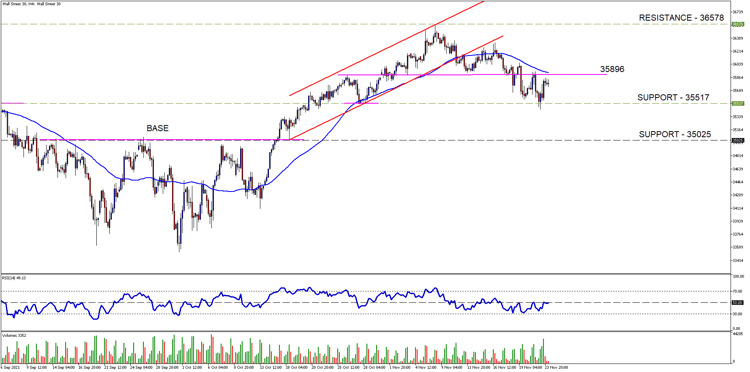 Current State / Chart Source: Wall Street 4H Timeframe - GT247 MT5 Trading Platform
Trading Term of the day:
Basing:
Basing is a term used by technical analysts that refers to a consolidation in the price of a security, usually after a downtrend, before it begins its bullish phase. The resulting price pattern looks flat or slightly rounded. – Investopedia.
Take note: The outlook and levels might change as this outlook is released during the current days (Wednesday the 24th of November 2021) U.S Market open.
Sources – MetaTrader5, Reuters, Investing.com, Investopedia.
Sources – MetaTrader5, Reuters, Investing.com, Investopedia.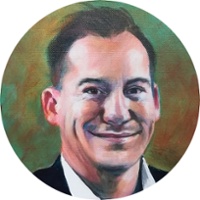 Barry Dumas | Market Analyst at GT247.com
Barry has 12 years of experience in the financial markets. He enjoys educating clients on trading / investing and providing punchy technical analysis on securities. He currently holds a Wealth Management qualification and is studying towards becoming a Chartered Market Technician® (CMT) designation holder.
---
Disclaimer:
Any opinions, news, research, reports, analyses, prices, or other information contained within this research is provided by Barry Dumas, Market Analyst at GT247 (Pty) Ltd t/a GT247.com ("GT247.com") as general market commentary, and does not constitute investment advice for the purposes of the Financial Advisory and Intermediary Services Act, 2002. GT247.com does not warrant the correctness, accuracy, timeliness, reliability or completeness of any information which we receive from third-party data providers. You must rely solely upon your own judgment in all aspects of your trading decisions and all trades are made at your own risk. GT247.com and any of its employees will not accept any liability for any direct or indirect loss or damage, including without limitation, any loss of profit, which may arise directly or indirectly from the use of or reliance on the market commentary. The content contained within is subject to change at any time without notice.