A muted trading session is expected ahead of the Fed announcement as Asian shares trade at a seven-month low point which has some analysts suggesting the "Tech Bubble" has burst in China.
The markets are still trying to digest the Chinese fallout, but all eyes will be on the U.S. Federal Reserve's interest rate decision later today at 20:00 SAST. The rates are widely expected to remain unchanged, but market participants will look to the FOMC press conference scheduled for 30 min after the rating announcement for more details.
Investors will look to Fed chair Powell to see if the new round of COVID-19 infections has an impact and if the Fed will readjust their view. Economic growth and views on inflation are also still high on the list and traders will also be looking for any hints if the Fed will start to reduce its purchasing of government bonds.
Here is what's expected this week:
The Wall Street 30 Technical Analysis
Our possible target price at 35093 was hit as discussed in our previous WS30 note while the price action is consolidating ahead of the FOMC announcement. We have adjusted our resistance level (previous target level) higher to 35183 which will be closely watched for a breakout and retest.
Our new possible long target price after a preferred retest as mentioned above is 36030 for the bulls over the longer term. For the bears, we have a first possible short target of 34671 support.
The WS30 price action is consolidating ahead of the FOMC announcement, and much volatility is expected today.
The 50-day SMA (blue line) is acting as support to price on the 4H chart and will be watched closely if price starts to break down.
The Relative Strength Index (RSI) is still consolidating above the 50 levels on the 4H chart.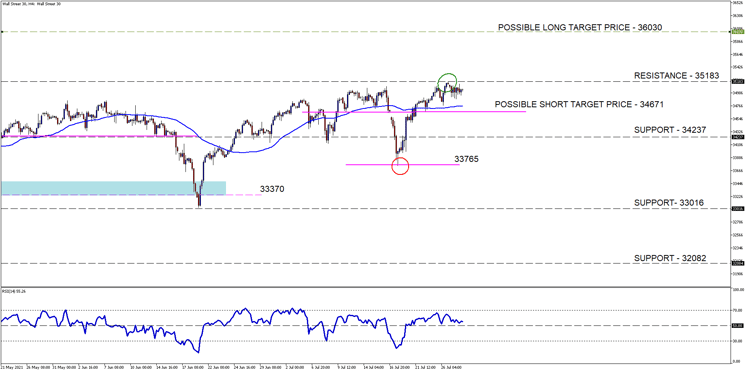 Chart Source: Wall Street 4H Timeframe - GT247 MT5 Trading Platform
Trading Term of the day:
Bubble (Burst):
A bubble is an economic cycle that is characterized by the rapid escalation of market value, particularly in the price of assets.
This fast inflation is followed by a quick decrease in value or a contraction, which is sometimes referred to as a "crash" or a "bubble burst."
Bubbles are typically attributed to a change in investor behaviour, although what causes this change in behaviour is debated.
Take note: The outlook and levels might change as this outlook is released during the current days (Wednesday the 28th of July 2021) U.S Market open.
Sources – MetaTrader5, Reuters, Alun John, Investopedia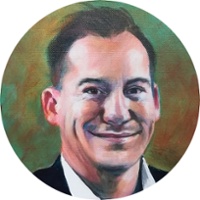 Barry Dumas | Market Analyst at GT247.com
Barry has 12 years of experience in the financial markets. He enjoys educating clients on trading / investing and providing punchy technical analysis on securities. He currently holds a Wealth Management qualification and is studying towards becoming a Chartered Market Technician® (CMT) designation holder.
---
Disclaimer:
Any opinions, news, research, reports, analyses, prices, or other information contained within this research is provided by Barry Dumas, Market Analyst at GT247 (Pty) Ltd t/a GT247.com ("GT247.com") as general market commentary, and does not constitute investment advice for the purposes of the Financial Advisory and Intermediary Services Act, 2002. GT247.com does not warrant the correctness, accuracy, timeliness, reliability or completeness of any information which we receive from third-party data providers. You must rely solely upon your own judgment in all aspects of your trading decisions and all trades are made at your own risk. GT247.com and any of its employees will not accept any liability for any direct or indirect loss or damage, including without limitation, any loss of profit, which may arise directly or indirectly from the use of or reliance on the market commentary. The content contained within is subject to change at any time without notice.