Did the Santa Clause Rally start early this year? Some market participants asked the question as global Omicron coronavirus variant fears die down while optimism returns to the global economy.
The U.S market rally extended into Wednesday's Asian session as early signs of the Omicron variant may be less disruptive to the global economy as initially anticipated. The MSCI Asia-Pacific Index rose 0.5% close to a two-week high point despite concerns of an Evergrande default.
Traders will turn their focus to U.S economic data this coming Friday as U.S inflation numbers will be released which could, if a high number is printed see the relief rally short-lived. The U.S CPI data will be released at 15:30 SAST and a higher-than-expected inflation number could see the U.S Fed accelerate tapering of its bond-buying program.
Here is what's expected this week:
The Wall Street 30 Technical Analysis
As discussed in our previous Wall Street 30 (WS30) note, a rejection of the 35025-resistance level could see another leg lower to the 34110-support level. The 34110-support was indeed the bear target level after the disappointing Non-Farm Payrolls number. The price action gained positive momentum after global pandemic fears started to subside which saw price press higher.
The WS30 price action is firmly back at our 35896 level of interest (pink line) which is acting as resistance to price and the level to watch over the rest of the week.
Price has seen a reversal from the downtrend on the 4H chart with price firmly against the 35896-resistance level.
The 50-day SMA (blue line) is below the price action which is supportive of the move higher.
The Relative Strength Index (RSI) is at the overbought boundary but could remain there for weeks on end and does not indicate a reversal just yet.
Volume is also slowing in support of the price action and should be watched closely.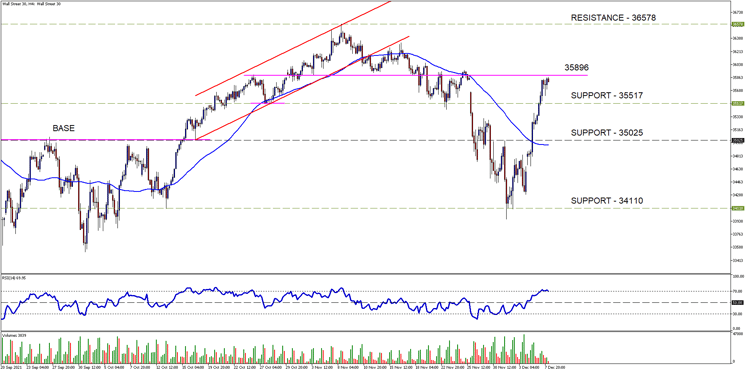 Current State / Chart Source: Wall Street 4H Timeframe - GT247 MT5 Trading Platform
Trading Term of the day:
Relief Rally
A relief rally is a respite from a broader market sell-off that results in temporarily higher securities prices. Relief rallies often occur when anticipated negative news winds up being positive or less severe than expected. A relief rally is one type of bear market rally. – Investopedia.
Take note: The outlook and levels might change as this outlook is released during the current days (Wednesday the 8th of December 2021) U.S Market open.
Sources – MetaTrader5, Reuters, Investing.com, Investopedia.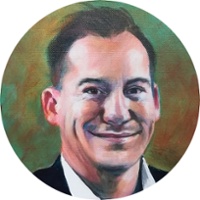 Barry Dumas | Market Analyst at GT247.com
Barry has 12 years of experience in the financial markets. He enjoys educating clients on trading / investing and providing punchy technical analysis on securities. He currently holds a Wealth Management qualification and is studying towards becoming a Chartered Market Technician® (CMT) designation holder.
---
Disclaimer:
Any opinions, news, research, reports, analyses, prices, or other information contained within this research is provided by Barry Dumas, Market Analyst at GT247 (Pty) Ltd t/a GT247.com ("GT247.com") as general market commentary, and does not constitute investment advice for the purposes of the Financial Advisory and Intermediary Services Act, 2002. GT247.com does not warrant the correctness, accuracy, timeliness, reliability or completeness of any information which we receive from third-party data providers. You must rely solely upon your own judgment in all aspects of your trading decisions and all trades are made at your own risk. GT247.com and any of its employees will not accept any liability for any direct or indirect loss or damage, including without limitation, any loss of profit, which may arise directly or indirectly from the use of or reliance on the market commentary. The content contained within is subject to change at any time without notice.