Markets rebound ahead of this years Jackson Hole economic symposium set to start on the 26th of August 2021. All eyes will be focused on Federal Reserve (Fed) Chair Powell's remarks this Friday to see if he speaks about the Fed's policy outlook or hints towards the pace of tapering.
Asian markets held up on Wednesday after the global equity market rebounded which saw the S&P 500 reach new all-time highs once again. U.S Treasuries saw little change with the U.S 10-year Treasury note trading around 1.29% with safe-havens like gold fell out of favour with investors.
Here is what's expected this week:
The Wall Street 30 Technical Analysis
The Wall Street 30 Index (WS30) rebounded nicely from last week's market sell-off and found support at our 34671 levels of interest mentioned in our previous WS30 note. The price action pushed through our 35183-resistance level which is now the support level to watch as we approach the Jackson Hole economic symposium.
We are looking at two scenarios from here, one is a bounce off the 35183-support level which could see prices push higher to our possible long-term target price. Two, the support level does not hold due to perceived unfavourable comments from the Fed Chair and the price moves back lower to 34671.
The WS30 price action is above the 35183-support level and will be watched closely for an opportunity in either direction.
The 50-day SMA (blue line) should come into play as support in the short term.
The Relative Strength Index (RSI) is above the halfway point and needs to push higher from here to support the long outlook.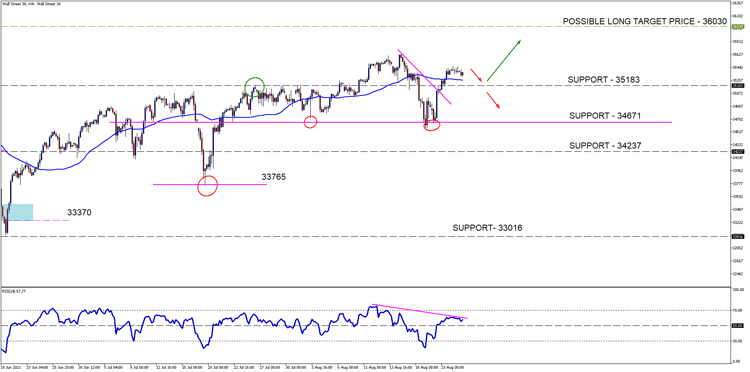 Chart Source: Wall Street 4H Timeframe - GT247 MT5 Trading Platform
Trading Term of the day:
Jackson Hole Economic Symposium
The Federal Reserve Bank of Kansas City hosts dozens of central bankers, policymakers, academics and economists from around the world at its annual economic policy symposium in Jackson Hole, Wyo. Symposium participants include prominent central bankers, finance ministers, academics, and financial market participants from around the world. The participants convene to discuss the economic issues, implications, and policy options pertaining to the symposium topic. The symposium proceedings include papers, commentary, and discussion. - Federal Reserve Bank of Kansas City
Take note: The outlook and levels might change as this outlook is released during the current days (Wednesday the 25th of August 2021) U.S Market open.
Sources – MetaTrader5, Reuters, Federal Reserve Bank of Kansas City.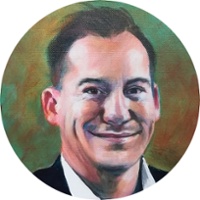 Barry Dumas | Market Analyst at GT247.com
Barry has 12 years of experience in the financial markets. He enjoys educating clients on trading / investing and providing punchy technical analysis on securities. He currently holds a Wealth Management qualification and is studying towards becoming a Chartered Market Technician® (CMT) designation holder.
---
Disclaimer:
Any opinions, news, research, reports, analyses, prices, or other information contained within this research is provided by Barry Dumas, Market Analyst at GT247 (Pty) Ltd t/a GT247.com ("GT247.com") as general market commentary, and does not constitute investment advice for the purposes of the Financial Advisory and Intermediary Services Act, 2002. GT247.com does not warrant the correctness, accuracy, timeliness, reliability or completeness of any information which we receive from third-party data providers. You must rely solely upon your own judgment in all aspects of your trading decisions and all trades are made at your own risk. GT247.com and any of its employees will not accept any liability for any direct or indirect loss or damage, including without limitation, any loss of profit, which may arise directly or indirectly from the use of or reliance on the market commentary. The content contained within is subject to change at any time without notice.