Positive U.S and China data saw some Asian shares continue their upbeat performance on Wednesday but no major trading volume as market participants await the Fed decision.
This is what you can expect ahead of the FOMC interest rate decision later tonight at 20:00 SAST:
U.S. Federal Reserve's Federal Open Market Committee (FOMC)
U.S Markets are expected to remain muted on Wednesday leading up the much anticipated FOMC interest rate decision later tonight at 20:00 SAST.
Interest Rate Outlook: It is widely expected that the FOMC will hold the central bank's key overnight lending rate between 0% to 0.25% until its inflation target is met.
"The two-day meeting is the U.S. central bank's first under a newly adopted framework that promises to shoot for inflation above 2% to make up for periods, such as now, where it is running below that target. The strategy means the Fed will not take its foot off the monetary gas pedal even if unemployment continues to drop at a faster-than-expected pace" - Reuters
The FOMC Statement and Press Conference: The statement will be delivered virtually by Fed Chair Jerome Powell where market participants will look for hints towards monetary policy easing.
"The Federal Reserve is expected to wrap up its latest policy meeting on Wednesday with somewhat rosier economic forecasts but a renewed pledge to keep interest rates low for as long as the world's biggest economy needs to recover from its deepest downturn in decades." - Reuters
Technical insights – what the Beef is looking at ahead of FOMC
The Wall Street 30 is expected to remain subdued during Wednesday leading up to the FOMC interest rate decision followed by price volatility after the announcement. If the market perceives the press conference statements to be positive, then we might expect another leg higher.
Our 27155 support level highlighted in our previous Technical insights held up supported by the 50-day SMA (blue line) which might get dip buyers excited.
For a buy confirmation, we would need to see price move above and preferably close above the current 28123 resistance level supported by volume. If the price action moves lower after the FOMC statement then the 27155 support level comes into focus for another leg lower.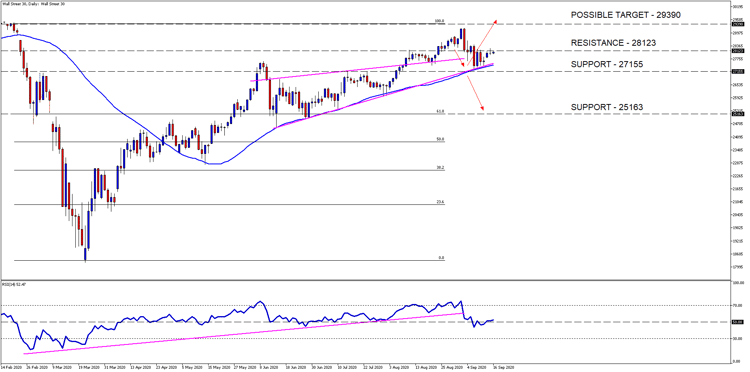 Chart Source: Wall Street 30 Daily Timeframe - GT247 MT5 Trading Platform
Take note: The outlook and levels might change as this outlook is released prior to the current day (Wednesday the 26th of August 2020) U.S Market open.
Sources – MetaTrader5, Reuters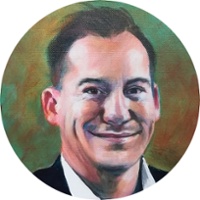 Barry Dumas | Market Analyst at GT247.com
Barry has 12 years experience in the financial markets. He enjoys educating clients on trading / investing and providing punchy technical analysis on securities. He currently holds a Wealth Management qualification and is studying towards becoming a Chartered Market Technician® (CMT) designation holder.
---
Disclaimer:
Any opinions, news, research, reports, analyses, prices, or other information contained within this research is provided by Barry Dumas, Market Analyst at GT247 (Pty) Ltd t/a GT247.com ("GT247.com") as general market commentary, and does not constitute investment advice for the purposes of the Financial Advisory and Intermediary Services Act, 2002. GT247.com does not warrant the correctness, accuracy, timeliness, reliability or completeness of any information which we receive from third party data providers. You must rely solely upon your own judgment in all aspects of your trading decisions and all trades are made at your own risk. GT247.com and any of its employees will not accept any liability for any direct or indirect loss or damage, including without limitation, any loss of profit, which may arise directly or indirectly from use of or reliance on the market commentary. The content contained within is subject to change at any time without notice.