Global equity indices including the JSE fell on Monday in reaction to a flattening US yield curve which was further heightened by the inversion of the US 3-month and 10-year Treasury yields on Friday.
The inversion of these two benchmarks was last recorded in 2007 before the global financial crisis struck. Historically major recessions have been preceded by the inversion of short-dated and long-dated Treasury yields, which is a scenario whereby shorter-term rates are higher than longer-term rates. Asian equities buckled on Monday as the Japanese Nikkei fell 3.01%, while the Hang Seng and Shanghai Composite Index lost 2.03% and 2.37% respectively. In Europe, all the major indices tracked lower while US equity futures also pointed lower for most of the day's session.
There was broad-based weakness across the JSE from most of the blue-chip stocks. PPC Ltd [JSE:PPC] was one of the day's biggest losers after the stock fell 9% to close at R4.55. PGM miners also struggled on the day as metal commodity prices traded softer earlier. Impala Platinum [JSE:IMP] dropped 5.55% to close at R63.74. Anglo American Platinum [JSE:AMS] fell 4.57% to R796.86, and Northam Platinum [JSE:NHM] closed 3.85% weaker at R64.21. Mondi PLC [JSE:MNP] retreated to close at R315.12 after it lost 3.56%, while Sasol [JSE:SOL] closed 2.58% weaker at R440.34. Index giant, Naspers [JSE:NPN] lost 1.6% as it closed at R3225.58, while diversified miner, Anglo American PLC [JSE:AGL] dropped 1.32% to close at R369.42.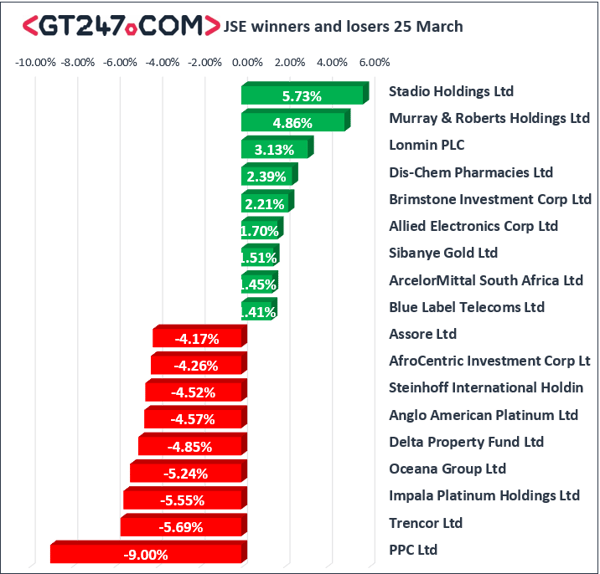 Gains were modest and limited to a small number of stocks in today's session. Stadio Holdings [JSE:SDO] advanced 5.73% to close at R3.69 as it closed as one of the day's biggest gainers. Murray and Roberts [JSE:MUR] advanced 4.86% as it closed at R13.37, while Dis-Chem Pharmacies [JSE:DCP] rose 2.39% to close at R24.86. Lonmin [JSE:LON] bucked the trend recorded in other platinum miners as it climbed 3.13% to close at R15.47. Sibanye Stillwater [JSE:SGL] firmed 1.51% to close at R17.51, while Pan African Resources [JSE:PAN] added 1.14% to close at R1.77. Blue Label Telecoms [JSE:BLU] managed to post gains of 1.41% as it closed at R3.60, and Motus Holdings [JSE:MTH] rose 1.04% to R76.41.
The JSE All-Share index eventually closed 1.32% weaker while the JSE Top-40 index dropped 1.27%. All the major indices traded under pressure on the day. The Industrials index fell 1.32%, Resources dropped 1.34% and the Financials index closed 1.22% weaker.
The rand traded mostly flat earlier before a sudden drop in the US dollar saw it quickly surge to a session high of R14.33/$. At 17.00 CAT, the rand was 1.05% firmer against the greenback to trade at R14.34/$.
Brent crude came under pressure on the back of the economic fears ignited by the yields' inversion. The commodity was trading 0.43% weaker at $66.74/barrel just after the JSE close.
At 17.00 CAT, Gold was 0.43% firmer at $1319.34/Oz, Platinum was up 0.72% at $853.29/Oz, and Palladium had rallied 1.04% to trade at $1569.52/Oz.