WEDNESDAY ECONOMIC

FOMC

DATA PREVIEW
Federal Open Market Committee (FOMC) concludes on June 14th at 20:00
[The FOMC is the branch of the US Federal Reserve that determines the course of monetary policy. FOMC announcements inform everyone about the US Federal Reserve's decision on interest rates and are one of the most anticipated events on the economic calendar (for USD and USD pairs)]
What happened last time?
The FOMC last met on the 2nd- 3rd of May
The Fed voted to keep rates steady was unanimous

The Fed shrugged off poor March non-farm Payroll

Fed downplayed weak Q1 GDP

The Fed was optimistic on other aspects of the economy
The Fed surprised markets last month when the central bank said that GDP weakness was likely to be transitory and that unemployment was declining on the back of some solid job gains in the USA.The Fed kept interest rates steady and the dollar was rewarded with a big bounce, as seen on the US Dollar Index.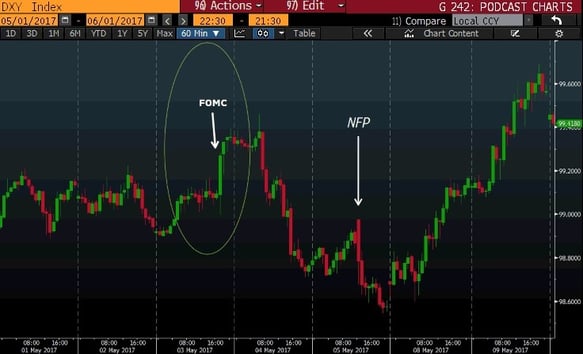 What could happen this time?
A rate hike is widely expected, with everyone and their dog calling that the Fed will hike 0.25% - meaning that much of this has already been priced in the market.
However, a tail event like an extremely weak CPI report at 14:30 could derail the plans. The Fed has raised issues that:
Lower GDP growth: assuming that the second quarter is tracking the first quarter – it would take a 2.4% growth rate to meet estimates of 2.1% annualised

Lower unemployment rate: expectations that the median unemployment falls to 4.3% for 2017

Lower core PCE inflation – the result of -0.1% for May [+0.2% previously] is weaker than expected and will offset the confidence about the inflation outlook
Overall - the prospects for faster U.S. economic growth in Q2 look optimistic. Inflation is a bit problematic, wage growth hasn't materialised and the labour market is presenting a mixed picture.
(updated after 14:30 CPI announcement)
BOOM! Inflation data released at 14:30 was lower than expected, this could be the tail event that I discussed earlier. The dollar has already taken a dip, gold is up and equities are having a go!
If the Fed fail to raise rates this evening, the dollar could tank. If the Fed hike, markets could stabilise and close flat
Hike Result*
If the Fed does stay the course and indicate that they may hike rates for a 3rd time in 2017 – if not, this hike is priced in and may not have a positive result on the USD.
Rally in the USD

Equity indices may slip

Gold may edge lower
No Hike result
We may expect a fallout of the USD against most currencies

Gold rallies

S&P500, WallStreet equity indices rally
---

Martin Harris |
Trading Specialist at
GT247.com
---
Want to trade more than 65 currency pairs on the most affordable online South African trading platform?
---