The JSE closed firmer on Tuesday as global stocks continued to recover from heavy losses suffered in the prior week.
Local stocks surged despite GDP data from Statistics SA indicating that South Africa had entered a technical recession following a consecutive quarter of GDP contraction. GDP MoM for the 4th quarter was recorded at -1.4% as it worsened from a prior recording of -0.8%. GDP YoY was recorded at -0.5% from a prior recording of 0.1%.
The rand retreated in today's session as it fell to a session low of R15.62/$ before it gained some momentum towards the JSE close. At 17.00 CAT, it was trading 0.74% softer at R15.48/$.
The US Fed sent shockwaves across global markets at 17.00 CAT after it announced a 50 basis points cut to its benchmark rates. In a statement issued by the Fed shortly thereafter, the Fed stated that the coronavirus poses evolving risks to economic activity despite the fundamentals of the US economy being currently strong. A volatile trading session is on the cards for US benchmark indices as investors react to the rate cut.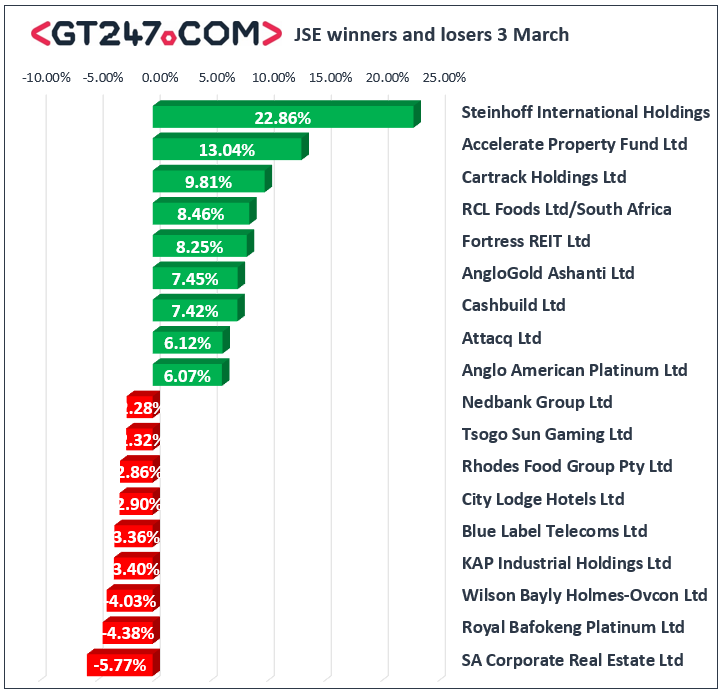 On the JSE, Steinhoff International [JSE;SNH] closed as one of the day's biggest gainers after it surged 22.86% to close at R1.72. Listed property stocks advanced on the day with a rally being recorded for Accelerate Property Fund [JSE:APF] which gained 13.04% to close at R1.30, Fortress REIT [JSE:FFB] which climbed 8.25% to close at R5.25, was well as Sirius Real Estate [JSE:SRE] which rose 5.77% to close at R16.50. Gold miner, AngloGold Ashanti [JSE:ANG] added 7.45% to close at R304.48, while Gold Fields [JSE:GFI] advanced 4.39% to close at R99.70. Significant gains were also recorded for Discovery Ltd [JSE:DSY] which gained 3.56% to close at R101.68, while BHP Group [JSE:BHP] closed at R292.67 after rising 3.11%.
Significant losses were recorded for a handful of stocks in today's session. SA Corporate Real Estate [JSE:SAC] fell 5.77% to close at R1.96, Intu Properties [JSE:ITU] retreated 1.41% to close at R2.10. Royal Bafokeng Platinum [JSE:RBP] weakened by 4.38% to close at R47.81, while KAP Industrial Holdings [JSE:KAP] dropped 3.4% to end the day at R2.84. Losses were also recorded for Blue Label Telecoms [JSE:BLU] which lost 3.36% to close at R2.30, Nedbank [JSE:NED] which retreated 2.28% to close at R171.01, as well as Sappi [JSE:SAP] which closed at R30.52 after shedding 0.75%.
The JSE All-Share index closed 2.16% higher while the JSE Top-40 index gained 2.19%. The Resources index surged 3.78%, while the Industrials and Financials indices added 1.49% each.
Brent crude was up 2.87% at $53.33/barrel just after the JSE close.
At 17.00 CAT, Platinum was up 0.84% at $867.55/Oz, Gold was 1.58% higher at $1615.40/Oz, and Palladium was down 1.54% at $2483.78/Oz.
---
Disclaimer:
Any opinions, news, research, reports, analyses, prices, or other information contained within this research is provided by GT247.com at GT247 (Pty) Ltd t/a GT247.com ("GT247.com") as general market commentary, and does not constitute investment advice for the purposes of the Financial Advisory and Intermediary Services Act, 2002. GT247.com does not warrant the correctness, accuracy, timeliness, reliability or completeness of any information which we receive from third party data providers. You must rely solely upon your own judgment in all aspects of your trading decisions and all trades are made at your own risk. GT247.com and any of its employees will not accept any liability for any direct or indirect loss or damage, including without limitation, any loss of profit, which may arise directly or indirectly from use of or reliance on the market commentary. The content contained within is subject to change at any time without notice.