The JSE reversed earlier losses to inch higher on Tuesday as emerging markets found some reprieve.
The US dollar came under pressure following Donald Trump's criticism of the US Fed. The US dollar index weakened to a session low of 95.44 index points as investors reacted to the unusual criticism of the Fed. Resultantly, the rand managed to gain over a percent against the greenback to reach a session high of R14.34/$. At 17.00 CAT, the rand was trading at R14.34/$.
The stronger rand buoyed financials and retailers which traded mostly firmer on the day. Mr Price [JSE:MRP] rose 3.98% to close at R229.00, while Truworths [JSE:TRU] added 3.23% to close at R86.56 per share. Capitec Holdings [JSE:CPI] closed at R980.00 after adding 4.15%, while Nedbank [JSE:NED] gained 2.31% to close at R266.00 per share. Imperial Holdings [JSE:IPL] released an impressive set of full-year results which saw the stock close 1.5% firmer at R201.31 per share.
On the broader index Resilient [JSE:RES] closed 3.31% higher at R59.60, while Fortress B [JSE:FFB] picked up 1.77% to close at 17.24… per share. Pharmacist, Dis-Chem [JSE:DCP] managed to firm to R31.11 after adding 2.37%. The market reacted positively to Harmony Gold's [JSE:HAR] full-year results as the company managed to increase in production and reduce costs. The stock closed 2.27% firmer at R21.65 per share.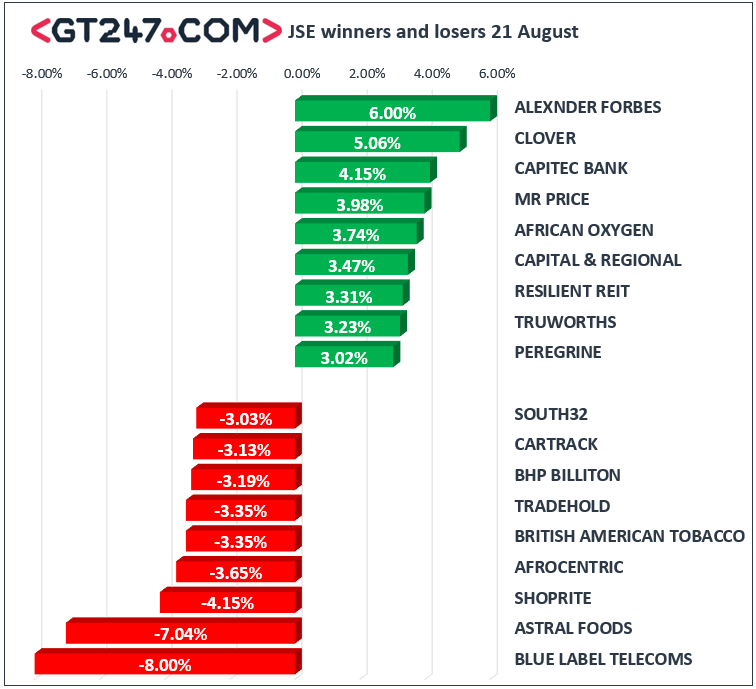 Shoprite's [JSE:SHP] full-year results disappointed as they indicated a decrease in earnings as well as a decline in Non-South African operations. The stock slipped to a session low of R194.63 per share before recovering to briefly to close 4.15% weaker at R203.00 per share. BHP Billiton [JSE:BIL] declared its largest dividend ever in its full-year earnings results released today. As a result, the stock lost 3.19% to close at R297.25 per share.
Blue Label Telecoms [JSE:BLU] was dragged down by its subsidiary Cell C which reported a net loss after tax for the first half of its financial year. The reported loss was 33% lower than the loss reported in the comparable period last year however Blue label Telecoms still traded weaker on the day as it dropped 8% to close at R7.70 per share.
The JSE All-Share index eventually closed 0.07% firmer while the JSE Top-40 index was 0.05% higher. The Resources index came under pressure as it shed 1.19%, however the Industrials and Financials indices gained 0.24% and 1.03% respectively.
Brent crude advanced as preliminary data on US stockpiles indicated a possible decrease in crude inventories for last week. The commodity was trading 0.65% firmer at $72.68/barrel just after the JSE close.
Gold fizzled in the afternoon session despite the US dollar trading weaker. The precious metal was trading flat at $1189.25/Oz at 17.00 CAT. Palladium was down 0.31% to trade at $914.36/Oz and Platinum was 0.75% weaker at $790.10/Oz.
At 17.00 CAT, Bitcoin was down 0.43% to trade at $6414.05/coin, while Ethereum was 3.95% weaker at $276.05/Oz.