The JSE closed firmer on Tuesday as global stocks shifted their attention to earnings releases from giants such as Goldman Sachs and Morgan Stanley.
Despite the Chinese mainland benchmark struggling, gains were recorded for the Nikkei and the Hang Seng which firmed by 1.25% and 0.07% respectively. In Europe, all the major counters recorded significant gains which helped shift the momentum on the JSE after it opened marginally weaker. US markets edged higher as earnings releases from US corporates came in mostly better than anticipated.
The rand continued to buoy JSE listed retailers and financials as it extended its gains against the greenback to reach a session high of R14.15/$. At 17.00 CAT, the rand was trading at R14.20/$.
Royal Bafokeng Platinum [JSE:RBP] led gains amongst platinum miners as the stock added 4.59% to close at R28.50. Impala Platinum [JSE:IMP] recorded gains to end the day 4.47% firmer at R26.24, while Northam Platinum [JSE:NHM] added 2.69% to close at R42.01. Kap Industrial Holdings [JSE:KAP] climbed 7.52% to close at R7.57 and Long4Life [JSE:L4L] closed 6.56% higher at R4.55 per share.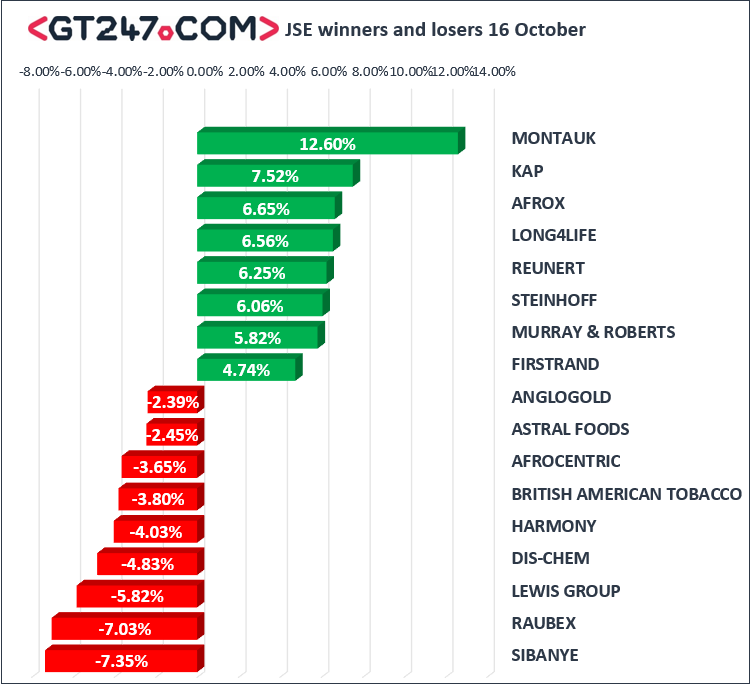 On the blue-chip index, FirstRand [JSE:FSR] led the gains to end the day 4.74% firmer at R63.70, while Standard Bank [JSE:SBK] closed at R163.58 after picking up 3.71%. Aspen [JSE:APN] gained 4.63% to close at R169.20, while telecoms provider Vodacom [JSE:VOD] firmed by 3.31% to R123.08 per share. TigerBrands [JSE:TBS] closed at R260.00 after adding 3.13%.
Sibanye Stillwater [JSE:SGL] pulled back from its recent rally to end the day 7.35% weaker at R11.59, while Harmony Gold [JSE:HAR] lost 4.03% to close at R31.28. Pharmacist, Dis-Chem [JSE:DCP] weakened by 4.83% to close at R27.60, and British American Tobacco [JSE:BTI] lost 3.8% to close at R602.31. Diversified miner, Anglo American PLC [JSE:AGL] retreated to close at R315.86, while its BHP Billiton [JSE:BIL] shed 0.79% to end the day at R298.21 per share.
After a slow start the JSE Top-40 index eventually closed 1.54% firmer while the JSE All-Share index gained 1.48%. The Resources index was the only major index to close in the red after it lost 0.35%. The Financials and Industrials indices added 2.88% and 1.87% respectively.
Brent crude struggled to advance as early estimates for this week's stockpiles data release suggested ample supply of crude oil in the US market. The commodity was trading 0.33% weaker at $80.51/barrel just after the JSE close.
At 17.00 CAT, Gold was marginally firmer at $1228.85/Oz, Platinum was flat to trade at $842.48/Oz and Palladium was down 0.46% to trade at $1080.28/Oz.
Bitcoin was down 2.39% to trade at $6718.90/coin, and Ethereum was trading 1.82% weaker at $213.67/coin.