Global markets rallied on Monday as they were buoyed by the positive sentiment as a result of the meeting between the China and the USA.
Stocks have plummeted due to a number of factors but largely due to the concerns surrounding the trade war between the USA and China. The leaders of the two economic giants met over the weekend and resolved to stop the implementation of new tariffs and focus more on dialogue. The truce could potentially bring stability to global supplies and trade, which could lead to less disruptions in production and ultimately global economic growth won't be impeded drastically.
In China, the Shanghai Composite Index rallied to close 2.78% higher while the Hang Seng managed to gain 2.55%. In Japan, the Nikkei managed to close a percent higher. The trend was similar across all the major European bourse as they traded mostly firmer on the day.
The rand was one of the day's biggest gainers after it rallied by more 1.5% to a session high of R13.57 against the greenback. The move was ignited by a fall in US Treasury yields which saw the US dollar retreat significantly from Friday's close. At 17.00 CAT, the rand trading 1.18% firmer at R13.70/$.
Higher metal commodity prices saw JSE listed miners rally to end the day amongst the day's biggest gainers. Anglo American Platinum [JSE:AMS] gained 5.34% to end the day at R468.76, while South32 [JSE:S32] closed 5.71% firmer at R32.76. Diversified mining giant, Anglo American PLC [JSE:AGL] rallied to close at R291.72 after gaining 5.32%, while industry peer, BHP Group [JSE:BHP] managed to gain 5.64% to R278.51. Index heavyweight, Naspers [JSE:NPN] added 4.54% to close at R2888.51.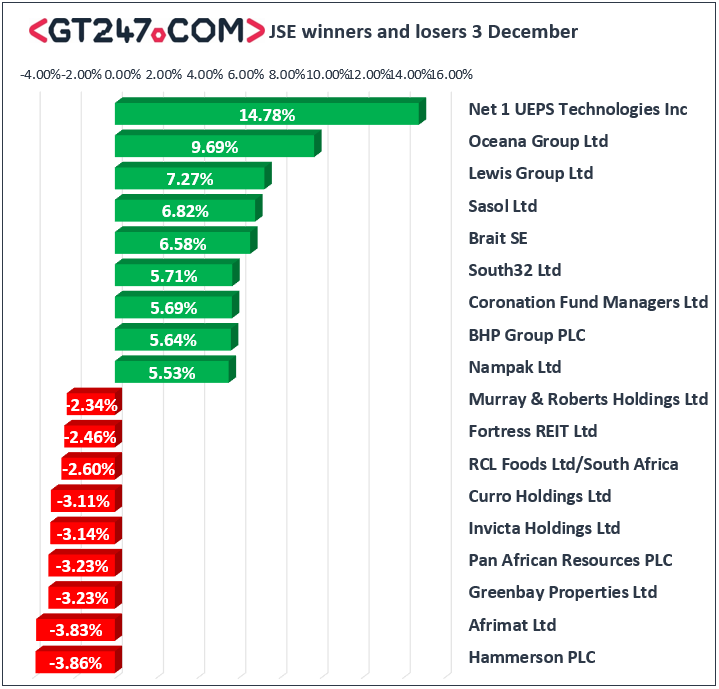 Listed property stocks were on the backfoot as they traded mostly weaker. Greenbay Properties [JSE:GRP] dropped 3.23% to close at R0.90, Hammerson [JSE:HAM] lost 3.86% to R65.97, while Fortress B [JSE:FFB] fell to R13.85 after losing 2.46%. Pan African Resources [JSE:PAN] bucked the trend in other miners as it dropped 3.23% to close at R1.50. Hospitality group, Sun International [JSE:SUI] retreated to close at R59.45 after losing 0.95%, while Curro Holdings [JSE:COH] closed 3.11% lower at R24.60.
The JSE All-share index closed 3.17% firmer while the blue-chip JSE Top-40 index managed to gain 3.58%. All the major indices posted gains on the day, the biggest gainer being the Resources index which jumped 4.89%, while the Financials and Industrials indices rallied 1.66% and 3.25% respectively.
Brent crude also recorded a stellar rebound as it peaked at a session high of $62.60/barrel. It retraced to trade 3.8% firmer at $61.72/barrel just after the JSE close.
At 17.00 CAT, Gold was up 1.08% at $1233.66/Oz, Palladium was up 2.6% at $1211.84/Oz and Platinum had gained 0.88% to trade at $805.14/Oz.
Bitcoin was down 4.74% to trade at $4008.15/coin, and Ethereum had lost 7.89% to trade at 108.69/coin.