The U.S. Federal Reserve's Federal Open Market Committee (FOMC) will announce whether the interest rates in the U.S. will increase or remain unchanged tonight at 20:00 South African time.
Market Consensus:
The consensus in the market is that the FOMC will keep interest rates unchanged at 2.00%. An additional increase in U.S. interest rates is expected before the end of the year if market conditions allow.
The FOMC Statement and Press Conference:
The Federal Open Market Committee (FOMC) statement is used to communicate with investors about monetary policy. It also contains the outcome on the vote on interest rates and will be released at 20:00 South African time.
Following the statement, no press conference is scheduled by the FOMC. The FOMC statement will be looked at closely for clues on future rate decisions.
Impact on South Africa:
The decision will be watched closely by market participants as an increase in the U.S. interest rate might have a positive effect on the Dollar (USD). Dollar (USD) strength will put pressure on Emerging Market Currencies so we can expect the Rand (ZAR) to depreciate if the Dollar (USD) remains in favour.
As a result, we can expect an overall price increase in Retail goods and services (Financial) filtering through to the S.A consumer. It is anticipated that the domestic consumer will remain under immense pressure in the medium term.
See technical chart...
USD/ZAR outlook:
The Rand (ZAR) has been gaining strength against the Dollar (USD) since mid-June and has been trading in a descending channel since. We saw further strength come through over the last couple of trading sessions but saw volatility in the price due to news surfacing that the ANC will seek to change the constitution to allow for land expropriation without compensation.
We might see the Rand (ZAR) weaken even further beyond the R 13.29 price level as political and economic uncertainty prevail for offshore investors.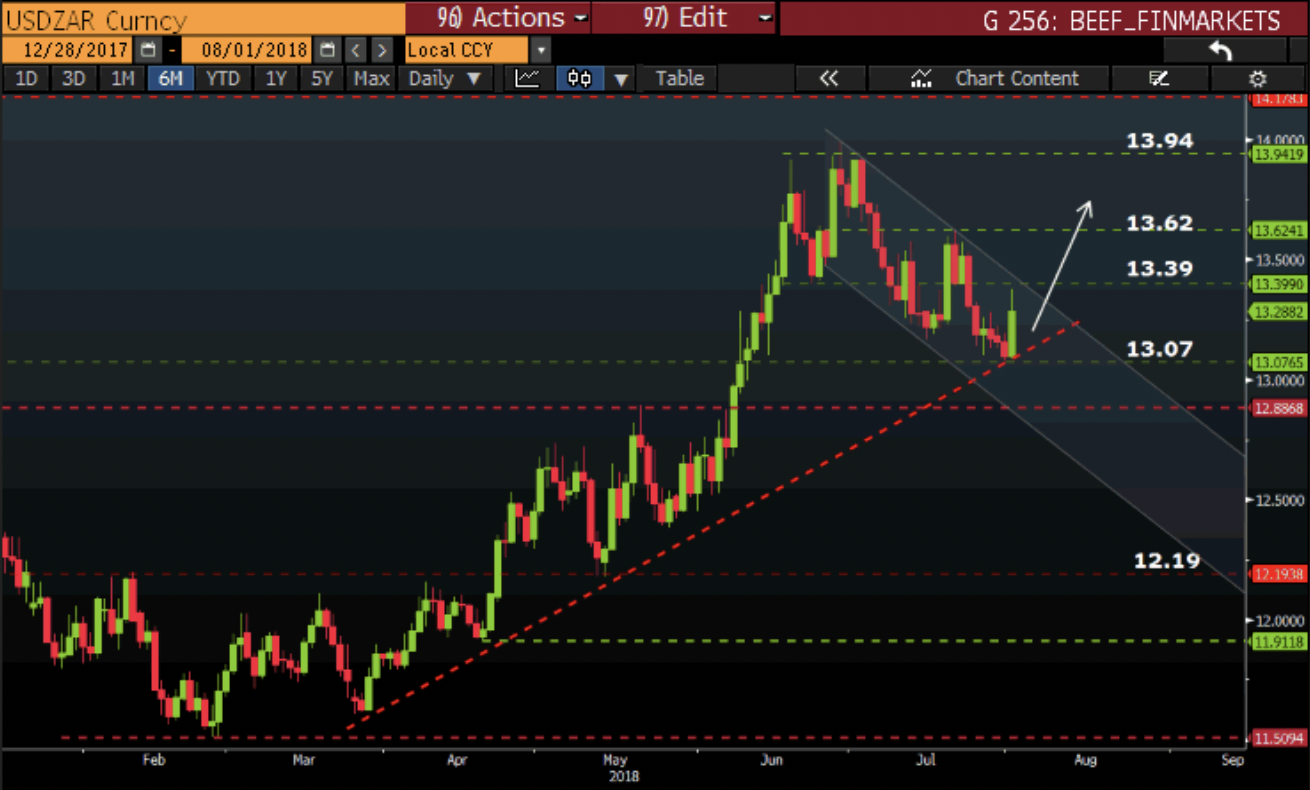 Source: Bloomberg
Trading Strategies:
An increase in U.S interest rates will see the Dollar (USD) strengthen, so look at the following:
South African instruments:
Bank stocks.
Retail stocks.
Rand hedged stocks.
Alsi (Index).
USD/ZAR (Forex pair).
Major Forex pairs:
EUR/USD.
GBP/USD.
USD/JPY.
USD/MXN.
The inverse is applicable where there is an increase in interest rates then that will have a negative effect on equities so look at the following:
Major Indices:
S&P 500.
Wall Street 30.
Nasdaq 100.
Russell 2000.
*End
Disclaimer: Any opinions, news, research, analyses, prices, or other information contained within this research is provided as general market commentary, and does not constitute investment advice. GT247.com will not accept liability for any loss or damage, including without limitation to, any loss of profit, which may arise directly or indirectly from use of or reliance on such information. The content contained within is subject to change at any time without notice, and is provided for the sole purpose of assisting traders to make independent investment decisions.