The U.S. Federal Reserve's Federal Open Market Committee (FOMC) will announce whether the interest rates in the U.S. will increase or remain unchanged on Wednesday at 21:00 SAST.
HERE IS WHAT YOU CAN EXPECT...
Market Consensus:
The market outlook is that there is a 1.1% probability of a rate hike later tonight and that the FOMC will keep interest rates steady at 2.25%. Additional U.S Federal Reserve (FED) interest rate increases is only expected by June 2019.
The FOMC Statement and Press Conference:
The Federal Open Market Committee (FOMC) statement communicates its monetary policy to investors and market participants. It also contains the outcome on the vote on interest rates and will be released at 21:00 SAST.
Following the statement, no press conference is scheduled for the FED Chair Jerome Powell. The FOMC statement will be looked at for clues on future rate decisions.
Impact on South Africa:
The FED's interest rate hikes have come under fire at the later stages of 2018 and will be watched closely by market participants throughout 2019. Although a rate hike is only expected later in the year, Dollar (USD) strength will become a focal point moving forward. Pressure on the greenback might just give Emerging Market Currencies like the Rand (ZAR) some breathing room in the short term.
USD/ZAR outlook
The Rand (ZAR) has gained momentum against the US Dollar (USD) since the start of 2019 mainly due to a weaker Dollar (USD). The currency pair is testing support at the R13.57/ Dollar price level now. If the support level does not hold, we might see the Rand (ZAR) strengthen further to R13.07 over the short term.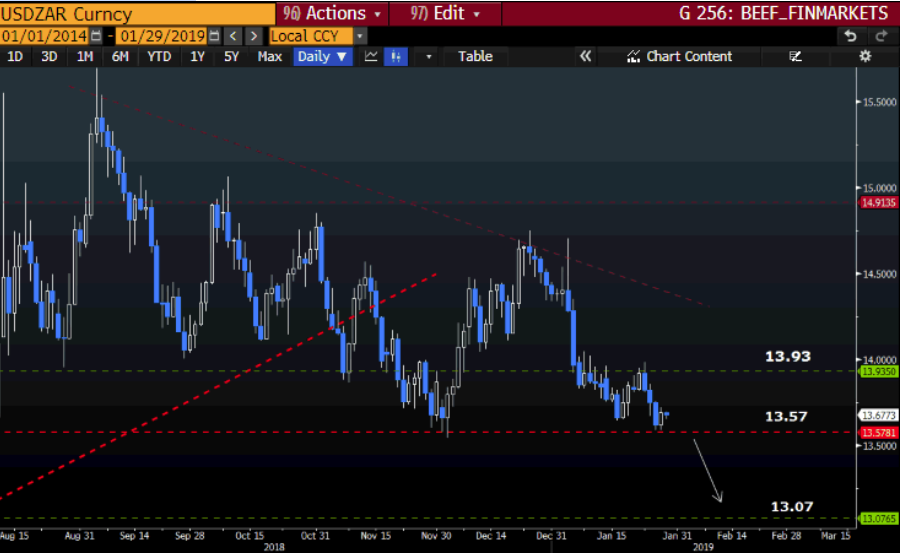 Source – Bloomberg
Trading Strategies:
An increase in U.S interest rates will see the Dollar (USD) strengthen, so look at the following:
South African instruments:
Bank stocks.
Retail stocks.
Rand hedged stocks.
Alsi (Index).
USD/ZAR (Forex pair).
Major Forex pairs:
EUR/USD.
GBP/USD.
USD/JPY.
USD/MXN.
The inverse is applicable where there is an increase in interest rates then that will have a negative effect on equities so look at the following:
Major Indices:
S&P 500.
Wall Street 30.
Nasdaq 100.
Russell 2000.
Disclaimer: Any opinions, news, research, analyses, prices, or other information contained within this research is provided as general market commentary, and does not constitute investment advice. GT247.com will not accept liability for any loss or damage, including without limitation to, any loss of profit, which may arise directly or indirectly from use of or reliance on such information. The content contained within is subject to change at any time without notice, and is provided for the sole purpose of assisting traders to make independent investment decisions.