The U.S. Federal Reserve's Federal Open Market Committee (FOMC) had their work cut out for them over the last couple of months and will announce its decision on interest rates tonight at 20:00 SAST.
This is what you can expect...
Interest Rate Outlook:
It is widely expected that the FOMC will hold off on further interest rate cuts for now and will continue to run and assess its liquidity and lending programs for as long as it takes.
Stability in the U.S economy is of the highest priority after the coronavirus wreaked havoc on the financial markets which will turn market participants attention to the actual statement itself.
The FOMC Statement and Press Conference:
The Federal Open Market Committee (FOMC) statement communicates its monetary policy to investors and market participants and will be released around 20:00 SAST.
At the FOMC press conference scheduled for 20:30 SAST this Wednesday market participants will however be looking for guidance from the FOMC. Is the central bank still optimistic for the economy to rebound in the second half of the year? For how long would interest rates stay close to zero as FED chair Powell ruled out negative rates. Another thing to look out for would be any tweaks to credit plans and further tapering from the FED.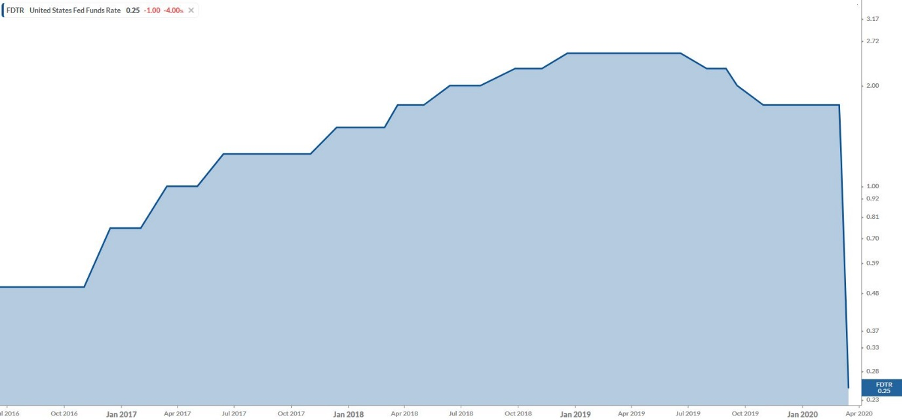 FDTR United States Fed Funds Rate Chart
Target Rate Probabilities
If the CME Group's Fedwatch Tool (below) is anything to go by, then there is a 100% chance that we might see no further easing of interest rates which will see the Federal Funds target rate remain between 0 - 25 basis points.

Target Rate Probabilities fo 29 April Fed Meeting
Major U.S Stock Indices reactions:
Wall Street 30
The Wall Street 30 index has been trending higher from the recent lows forming higher highs and higher lows which supports the current trend. Earnings season is in full swing and will influence the major U.S indices and should be taken note of as we might not be out of the woods just yet.
Technical points to look out for on the Daily Wall Street 30:
The price action is trending higher now and above the 50-day SMA (blue line) which might act as support in the short term.
Price needs to close above the 24545-resistance level (pink line) to support a move higher to a possible target price of 25607 (Gap close). If this resistance holds then we might expect price to move lower to the 22672-support level.
The Relative Strength Index (RSI) is moving higher and is above the 50 level which needs to hold to support a move higher.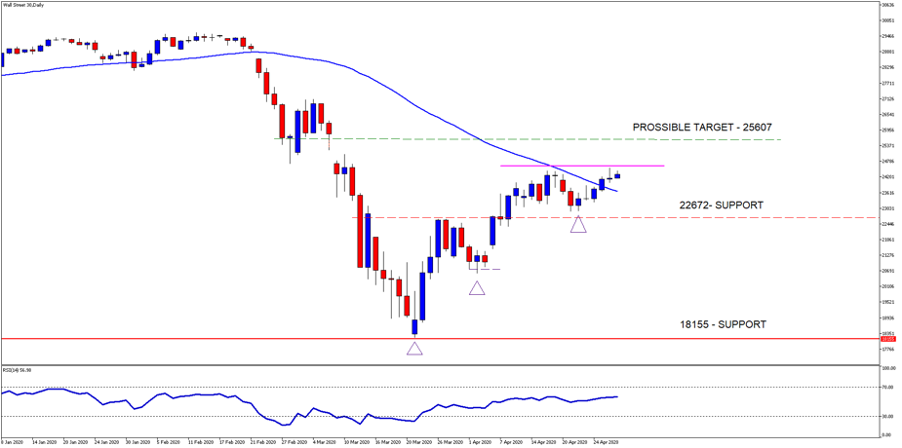 WallStreet30 Daily time frame chart
Trading Strategies:
A decrease in U.S interest rates will possibly see the Dollar (USD) weaken, so look at the following:
South African instruments:
Banking stocks.
Retail stocks.
Rand hedged stocks.
Alsi (Index).
USD/ZAR (Forex pair).
Major Forex pairs:
EUR/USD.
GBP/USD.
USD/JPY.
USD/MXN.
The inverse is applicable where there is a decrease in interest rates it might have a positive effect on equities, so look at the following Indices:
Major Indices:
S&P 500.
Wall Street 30.
Nasdaq 100.
Russell 2000
---
What time does the U.S. Federal Reserve's Federal Open Market Committee (FOMC) announce interest rate decision? 29th of April 2020 at 20:00 SAST.
Chart sources – MetaTrader5, Koyfin
Take note: that the outlook and levels might change as this outlook is released before FOMC and before the current days (Wednesday 29th of April 2020) U.S Market open.
---
Disclaimer: Any opinions, news, research, reports, analyses, prices, or other information contained within this research is provided by Barry Dumas, Market Analyst at GT247 (Pty) Ltd t/a GT247.com ("GT247.com") as general market commentary, and does not constitute investment advice for the purposes of the Financial Advisory and Intermediary Services Act, 2002. GT247.com does not warrant the correctness, accuracy, timeliness, reliability or completeness of any information which we receive from third party data providers. You must rely solely upon your own judgment in all aspects of your trading decisions and all trades are made at your own risk. GT247.com and any of its employees will not accept any liability for any direct or indirect loss or damage, including without limitation, any loss of profit, which may arise directly or indirectly from use of or reliance on the market commentary. The content contained within is subject to change at any time without notice./