The U.S. Federal Reserve's Federal Open Market Committee (FOMC) will announce whether the interest rates in the U.S. will decrease or remain unchanged on Wednesday at 20:00 SAST.
The Federal Funds rate is probably the most watched and popular interest rate in the United States as it affects monetary and financial conditions.
HERE IS WHAT YOU CAN EXPECT...
Market Outlook:
There is a slight chance that the FED might ease rates by 25 basis points but by looking at the CME Group's FED watch Tool below the probability of a rate cut has increased significantly for the July sitting and no action is expected for the June decision.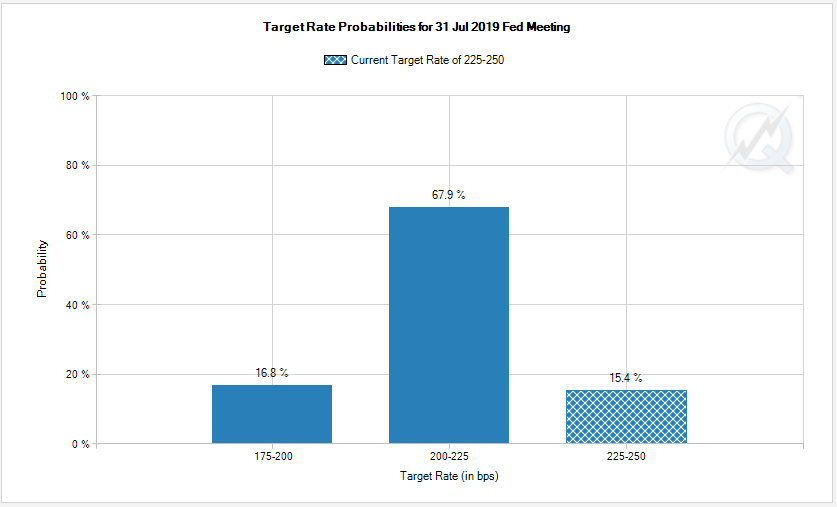 Take note: that volatility is expected on the U.S Indices and all major markets over this week, especially today with the FOMC interest rate decision.
The Dollar (DXY)
The FED's outlook might be to wait for more confirmation of an economic downturn but there is a 20% chance that they might cut rates later tonight. If we do get an upset and rates are cut, then we can expect the U.S Dollar to lose strength. This in turn would be positive for the major U.S Indices which might just push higher.
We might see the U.S Dollar mover lower from the current 97.69 resistance level and move back lower to the trend line (green dotted).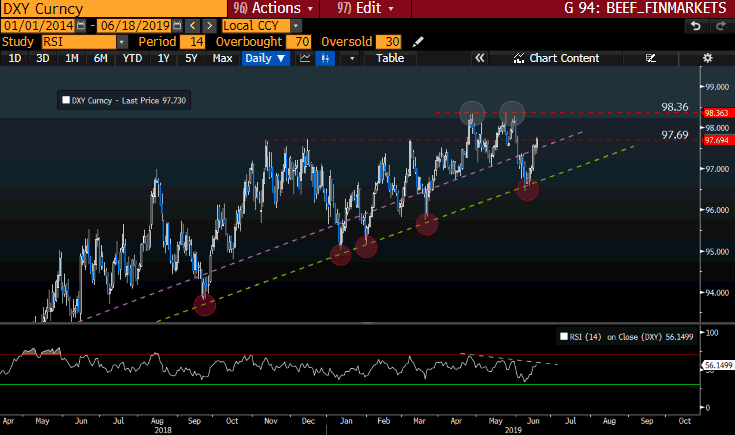 Source - Bloomberg
Impact on South Africa
If there is a rate cut later tonight the Dollar (USD) might lose momentum that might relieve some pressure on the Rand (ZAR) in the short term. The local economy has more pressing concerns currently as the rating agency Moody's has recently seen the first quarter drop in GDP as a credit negative for the government and local banks.
USD/ZAR currency pair
We might see the currency pair move lower and breakout of the channel to the 14.13 level as the day unfolds and the Dollar (USD) weakens.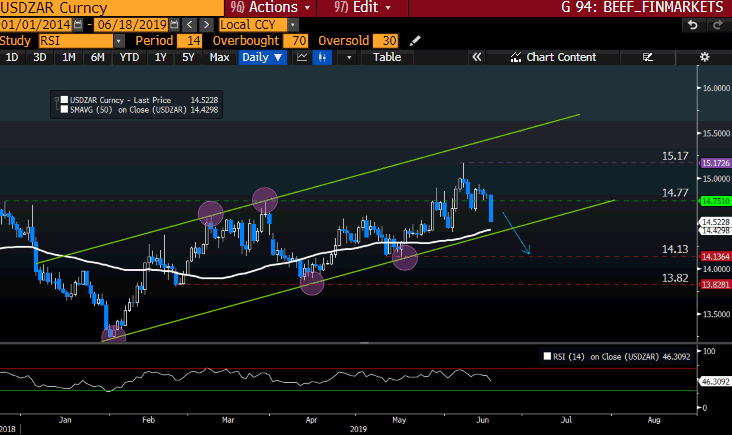 Source - Bloomberg
Economic factors to look out for today:
South African CPI at 10:00 SAST.
UK CPI at 10:30 SAST.
CAD CPI at 14:30 SAST.
ECB President Mario Draghi speaks at 16:00 SAST.
Crude Oil Inventories at 16:30 SAST.
FED Interest Rate Decision at 20:00 SAST.
Source - Investing.com
Trading Strategies:
A decrease in U.S interest rates will possibly see the Dollar (USD) weaken, so look at the following:
South African instruments:
Banking stocks.
Retail stocks.
Rand hedged stocks.
Alsi (Index).
USD/ZAR (Forex pair).
Major Forex pairs:
EUR/USD.
GBP/USD.
USD/JPY.
USD/MXN.
The inverse is applicable where there is a decrease in interest rates it might have a positive effect on equities so look at the following Indices:
Major Indices:
S&P 500.
Wall Street 30.
Nasdaq 100.
Russell 2000.
---
Disclaimer: Any opinions, news, research, reports, analyses, prices, or other information contained within this research is provided by Barry Dumas, Market Analyst at GT247 (Pty) Ltd t/a GT247.com ("GT247.com") as general market commentary, and does not constitute investment advice for the purposes of the Financial Advisory and Intermediary Services Act, 2002. GT247.com does not warrant the correctness, accuracy, timeliness, reliability or completeness of any information which we receive from third party data providers. You must rely solely upon your own judgment in all aspects of your trading decisions and all trades are made at your own risk. GT247.com and any of its employees will not accept any liability for any direct or indirect loss or damage, including without limitation, any loss of profit, which may arise directly or indirectly from use of or reliance on the market commentary. The content contained within is subject to change at any time without notice./