International markets including the JSE was off to a muted start on Tuesday morning as growth in Chinese manufacturing for July slowed down and awakened new fears of the ensuing trade disputes between China and the United States.
Locally, the pressure continued throughout Tuesday's trading session as Stats SA released the local unemployment figures which also disappointed coming in with a higher than expected unemployment number in, bringing our unemployment rate (Q2) to 27.2%.
The JSE All-Share index closed higher on the day up 0.31%, while the Top-40 index gained 0.33% as breaking news hit just before the U.S markets opened that China and the United states seek to restart talks to defuse the trade war negating the negative market sentiment we experienced in the morning session.
Industrials index weakened -0.50%, while the Resources and Financials indices closed 1.48% and 1.00% firmer respectively.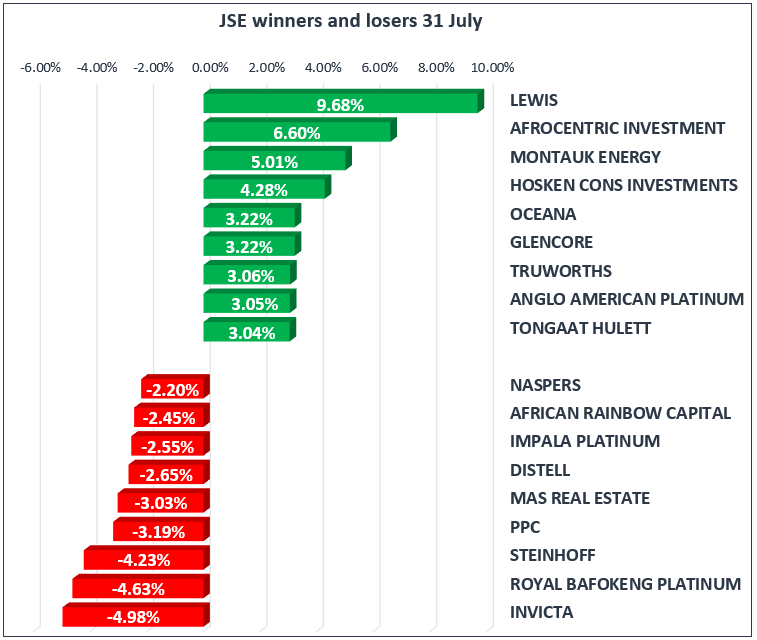 The rand continued to strengthen throughout Tuesday's trading session against the US dollar. At 17:00, the rand was trading 0.33% firmer at R13.12/$
Lewis Group Ltd [JSE:LEW] recorded gains of 9.68% to end the day at R29.90, while energy company Montauk Holdings Ltd [JSE:MNK] rose 5.01% to close at R97.45 per share. Glencore PLC [JSE:GLN] was 3.22% firmer to close at R57.76 per share.
Invicta Holdings Limited [JSE:IVT] came under significant pressure and slumped 4.98% to close at R33.20 per share. Steinhoff International Holdings NV [JSE:SNH] can't seem to catch a break and lost 4.23% to close at R2.49 per share while PPC Limited [JSE:PPC] moved lower by 3.19% to close at R6.38 per share.
The price of Brent crude came under pressure on Tuesday as reports surfaced that OPEC increased output in July to the highest level for 2018, Brent crude was weaker by -1.12% at $ 74.48 per barrel just after the JSE closed.
At 17:00 gold was trading -0.04% down at $1221.05 per ounce, while platinum strengthened by 0.61% to $835.50/Oz. Palladium gained 0.10% to trade at $925.40/Oz.
Cryptocurrencies also moved lower as Bitcoin traded weaker on the day by -6.44% to trade at $ 773o per coin while Ethereum was also down by -9.66% to trade at $430 per coin.