The JSE and European counters dragged lower on Monday after the Turkish lira slumped to a new all-time low overnight.
The contagion arising from the Turkish lira resulted in the rand dropping to a level last recorded in June 2016. The rand dramatically dropped to a session low of R15.55/$ as the sell-off in emerging market currencies intensified, however it rebounded to trade at R14.37/$ at 17.00 CAT.
Asian counters traded weaker on Monday which saw the Nikkei and Hang Seng shed 1.98% and 1.52% respectively. The Shanghai Composite Index closed 0.43% weaker. In Europe, the major benchmarks were trading relatively softer except for the CAC 40 which was mostly flat.
On the JSE, rand hedges were buoyed by the weaker rand which saw them edge higher on the day. Blue-chips such as Anglo American PLC [JSE:AGL] managed to add 3.43% to close at R307.50, while fellow diversified miner, BHP Billiton [JSE:BIL] firmed by 2.03% to close at R310.32 per share. Listed property stock, NEPI Rockcastle [JSE:NRP] managed to add 2.01% to end the day at R122.11, while Resilient [JSE:RES] closed at R56.00 after adding 3.02%.
Bid Corporation [JSE:BID] gained 1.95% to close at R289.15, while Discovery [JSE:DSY] rose 1.11% which saw the stock close at R165.63 per share. Index heavyweight, Naspers [JSE:NPN] also helped lift the index higher after the stock gained 0.99% to close at R3405.00 per share.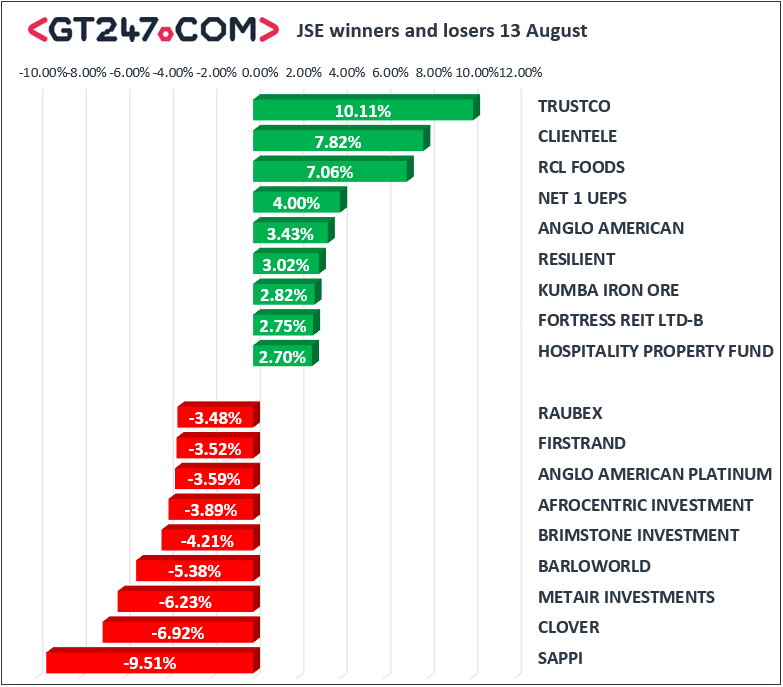 Sappi [JSE:SAP] closed amongst the day's biggest losers following the release of its 3rd quarter results which indicated a decrease in EPS. The stock eventually closed 9.51% weaker at R91.30 per share. FirstRand [JSE:FSR] lost 3.52% to close at R63.05 while ABSA Group [JSE:ABG] eased to R160.25 after shedding 1.3%.
Barloworld [JSE:BAW] weakened to close at R119.89 per share after the stock dropped 5.38%. Anglo American Platinum [JSE:AMS] closed 3.59% lower at R415.79, while Raubex [JSE:RBX] lost 3.48% to close at R20.27 per share.
The JSE All-Share index closed 0.32% firmer while the blue-chip JSE Top-40 index inched up 0.47%. The Financials index came under pressure because of the weaker rand which saw it drop 0.8%. The Industrials and Resources indices managed to firm 0.4% and 1.2% respectively.
Gold slid below $2000/Oz as it slid to a session low of $1194.98/Oz. It recovered marginally to trade at $1197.01/Oz at 17.00 CAT. Platinum was 2.56% to trade at $806.42/Oz, while Palladium had lost 0.98% to trade at $901.71/Oz.
Brent crude was mixed in today's session which saw it trade flat at $72.80/barrel just after the JSE close.
At 17.00 CAT, Bitcoin was down 0.26% to trade at $6350.00/coin while Ethereum was down 4.23% to trade at $310.74/coin.