Today's budget speech (21 February 2018) is probably the most anticipated in the last decade and it kicks off around 14:00 hours.
Barry Dumas on our trading desk gives us his insight into two possible trades and technical notes.
Budget speech 2018/19
Some of the main factors to watch out for in the budget speech will be the focus around an increase in value added tax (VAT), capital gains tax (CGT) and a personal income tax for upper income earners. There were discussions around a fuel levy increase also on the cards as well as a carbon tax.
In my opinion the finance minister has his work cut out for him and he will have to address Government spending and how they will positively address the current short fall that is estimated between R 50bn to R 80bn in the budget.
USD/ZAR technical note:
There are a couple of factors to consider when trading the USD/ZAR currency pair today. The Rand (ZAR) will strengthen if the market perceives the outcome of the budget speech to be positive but keep an eye out for the Dollar (USD). The Dollar (USD) has been strengthening over the last couple of trading sessions and this might continue in anticipation of an interest rate hike tonight at 21:00 local time by the U.S. Federal Open Market Committee (FOMC).
Let's look at two possible trade set ups on the USD/ZAR currency pair:
I am looking at two possible set ups today as shown in the graph below depicted by a (1) for a long trade and (2) for a short trade, but take note that the price action might be volatile so make sure before entering your trade that you are on the right side.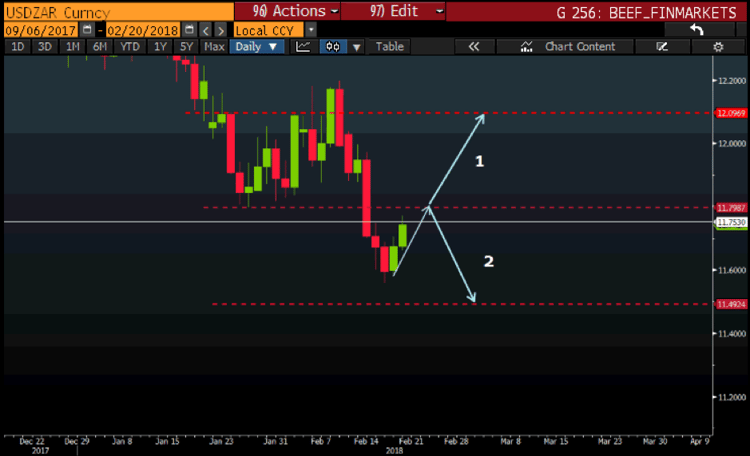 Source - Bloomberg
Trade (1) Long:
I will be looking to place a long trade for a break above the R 11.79c resistance (red dotted line) shown in the graph below if the Rand (ZAR) starts to weaken against the Dollar (USD).
Trade (1) – Long USD/ZAR
Entry (Buy): R 11.83c

Stop loss: R 11.66c

Target price: R 12.09c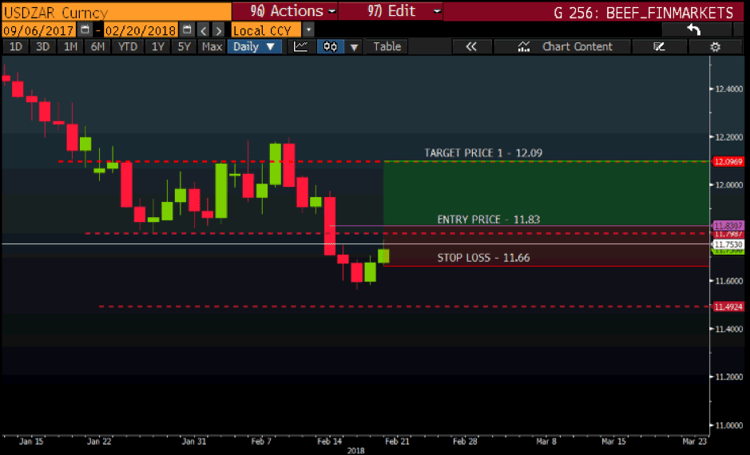 Source - Bloomberg
Trade (2) Shorting:
I will also be looking for a short opportunity if we see the Rand (ZAR) strengthen against the Dollar (USD) from R 11.72c to a target price of R 11.49c
Trade (2) – Short USD/ZAR
Entry (Sell): R 11.72c

Stop loss: R 11.88c

Target price: R 11.49c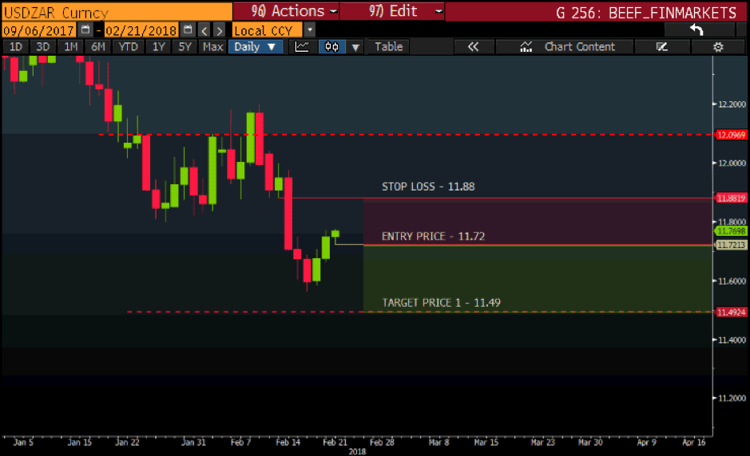 Source - Bloomberg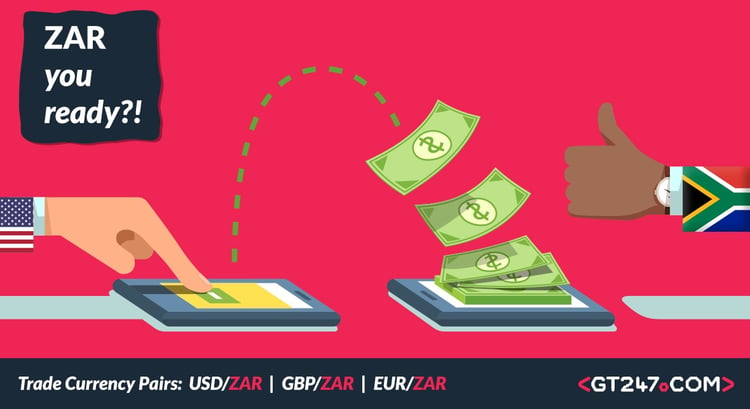 FAQ'S: How to open a USD account and trade ZAR currency pairs.
Disclaimer: Any opinions, news, research, analyses, prices, or other information contained within this research is provided as general market commentary, and does not constitute investment advice. GT247.com will not accept liability for any loss or damage, including without limitation to, any loss of profit, which may arise directly or indirectly from use of or reliance on such information. The content contained within is subject to change at any time without notice, and is provided for the sole purpose of assisting traders to make independent investment decisions.