The JSE barely closed firmer on Wednesday as investors turned cautious after China announced its plans to retaliate to the latest US tariffs.
China has decided to impose an additional tariff of 25% on U.S. goods worth $16 billion as it retaliates to a similar tariff on the equivalent value of its exports to the USA. Markets did not respond positively to the news which saw the Chinese mainland benchmark erase some of Tuesday's gains to close 1.61% weaker. The Hang Seng eventually closed the day up 0.39% and the Japanese Nikkei was flat after shedding 0.08%.
The JSE struggled to maintain its momentum despite opening firmer as it eased during today's session. EOH Holdings [JSE:EOH] stood out as the stock jumped 12.4% to close at R48.78 per share. Invicta Holdings [JSE:IVT] climbed 10.03% to end the day at R35.21, while Ascendis Health [JSE:ASC] firmed by 5.46% to close at R11.59 per share.
Bidcorp [JSE:BID] managed add 2.75% which saw the stock close at R273.86 per share, and retailer, Truworths [JSE:TRU] posted gains of 2.55% to close at R83.05 per share despite a softer rand. Nampak [JSE:NPK] closed 2.25% firmer after adding 15.90%, while Fortress B [JSE:FFB] rose to R15.90 after adding 2.58%. Exxaro [JSE:EXX] was buoyed by the release of a trading statement which indicated that they are expecting significant increases in earnings. The stock closed 1.91% firmer at R139.36 per share.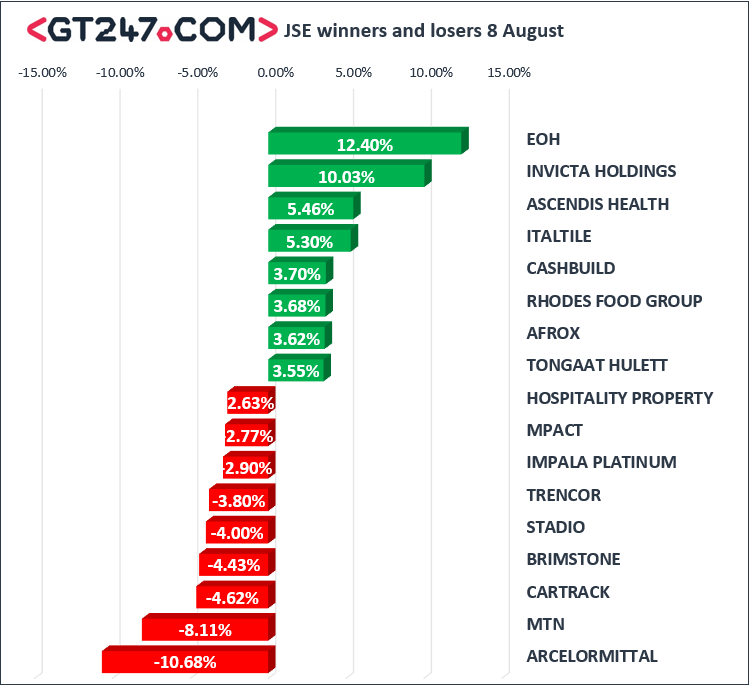 MTN Group [JSE:MTN] was in the spotlight following the release of its half-year interim results. The results indicated a decrease in basic HEPS which saw the stock trade under pressure to end the day down 8.11% at R107.08 per share. ArcelorMittal [JSE:ACL] eased from its recent rally as the stock slumped 10.68% to close at R4.60 per share.
Impala Platinum [JSE:IMP} weakened by 2.9% to close at R18.11 as platinum metal prices traded under pressure. Anglo American Platinum [JSE:AMS] lost 2.26% to close at R410.50, while Sibanye Stillwater [JSE:SGL] closed 2.1% to close at R8.41 per share.
The JSE All-Share index eventually closed the day up 0.14%, while the JSE Top-40 index managed to firm by 0.07%. The Resources index came under pressure as weaker metal prices weighed on the JSE listed miners. The index closed the day down 0.47%. The Industrials and Financials indices rose 0.22% and 0.46% respectively.
Despite opening firmer, the rand slipped to a session low of R13.47/$ as the US dollar advanced. At 17.00 CAT, the rand had recouped some of the losses to trade at R13.39/$.
Gold traded mixed on the day, and at 17.00 CAT it was unchanged to trade at $1210.51/Oz. Platinum was down 0.1% to trade at $828.59/Oz while Palladium took a 1.29% knock to trade at $898.35/Oz.
Bitcoin was down 8.95% to trade at $6479.95/coin and Ethereum had slumped 10.82% to trade at $365.98/coin.