GOLD ($)
Current Trend: Short-term down. Med-term up. Long-term sideways to up.
Strategy: Sell short on a bounce to $1325.
Chart and summary below:
(Daily)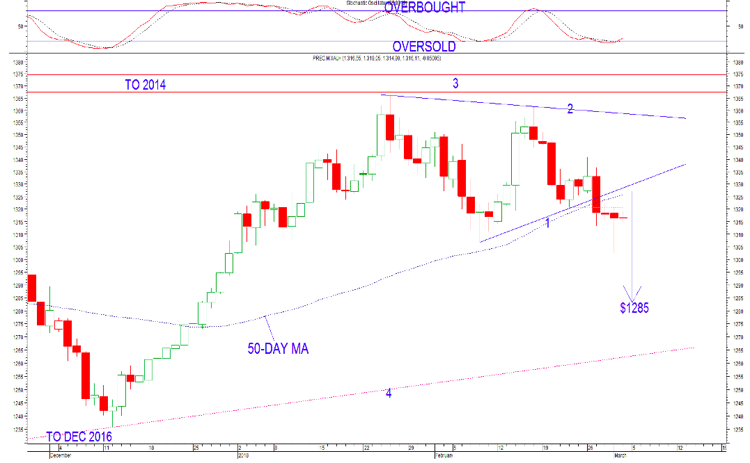 Chart Setup: The gold price has formed a symmetrical triangle (lines 1 and 2). And has broken down below line 1 support and its 50-day moving ave to trigger a short signal. Yesterday however it gave a bullish candle, so it's likely to bounce a bit before heading lower.
Its short-term Stochastic is in its oversold zone so it can bounce from current levels.
Strategy Details: Sell it short on a bounce to $1325.
Target: Minimum target to $1285, based on the height of the triangle projected down. Take profits there. Further potential would be to line 4 support at the $1263 level.
To the upside, there is a solid resistance band at line/s 3 ($1367-$1375). A price close above $1375 will be a very positive sign. But it doesn't look like it will happen just yet (probably later in the year).
Stop-loss: A close above $1341, its 26th Feb high. Once it closes below $1295 bring stop down to a close above $1320. And once it trades below 1290 lower a trailing stop to a breaking of its prior one-day high.
COPYRIGHT:
THIS NEWSLETTER IS TO BE READ ONLY BY CLIENTS OF GLOBAL TRADER. UNDER NO CIRCUMSTANCES IS IT TO BE SHOWN (OR GIVEN) IN PHYSICAL OR ELECTRONIC FORM TO ANY OTHER PERSON, WITHOUT THE PRIOR CONSENT OF THEMARKET.CO.ZA. FURTHERMORE, ELECTRONIC TRANSMISSION (EMAIL), REPRODUCING, AND/OR DISSEMINATING THIS DOCUMENT (OR PART THEREOF) IN ANY OTHER MANNER WITHOUT THE WRITTEN CONSENT OF THEMARKET.CO.ZA IS A VIOLATION OF THE COPYRIGHT LAW - AND IS ILLEGAL.