Markets started the week on a positive note as equities advanced thanks in part to the upbeat US jobs data from Friday.
Concerns about the trade war seemed to have subsided as investors were bullish on both Friday and Monday as indicated by the gains recorded across major indices. In Asia, the Shanghai Composite Index jumped 2.8% while the Nikkei and Hang Seng gained 1.21% and 1.32% respectively.
The rand gained over 1% to peak at a session high of R13.30/$ as the US dollar continued to trade softer against a basket of major currencies. At 17.00 CAT, the rand was 0.69% firmer to trade at R13.36/$.
JSE's financials rallied on the back of the firmer rand which saw FirstRand [JSE:FSR] close at R66.50 after gaining 3.55% while Standard Bank [JSE:SBK] posted gains of 3.02% to close at R197.80 per share. Sanlam [JSE:SLM] firmed to R71.25 after gaining 3.29% and Rand Merchant Holdings [JSE:RMH] gained 2.89% to end the day at R78.65.
On the broader index, Hospitality Property Fund B [JSE:HPB] jumped 11.11% to close at R10.00 per share, while Steinhoff International [JSE:SNH] climbed 4.79% to close at R1.75. Assore [JSE:ASR] added 4.46% to close at R306.57 per share, whilst pharmacist, Dis-Chem [JSE:DCP], gained 3.66% to close at R27.21. Barloworld [JSE:BAW] and Grindrod [JSE:GND] gained 4.03% and 2.19% respectively.
PPC Limited [JSE:PPC] closed amongst the day's biggest losers after dropping 7.66% to close at R6.89 per share. Platinum miner, Lonmin [JSE:LON] lost 3.1% to end the day at R7.49 and Sibanye Stillwater closed 1.02% weaker at R7.95 per share.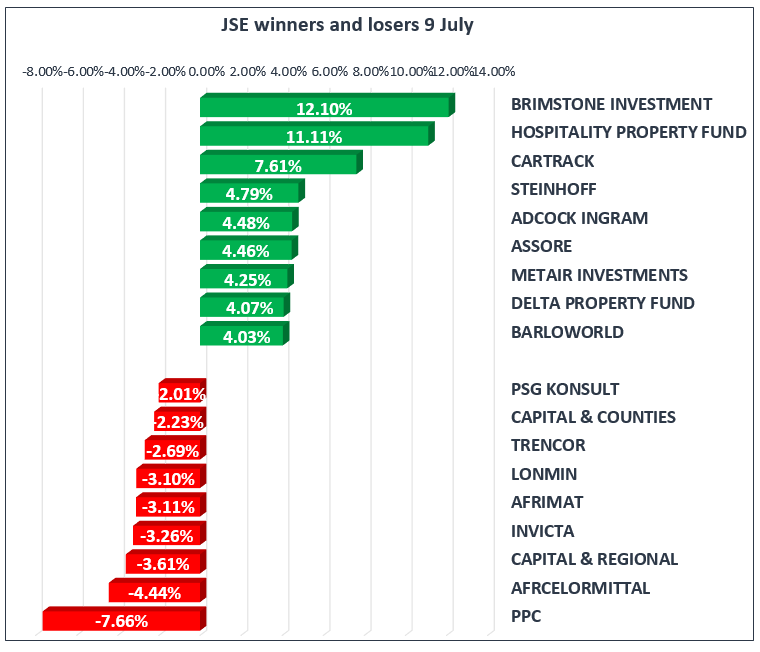 Losses were relatively modest on the Top-40 index were Gold Fields [JSE:GFI] lost 1.58% to close at R48.63 per share. Netcare [JSE:NTC] eased to R28.47 after shedding 0.11%, and Growthpoint Properties [JSE:GRT] was 0.33% softer at R26.91.
The JSE All-Share index eventually closed 1.58% firmer while the blue-chip Top-40 index climbed 1.7%. The Financials index jumped 2.27% while the Industrials and Resources index managed to add 1.6% and 1.31% respectively.
Brent crude traded marginally firmer to peak at a session high of $77.97/barrel. It retraced to trade at $77.84/barrel just after the JSE close.
Gold gained just over $10 to peak at a session high of $1265.99/Oz as the US dollar eased. At 17.00 CAT it was trading 0.5% firmer at $1261.61/Oz. Platinum was 0.92% firmer at $852.20/Oz and Palladium jumped 1.24% to trade at $.964.49/Oz.

Bitcoin traded mostly weaker on Monday and at 17.00 CAT, it was trading 0.52% weaker at $6736.20/coin, while Ethereum was down 2.38% at $482.20/coin.
In breaking news that came in towards the JSE close, the UK prime minister's office announced that the foreign minister, Boris Johnson had resigned. Subsequently, we have seen the GBP/ZAR strengthen to a session high of R17.70 against the British pound at 17.00 CAT.