The local bourse advanced on Thursday following the agreement reached between Donald Trump and the European Union to negotiate on trade.
Global stocks had weltered on Wednesday as investors feared that Donald Trump's tough stance on trade would make it difficult for a resolution to be reached. Most of the major global indices rebounded on Thursday on the back of the news.
Locally, Statistics SA released PPI data for the month of June which came in higher than expected. YoY producer inflation jumped to 5.9% from a prior recording of 4.6%, while MoM it increased to 0.9% from a prior recording of 0.7%.
Movements in the rand were driven by the US dollar which rebounded from its overnight lows. The rand weakened to a session low of R13.25 against the greenback before being recorded at R13.21/$ at 17.00 CAT.
On the JSE, Impala Platinum [JSE:IMP] was amongst the day's biggest movers after posting gains of 7.34% to close at R19.75 per share. British American Tobacco [JSE:BTI] jumped 5.87% to close at R730.00 following the release of better than expected half-year earnings results. Raubex [JSE:RBX] added 5.9% to close at R20.65 per share.
MTN Group [JSE:MTN] recorded gains of 3.01% to end the day at R107.41, while gold miner, AngloGold Ashanti [JSE:ANG] rose 2.97% to close at R111.72 per share. Tiger Brands [JSE:TBS] was 2.24% firmer to close at R337.55, while Richemont firmed to close at R115.93 after adding 1.06%.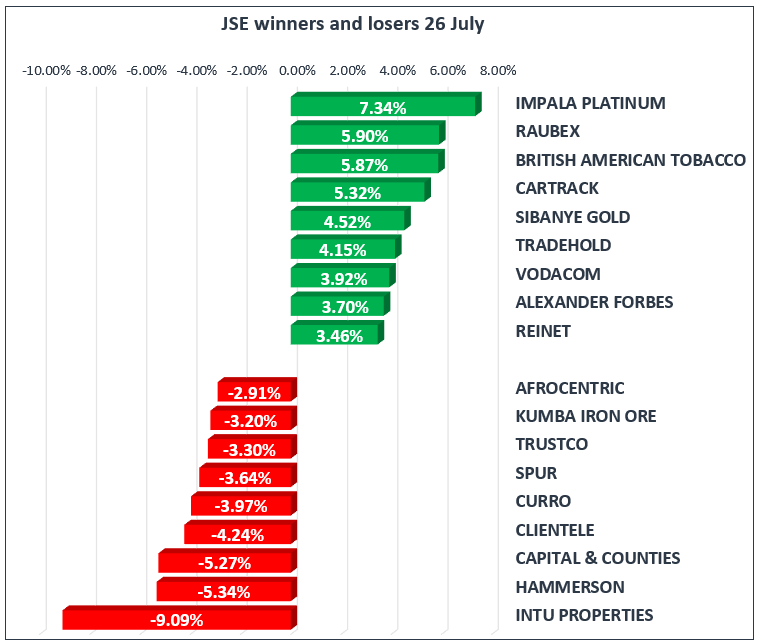 Of the days losers, Intu Properties [JSE:ITU] came under significant pressure following the release of an interim report for the six-months ended 30 June 2018. The report indicated decrease in earnings and dividends for the period, and subsequently the stock slumped 9.09% to close at R28.59 per share. Fellow listed property stocks, Hammerson [JSE:HMN] and Capital and Counties [JSE:CCO] lost 5.34% and 5.27%, to close at R87.13 and R47.10 per share respectively.
Losses were fairly modest on the JSE Top-40 index where Bidvest [JSE:BVT] shed 0.67% to close at R188.23, and Truworths [JSE:TRU] weakened to close at R78.00 after dropping 0.62%. NEPI Rockcastle [JSE:NRP] and Redefine Properties [JSE:RDF] lost 0.86% respectively.
The JSE All-Share index eventually closed the day up 0.63%, while the blue-chip Top-40 index gained 0.76%. All the major indices managed to close in the green with Industrials index adding 0.95%, while the Resources and Financials indices closed 0.04% and 0.95% firmer respectively.
Gold weakened to a session low of $1225.81/Oz before being recorded at $1226.36/Oz at 17.00 CAT. Palladium was down 0.51% to trade at $935.18/Oz and Platinum was down 1.37% at $832.80/Oz.
Brent crude advanced above $74/barrel to reach a session high of $74.83/barrel. It was trading at $74.18/barrel just after the JSE close.
At 17.00 CAT, Bitcoin was up 0.46% to trade at $8223.10/coin, while Ethereum was 1.75% firmer at $477.76/coin.