If there is one Budget Speech to watch, this would be the one delivered by Finance Minister Tito Mboweni on Wednesday, 26 February at 14:00 SAST.
National Treasury has been hands on putting the final touches to the budget numbers to try and paint a holistic picture for its citizens and the ratings agencies. But will it be enough to avert a downgrade?
What can be expected from the budget speech
The Finance Minister certainly has his job cut out for him, in a last effort to try and convince Moody's that SA is finally getting its fiscal ducks in a row. Some analysts say the markets have already priced in a ratings downgrade to "junk" status.
Analysts and economists alike have forecast another round of TAX increase by the Minister to try and kick start the economy and curb the growing debt burden. With the International Monetary Fund (IMF) projecting SA's growth at 0.8% over the next year, it would be interesting to see what Mboweni has planned to curb Government spending.
Increases in Corporate income tax, individual tax and a 1% increase in VAT is also widely expected along with the usual increases on sin taxes. Some economists are also expecting an increase in the fuel tax and rumours have surfaced of a once-off tax to be implemented.
Possible affect of the speech on the Rand (ZAR)
The Rand (ZAR) has been under pressure due to a stronger U.S Dollar (USD) as a flight to safety continues as the coronavirus takes hold of the world. We might see the local currency under more pressure as the budget draws near and Moody's comes back into focus.
The price action on the USDZAR currency pair has been grinding higher with the next price zone in focus would be around the R15.47/USD resistance level. If we do see a downgrade to "Junk" status, then we might expect to see the currency pair move above the R16.00/USD level.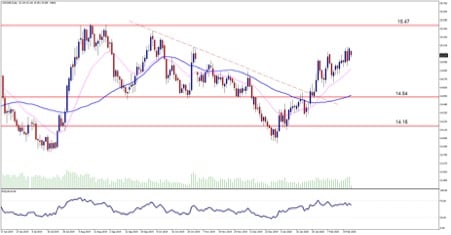 Source – MetaTrader5
Possible affect of the speech on the ALSI
The local Index (ALSI) has been taking strain along with international markets. Global economic growth will continue to be negatively affected as the virus spreads throughout the world with Italy and South Korea among the latest countries to report new cases.
We might expect more downward pressure on the local market with the pending Moody's decision and international growth concerns. Lower support levels on the ALSI will come into focus around the 48301 and 47039 support respectively.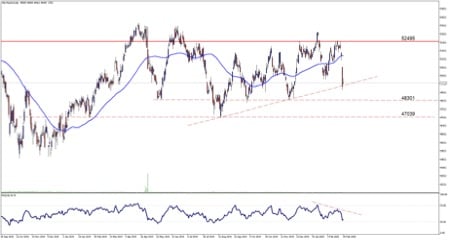 Source – MetaTrader5
Take note: The outlook and levels were taken on 25/02/2019 and might change as this outlook is released before the Budget Speech.
The South African Budget Speech 2020 takes place on Wednesday, 26 February at 14:00 SAST.
---
Disclaimer:
Any opinions, news, research, reports, analyses, prices, or other information contained within this research is provided by Barry Dumas, Market Analyst at GT247 (Pty) Ltd t/a GT247.com ("GT247.com") as general market commentary, and does not constitute investment advice for the purposes of the Financial Advisory and Intermediary Services Act, 2002. GT247.com does not warrant the correctness, accuracy, timeliness, reliability or completeness of any information which we receive from third party data providers. You must rely solely upon your own judgment in all aspects of your trading decisions and all trades are made at your own risk. GT247.com and any of its employees will not accept any liability for any direct or indirect loss or damage, including without limitation, any loss of profit, which may arise directly or indirectly from use of or reliance on the market commentary. The content contained within is subject to change at any time without notice. Past performance is not necessarily an indication of future performance. The value of a financial product is not guaranteed. The value of a financial product can go down or up due to various market factors. The graphs are for illustrative purposes only.