Commodities, especially the oil market has grabbed the attention of South Africans as a rise in the Oil market might mean a rise in petrol prices. The increases in fuel prices which has been a burden on the South African consumer over 2018 looks likely to continue throughout this year.
Crude Oil
Crude Oil, Brent and WTI crude moved lower overnight despite the U.S Crude Inventories draw of 1.4 million barrels reported on Wednesday. Brent moved lower by 0.3% and WTI closed 0.5% lower as the U.S-China trade dispute drags on with lasting demand side concerns.
The below chart shows the daily exchange volume of Crude Oil over the last month.

Source – CME Group/ Crude Oil Volume
Brent Crude Oil
Looking closer at the OPEC monthly oil market report it is evident that money managers have increased their net long positions on Brent Crude Oil which reached the highest levels last seen in October. The combined futures and options net long positions increased over 10% to 322035 contracts in the week ending 26 March.
The increase in net long positions by Hedge funds and Money Managers can be attributed to the tightening oil supply in the coming months as well as investor confidence.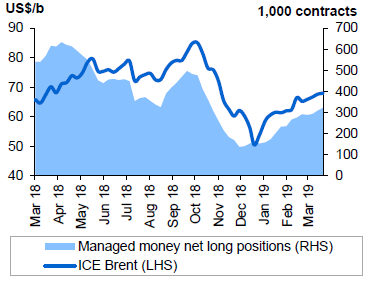 Source - Intercontinental Exchange and OPEC Secretariat
Some technical analysis to look out for on Brent Crude Oil:
Price action has gradually moved higher since the Head & Shoulders technical pattern breakout around $64.16/ barrel.
Price action is finding resistance at the 68.1 Fibonacci Retracement level which coincides with the $72.48/ barrel price level.
We might see a short-term decline which might see the price of Brent move lower to $68.31/ barrel which might act as support.
Brent is trading above its major moving averages with the 50-day Simple Moving Average (blue line) closing in on the current price.
The Relative Strength Index (RSI) is also moving lower from overbought levels (pink circle) which might support the short term move lower.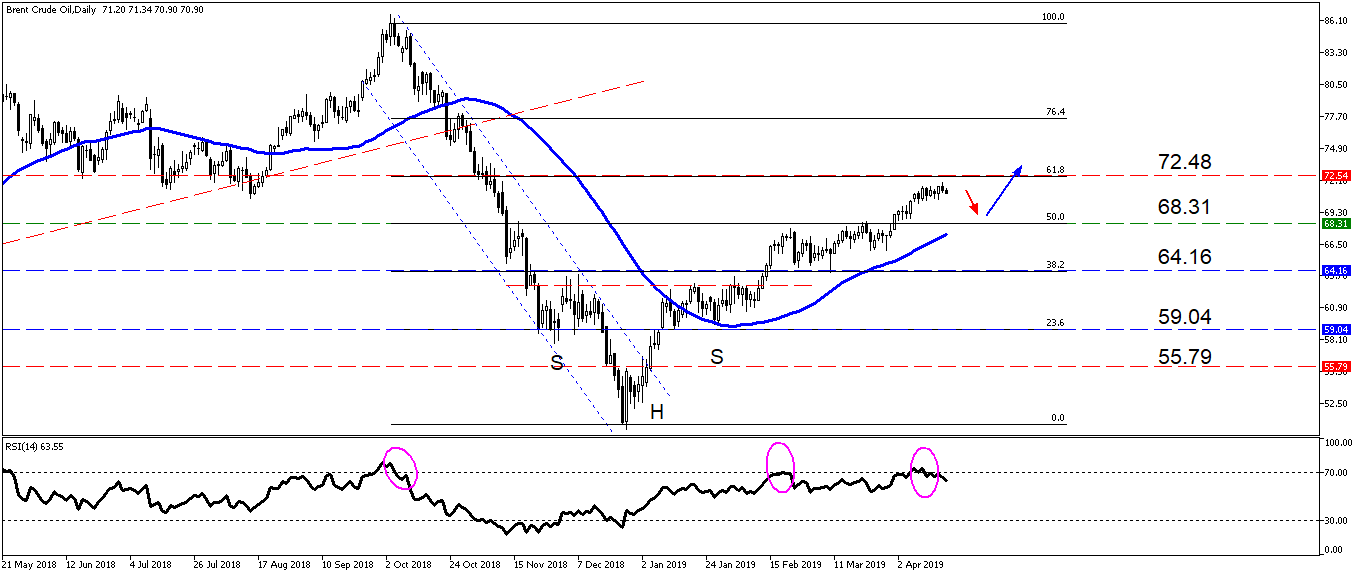 Source – MetaTrader5
Brent Crude Oil vs Petrol Price Increase
Fuel increases have been a hot topic for consumers who have seen consumer goods and services rise with the petrol price. Looking at the Automobile Association of South Africa (AA)'s fuel price trends we can see low increases which leads us into the 8.84% increase we saw in April as the additional taxes and levies set in.
We might be spared a petrol price increase in May if the Rand can gain more momentum and strengthen against the greenback with a short term move lower in Brent Crude Oil. The likely hood of this happening in tandem over the rest of April, unlikely but one can hope.

Source - Automobile Association of South Africa
General
The two major contributors to the petrol price rise which consumers should take note of are the price of Brent Crude Oil and the depreciating Rand against the U.S Dollar.
Brent Crude Oil which has increased over 30% since the start of the year might continue its path higher if supply cuts by OPEC continue as planned.
The Rand (ZAR) has also been under immense pressure over 2019 mainly due to global growth concerns and local political uncertainty. The Rand has only strengthened around 4% against the U.S Dollar over 2019 and might see more volatility as the elections approach in May.
---
Disclaimer:
Any opinions, news, research, reports, analyses, prices, or other information contained within this research is provided by Barry Dumas, Market Analyst at GT247 (Pty) Ltd t/a GT247.com ("GT247.com") as general market commentary, and does not constitute investment advice for the purposes of the Financial Advisory and Intermediary Services Act, 2002. GT247.com does not warrant the correctness, accuracy, timeliness, reliability or completeness of any information which we receive from third party data providers. You must rely solely upon your own judgment in all aspects of your trading decisions and all trades are made at your own risk. GT247.com and any of its employees will not accept any liability for any direct or indirect loss or damage, including without limitation, any loss of profit, which may arise directly or indirectly from use of or reliance on the market commentary. The content contained within is subject to change at any time without notice.