USD/ZAR Currency Pair
By Technical Analyst Colin Abrams
Recommendation: ENTER IN BREAKOUT DIRECTION
Current Trend: Short-term sideways. Med-term sideways. Long-term rand strength.
Strategy: Sell short rand a close above 13.11 (line 6)/Go long rands a close below line 5 (12.85).
(Daily)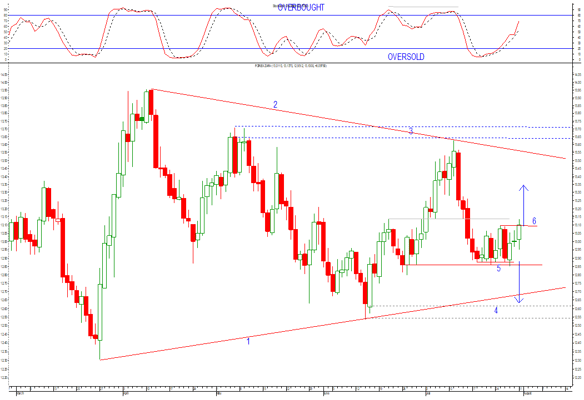 Chart Setup: The rand is very range bound in the immediate short-term between lines 5 and 6 (12.85 and 13.10, respectively). It can break out in either direction, and is testing line 6 right now.
Med-term its chart is forming a large symmetrical triangle (lines 1 and 2).

Its short-term Stochastic can still continue higher in the short-term (rand weakness).
Strategy Details: Sell short the rand on a close above line 6 (i.e. above 13.11) or, go long a close below line 5 (12.85) – whichever happens first. The break towards rand weakness looks more likely.
Target: For a breakout above 13.11 it's to 13.33, with potential to line 2 at 13.54. But for a breakdown below line 5, it's to 12.63. There is a dollar support zone at line/s 4 (12.62-12.54). From these levels we'll need to re-asses.
Stop-loss: For a breakout above 13.11, stop is a close below 12.85. Once it gets to 13.24 raise stop to a breaking of its prior two-day low. For a breakdown below 12.85, stop is a close above 13.10. From 12.68 lower stop to a breaking of its prior one-day high.
Wishing you profitable trading until next time.
Colin Abrams
Disclaimer: Any opinions, news, research, analyses, prices, or other information contained within this research is provided as general market commentary, and does not constitute investment advice. GT247.com will not accept liability for any loss or damage, including without limitation to, any loss of profit, which may arise directly or indirectly from use of or reliance on such information. The content contained within is subject to change at any time without notice, and is provided for the sole purpose of assisting traders to make independent investment decisions.
---
Want to trade CFD Equities, Forex, Indices & Commodities on the most affordable online South African trading platform?
---
GT247.com: +27 87 940 6101
IT support & help desk: +27 87 940 6107
Client relations (new accounts): +27 87 940 6106
Sales: +27 87 940 6108
---